Simplify and Secure Your Move From Box to Google Drive With CloudFuze
Google Drive is a leader in cloud storage and building effective communication and collaboration among team members. In addition to integrating with the Google apps, such as Gmail, calendar, Meet, Hangouts, etc., it offers easy admin governance.
Data migration from Box to Google Drive is challenging, especially when you have to migrate hundreds to thousands of users with their data, versions, timestamps, embedded links, shared links, and external links. A migration tool like CloudFuze can assist in removing the complexity when you move from Box to Google Drive.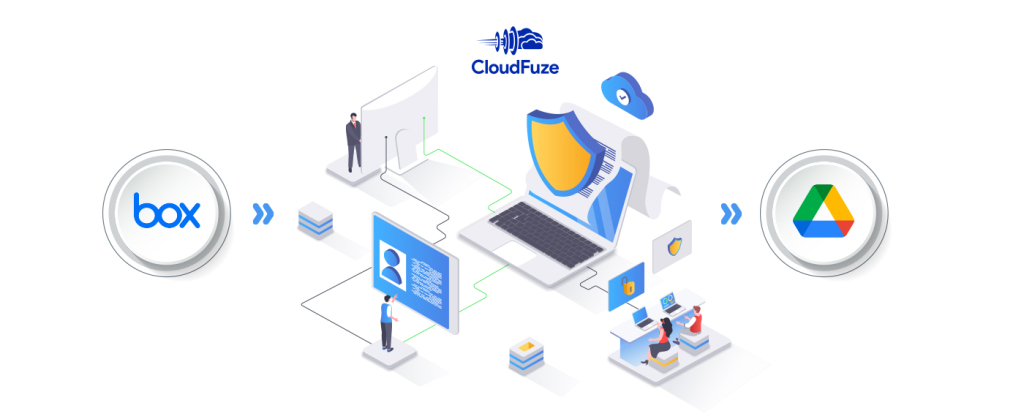 Why Migrate From Box to Google Drive?
Box and Google Drive have established themselves as leading experts in business content management. Box has been a popular online storage and collaboration tool, initially created to take on Box and Google Drive. But the emergence of collaborative features with Google Drive makes it the best platform for businesses. As a complete communication and collaboration solution, Google Drive has a clear advantage over Box.
Why Choose CloudFuze for Your Box to Google Drive Migration
The CloudFuze data migration tool is ideal for enterprise and mission-critical data migration projects. Our experts can migrate data seamlessly while ensuring no disruption to business operations. We always adhere to strict compliance standards and data privacy policies when it comes to security.
The following are some reasons to pick our data migration tool:
Easy-to-use
The experienced data migration team
Automatically maps the data
Migrates TBs/PBs of data with no downtime
Proven process and methodologies
Track record of successful data migration projects
Flexibility to run migrations either on CloudFuze SaaS servers or dedicated servers or install CloudFuze on your own data centers
24/7 migration support
100% customer satisfaction on past projects
No surprise costs
Key Features
| Migration Features | CloudFuze | Competitors |
| --- | --- | --- |
| One-time migration | Yes | Yes |
| Delta Migration | yes | yes |
| Root folder permissions | yes | yes |
| Sub-folder permissions | yes | yes |
| Root file permissions | yes | yes |
| Versions | yes | No |
| Selective Versions | yes | No |
| Timestamps | yes | yes |
| External Links | yes | yes |
| Shared Links | yes | yes |
| Comments | yes | No |
| Long Folder Path | yes | No |
| Special Character Replacement | yes | No |
| Embedded Links | yes | No |
| Special Character Replacement | yes | No |
| Comparison Delta | yes | No |
CloudFuze data migration tool gives you fast, effective, and secure migration solutions that are designed to meet your business objectives.
Watch our demo video to see how our data migration tool transfers all files from Box to Google Drive with all the features.

Steps to Move Files From Box to Google Drive
Follow the steps below to migrate from Box to Google Drive, overcoming the challenges and ensuring zero data loss and downtime.
Step 1: Contact our migration team and set up CloudFuze credentials.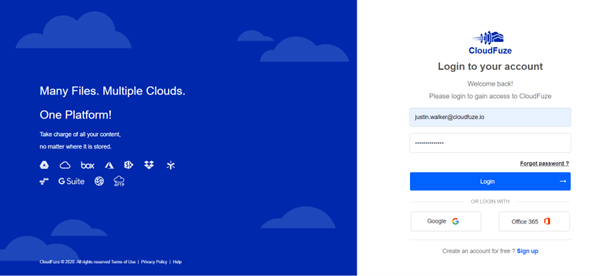 Step 2: Add your Box and Google Drive account to CloudFuze.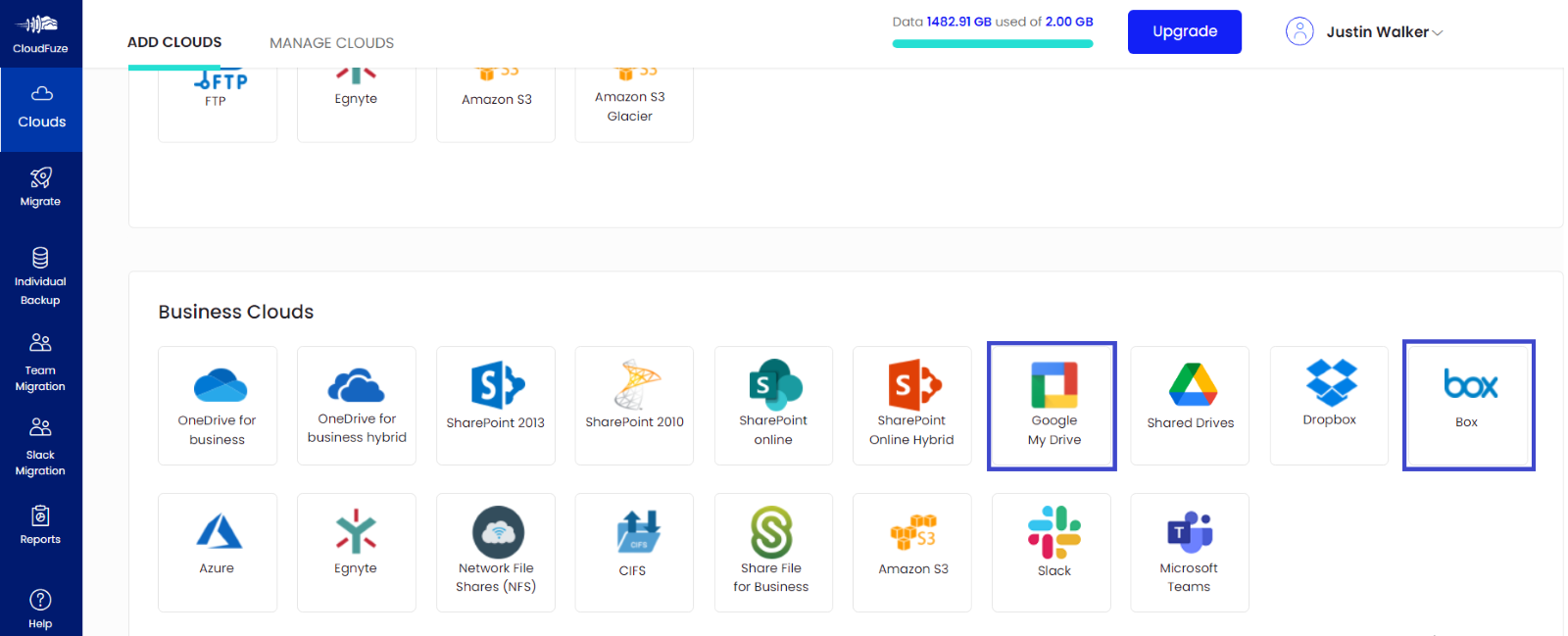 Step 3: On successfully adding clouds, choose the source (Box) and destination (Google Drive) cloud accounts.


Step 4: Map the users appropriately using either Auto-Map or CSV file upload.


Step 5: Choose migration options of your choice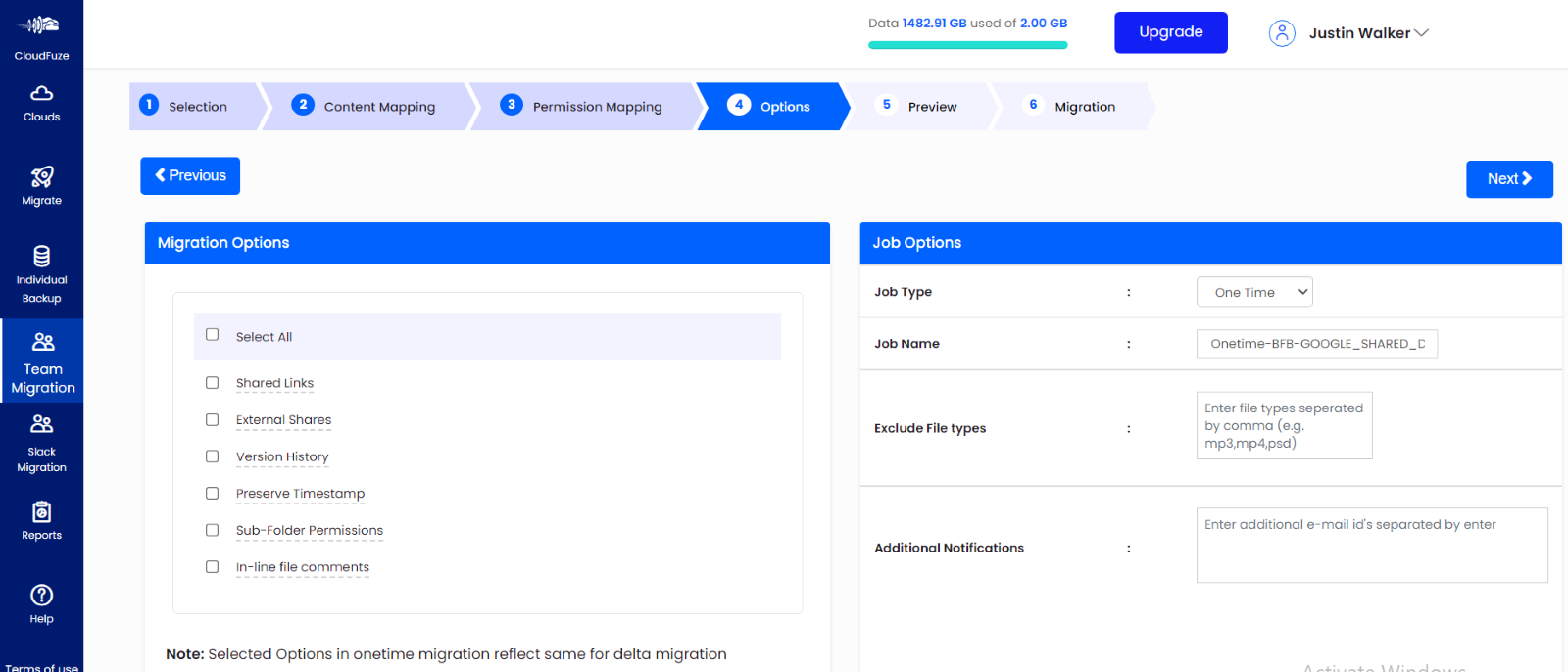 Step 6: Preview and start migration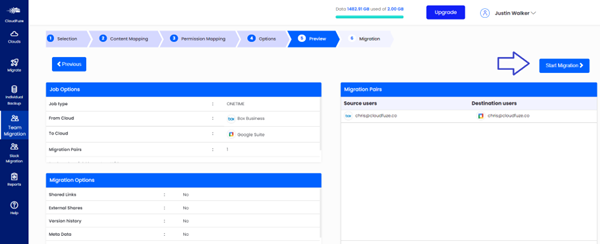 Step 7: Once the status of the migration changes to Completed, it is marked as done.


Conclusion
You can effortlessly and securely migrate your files from Box to Google Drive with the CloudFuze migration tool. It is easy to use and can quickly move TBs/PBs of data.
Moreover, the migration requirements differ from business to business. It is, therefore, necessary to partner with a migration company offering customized services. Our data migration experts offer custom data migration solutions to help you move data seamlessly from Box to Google Drive.
Contact our migration experts to customize your Box to Google Drive migration based on your business needs.