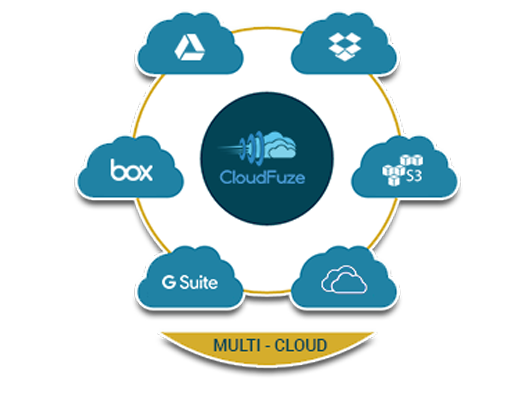 What is Multi Cloud?
Multi Cloud and Multi Cloud Management is known as managing multiple cloud services at one point. To access the files of multiple accounts at once and work with all of that data at once.
How does Multi Cloud Technology Work?
Multi Cloud Works with Oauth Authentication, where no user credentials will not be stored at service provider but instead the system takes authentication, data will be synchronized with the CloudFuze app. With Multi Cloud Technology multiple cloud services can be accessed at one point.
How many accounts can be configured to Multi Cloud Technology?
There is no limit, one can add as many as accounts they can and also access multiple variety of services , CloudFuze offers the easy account management , all configured accounts easily deleted any time.
Can I share Files Of Multi Cloud Services?
Yes, CloudFuze supports the feature of file sharing from Multiple cloud services, CloudFuze file sharing feature is much advanced where there are multiple advanced features like file share with password, download limit,Expiry date and Etc.
Can I share files to Multi Users?
Yes, You can share files with multiple emails .
Can I view Files stored in CloudFuze?
Yes all files can be view with Preview option, just select the file and click file preview?
Can I also watch Video Preview ?
Yes, you can even watch videos , that are stored in your cloud services.
Can I view all of my files irrespective of account ?
Yes, your files stored across multiple cloud storage services will be combined and gives you access to all files view.
Is it possible to Edit or Rename files ?
Yes , You can edit , rename and delete files.
CloudFuze supports more than 40 cloud Migration services including Google Drive,
Dropbox, Amazon, and Box etc.