MSP Guide for a Successful Cloud Data Migration
Thousands of companies across the globe have been forced to implement remote work plans after the COVID-19 pandemic hit. Many businesses who use on-prem or traditional clouds have found that switching to cloud office suites can help improve the efficiency and productivity of remote employees. As a result, there are plenty of cloud migration considerations for MSPs who offer top-notch cloud migration services. However, there are five best practices to follow to ensure a successful cloud migration.
By partnering with CloudFuze, you can quickly and easily help your clients migrate to new cloud environments. Contact us for more information on how our team of expert engineers can help you with cloud data migrations.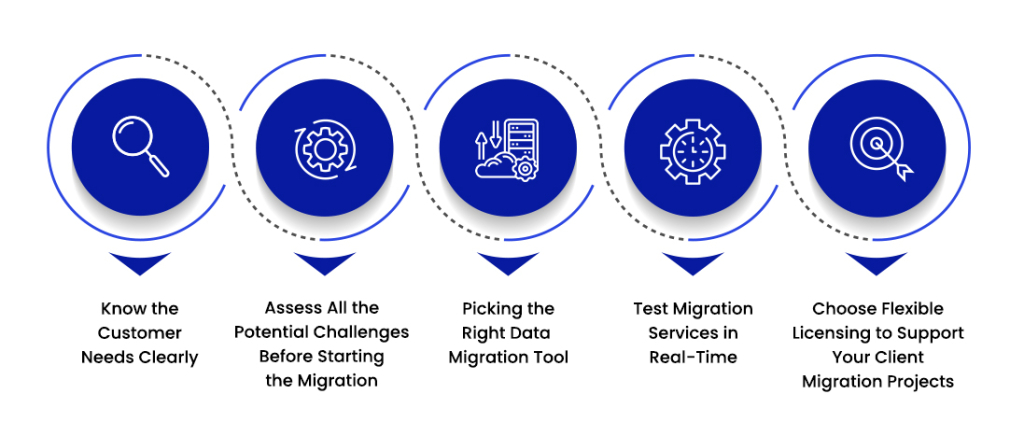 1. Know the Customer Needs Clearly
If you consider a cloud data migration project, you should first clearly know your client's requirements. This is because every business has different needs, and you need to ensure that you understand what your client wants and that you can provide it.
For instance, migrating data between two clouds i.e., from Box to Google Drive within the defined timeline, is the top priority for a specific business. You will need to find the data size to be migrated that impacts the migration speed and have a successful cloud migration strategy in place.
2. Assess All the Potential Challenges Before Starting the Migration
Data migration comes with specific challenges depending on the cloud you want to migrate to. Because of the large volume of data and the number of users, the project becomes even more stressful and challenging for large companies and enterprises.
The following are some of the biggest challenges MSPs face while migrating data:
Lack of expert knowledge
Downtime risks
Ensuring data security during migration
Migrating cloud-specific features like permissions, version history, timestamps, shared links, etc
Schedule a live demo with migration experts today and learn how they can help you overcome the challenges associated with cloud migration.
3. Picking the Right Data Migration Tool
When planning a cloud-to-cloud migration project, selecting the right migration tool based on the business needs is a must.
For instance, very few migration tools in the market support migrating data to various clouds and chat-based migration, e.g., migrating from Slack to Teams, tailored to the business needs.
CloudFuze is a market-leading cloud migration tool that enables major businesses and enterprises to simplify and speed up the migration process.
Government agencies or other organizations with security and compliance regulations can deploy CloudFuze in the company's own data centers and run the migration.
4. Test Migration Services in Real-Time
MSPs should ensure that you test all the different migration services available within the production environment before you decide on one. This way, you can run into scenarios in the live environment that could lead to a migration issue during execution.
When you run a test migration, look for these factors in a migration service:
Supported migration features
Performance and scalability
Expertise in the industry
Customer reviews
Security
For example, being a Google Migration Partner, CloudFuze has helped thousands of companies to migrate sharing permissions, version history, timestamps, comments, shared links, etc., from Citrix ShareFile, Egnyte, Box, and Dropbox to Google Drive securely.
5. Choose Flexible Licensing to Support Your Client Migration Projects
With multiple cloud-to-cloud migration requirements, MSPs should select the most flexible license model with comprehensive migration solutions for your diverse business needs.
CloudFuze offers flexible licensing options for MSPs with the flexibility to choose recurring payments, discounts on large-scale data migrations saving your migration costs. Our enterprise cloud migration services offer MSPs dedicated migration support for migrating large volumes of data to cloud platforms.
Avoid no surprise costs with CloudFuze license-friendly contract!