1. Introduction
From strategizing to executing, the page provides complete information about Box to OneDrive migration, including identifying and overcoming challenges, understanding user role changes, and planning the migration and executing it.
If you are short of time, contact our migration team to learn how CloudFuze can help. Or watch this migration video:
If you are also planning to migrate to SharePoint Online, refer to this Box to SharePoint Online migration guide.
2. Box to OneDrive Migration Challenges
To migrate files from Box to OneDrive, IT admins need to rely on a third-party tool like CloudFuze since manual migration cannot transfer sharing permissions, metadata, versions, external shares, and Box-specific features.
Challenges IT teams face when planning to migrate data from Box to OneDrive.
Migrating many user accounts and large size data
Migrating special characters, file names, and file path length unsupported in Microsoft 365.
Migrating sharing permissions (root and subfolders)
Converting and migrating Box-native features such as Box Notes to relevant formats in Microsoft 365
Migrating Box shared links, external shares, file version history, timestamps, etc
Ensuring data security
Monitoring and tracking the migration project progress
3. CloudFuze's Box to OneDrive Migration Tool
CloudFuze offers a quick, secure, and convenient way to transfer files from Box to OneDrive (Microsoft 365). The tool is especially useful for enterprises, universities, and other large organizations.
CloudFuze is Microsoft's Gold Partner and has helped some of the world's largest organizations migrate from Box to OneDrive (Microsoft 365 collectively), including The US Senate. Access our US Senate case study here.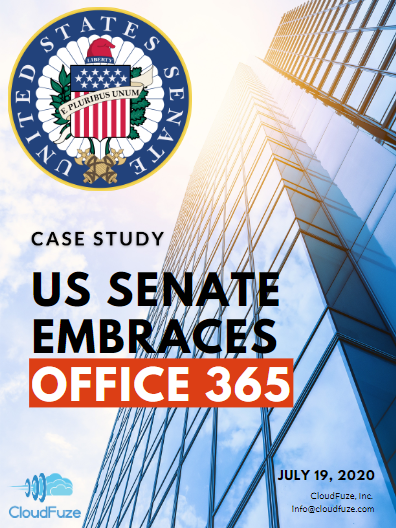 4. CloudFuze's Box to OneDrive Migration Features
Migration Features:
One-time & delta (incremental) migration
Sub-folder permissions migration
Root file and folder permissions migration
File version history migration
External shares migration
Shared links migration
Box Notes conversion and migration
Custom feature development based on your need
Platform Features:
Backed by enterprise-grade infrastructure
RESTful API platform
Cloud-native architecture
Powerful admin controls
Multi-tenant ready
OAuth-based Box/Microsoft 365 accounts authentication
US-based SOC 1 and SOC 2 certified data centers
SaaS servers (ideal for small migrations), dedicated instances (for large migrations), and deployable in a customer's cloud or data center (ideal for enterprises, universities, and government agencies)
Learn more about CloudFuze's Box to OneDrive migration-specific features here.
CloudFuze vs Competitor Migration Tools
CloudFuze helps businesses of all sizes streamline their Box to OneDrive migration with market-leading tool capabilities. Here is a brief features comparison between CloudFuze's tool and other alternatives:
| Migration Features | CloudFuze | Competitors |
| --- | --- | --- |
| One-time migration | Yes | Yes |
| Delta migration | Yes | Yes |
| Root folder permissions | Yes | Yes |
| Sub folder permissions | Yes | No |
| Root file permissions | Yes | No |
| Inner file permissions | Yes | No |
| External shares | Yes | No |
| Shared links | Yes | No |
| Timestamps | Yes | No |
| Comments | Yes | No |
| Long folder path | Yes | No |
| Special characters replacement | Yes | No |
| Embedded links | Yes | No |
| Versions | Yes | No |
| Selective versions | Yes | No |
| Suppressing email notifications | Yes | No |
| Comparison delta | Yes | No |
5. Key Areas To Focus on When Migrating From Box to OneDrive
Migration planning plays a crucial role in the successful completion of the data transfer project. The following are some of the key areas to focus on while planning to switch to OneDrive from Box.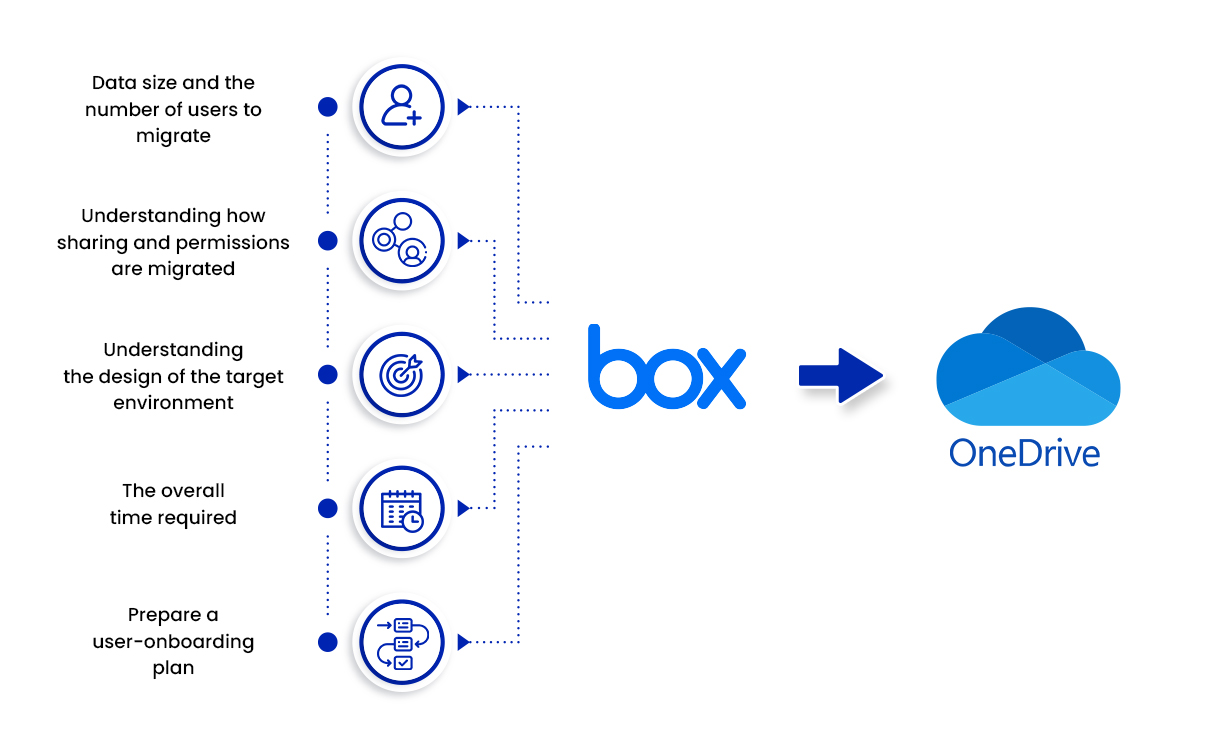 Data size and the number of users to migrate
The total data size and the number of user accounts to migrate determine the overall cost of the migration project. They also determine the time it takes to move files from Box to OneDrive for Business.
Permissions Migration
Retaining and migrating permissions and file sharing rules is the most critical part of a cloud data storage migration project. Unlike single-user (personal) cloud storage platforms, enterprise content management systems have complex file sharing and access permissions between multiple users.
CloudFuze's platform to move Box files to Office 365 ensures secure delivery of not only files and folders but also the permissions.
Changes in user roles when you move Box to OneDrive.
| Box | OneDrive |
| --- | --- |
| Owner | Owner |
| Co-Owner | Manager |
| Viewer Uploader | Edit |
| Previewer Uploader | Edit |
| Uploader | Edit |
| Editor | Edit |
| Previewer | Reload |
| Viewer | Reload |
OneDrive for Business (Microsoft 365) Environment
Here is an infographic showing individual and shared folder structures and the path to transfer Box data to OneDrive: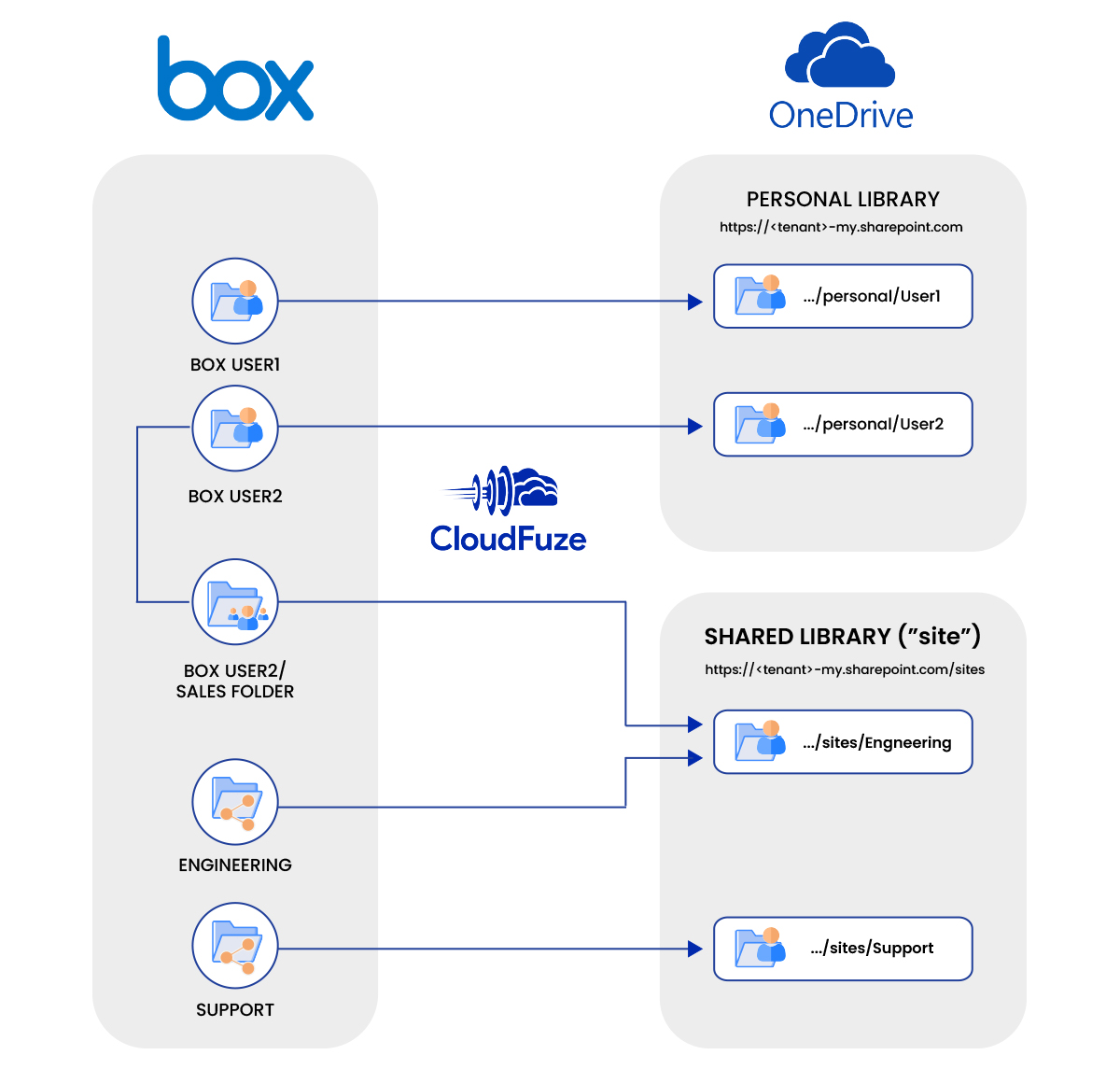 The Time It Takes to Move Box Files to OneDrive
The duration of migration depends on several factors. We have put up a list below for a quick reference.
The size of the data
The number of users
The number of files and folders
The average size of each file
The depth of folders and the complexity of the folder structure
User Onboarding Plan
Organizations must work on an onboarding strategy and have it aligned with the overall plan to migrate from Box to OneDrive. Proper training can help employees use OneDrive correctly.
6. Move Files from Box to OneDrive with CloudFuze
Migrate from Box to OneDrive by adding Box as the source and OneDrive as the destination cloud. Map source and destination user accounts to transfer files with metadata and permissions intact.
You must have a CloudFuze account to initiate the migration. You can create an account to test the service or for more details.
Copy files from Box to OneDrive by following these simple steps:
1. Log into the CloudFuze Web App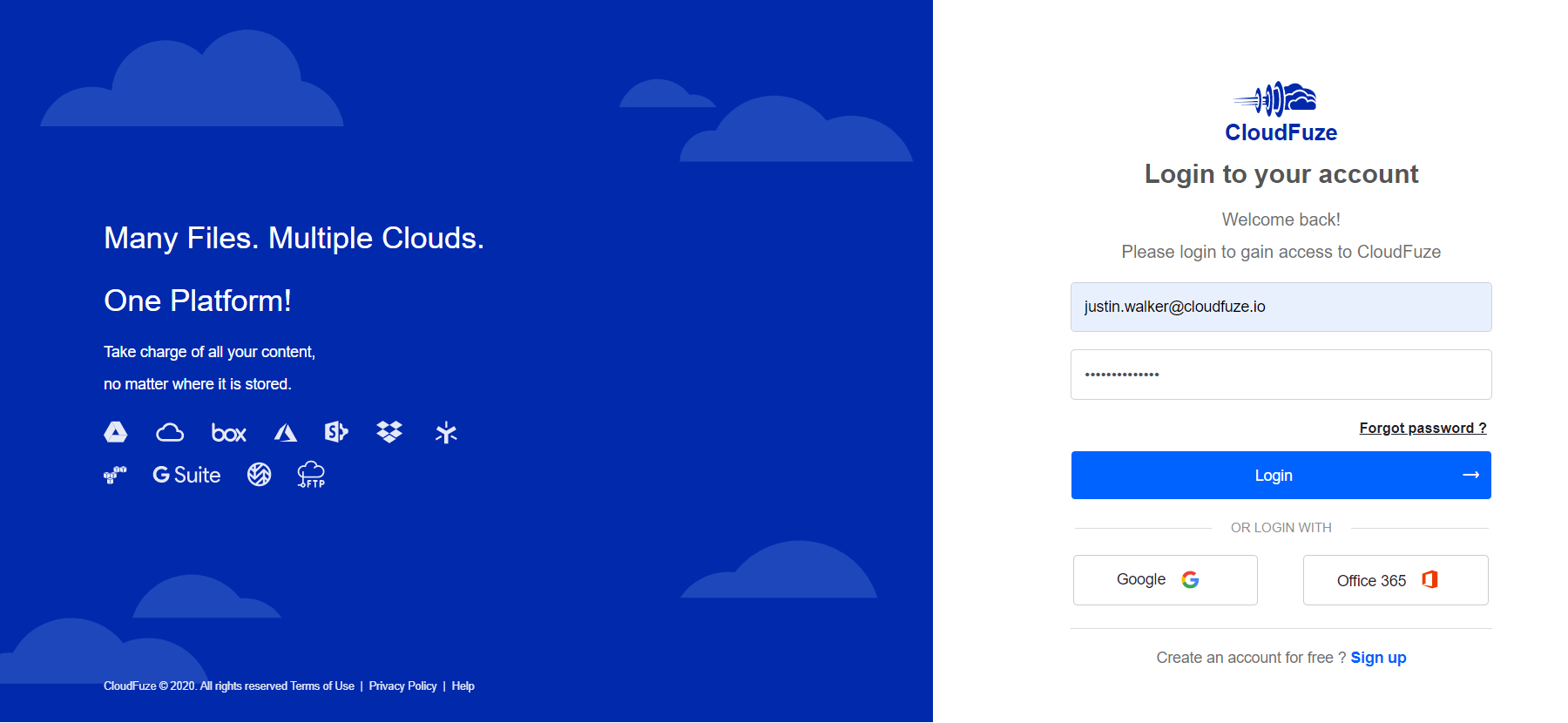 Once you create and log into your CloudFuze account, you will be shown a list of cloud services supported by CloudFuze.
To proceed, you must add your source (Box) and target cloud (OneDrive for Business).
2. Add Your Source Cloud, Box or Box Business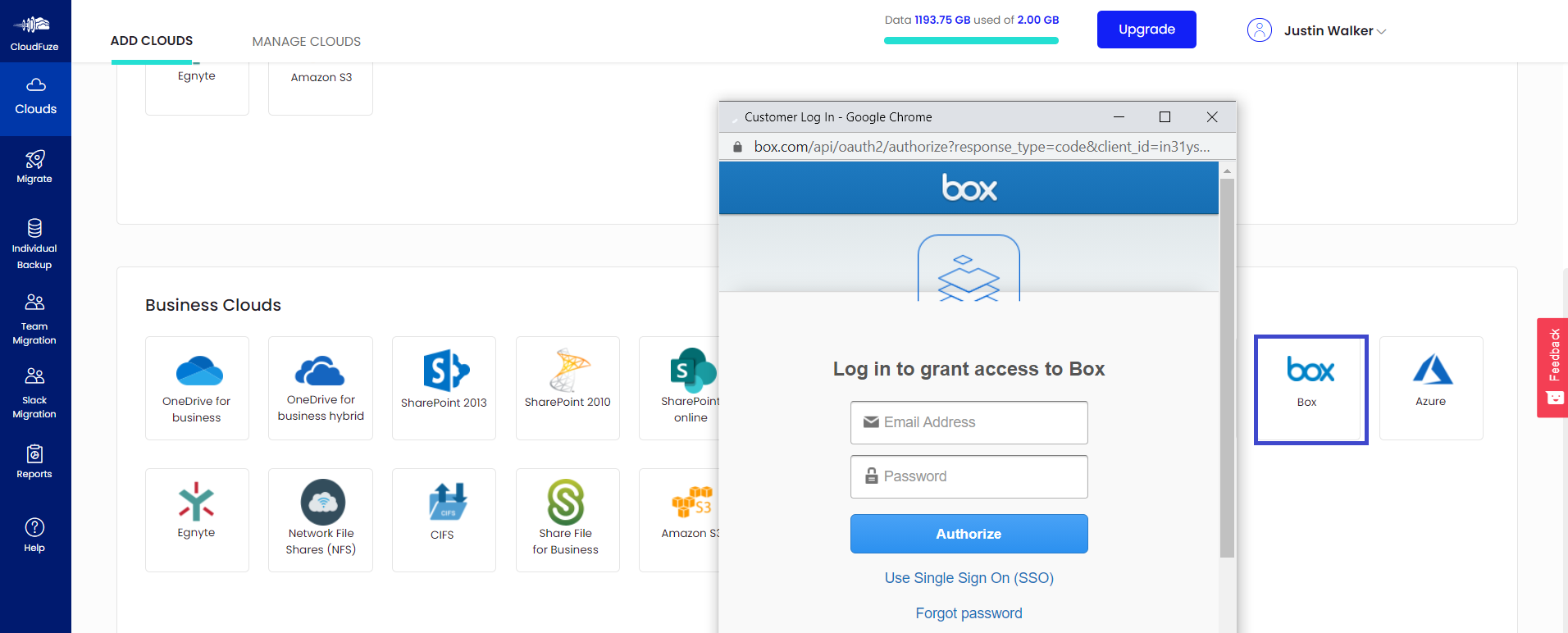 Click on the Box icon and enter your Box admin login credentials to authorize the account.
Note: CloudFuze uses OAuth protocol for cloud authorization. The platform can't access or save your Box login credentials.
3. Add Your Destination Cloud, OneDrive for Business

4. Select Your Source (Box) and Destination (OneDrive for Business) Clouds

Click on the Team Migration icon on the left navigation menu and choose your source and target clouds. Choose Box as the source and OneDrive for Business as the destination cloud to migrate from Box to OneDrive for Business and not the other way around.
5. Map and Select Users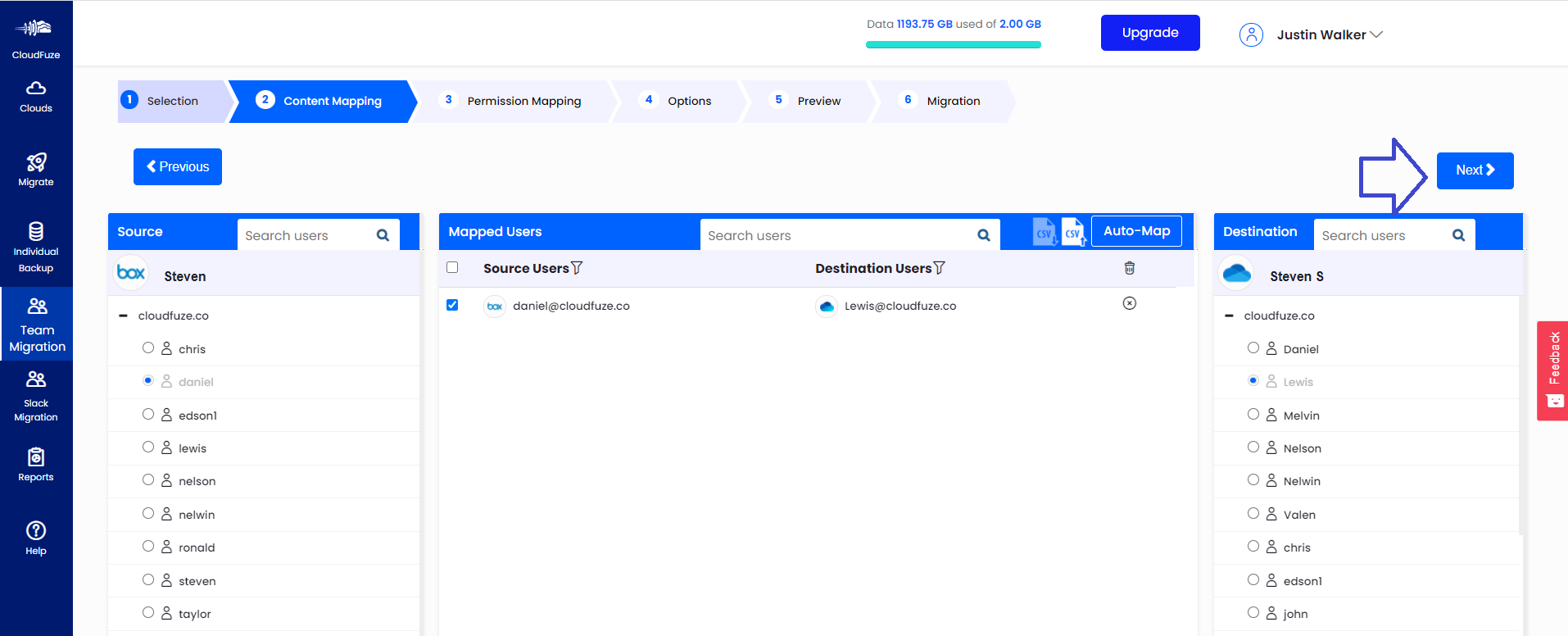 Click on the Auto Map button (located on the middle of the page) to auto map users. Upon clicking on the Auto Map button, the system lists down all the users in Box that can be migrated. Choose a few or all users as per your requirement.
6. Preview and Initiate Box to OneDrive Migration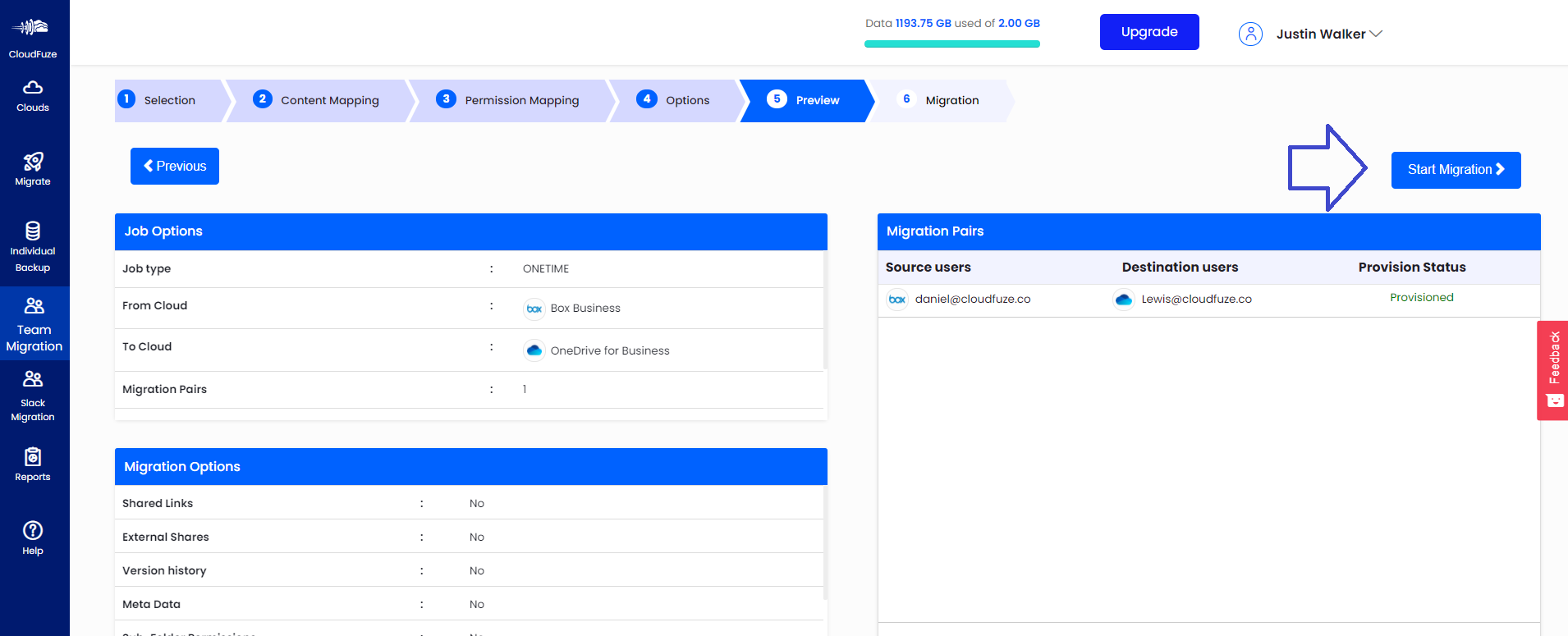 Preview the migration job name and click on Start Migration. The migration will be initiated, and the final page will display the migration status, such as "In-Queue," "In-Progress," "Processed," and "Completed". Just click on the names of the migration jobs to see the detailed reports for each migration. That's it!
7. Box to OneDrive Migration FAQs
1. How quickly can I transfer files from Box to OneDrive?
As mentioned earlier, Box file transfer speeds greatly depend on the number of users and the size of the data to be migrated. Besides, factors such as throttling and rate limitation from Box and OneDrive can affect migration speed.
However, CloudFuze is focused on helping businesses benefit from optimum file transfer speed. Configuring high-performance servers, optimizing data migration paths, in-depth reporting, and API throttling mitigation function are the approaches CloudFuze takes to ensure uncompromised migration speed.
2. I see two Box icons in the CloudFuze web application. What are they?
CloudFuze supports both personal (single user) and business (multi-user) migration. Click on the Box icon under single user section if you are planning to migrate personal files. For business needs, choose Box Business and OneDrive for Business clouds under the Business Clouds section to migrate from Box to OneDrive.
3. Will CloudFuze be able to convert Box Notes to MS Doc files?
Yes, CloudFuze supports Box Notes migration to OneDrive. CloudFuze's migration tool converts Box Notes files into .DOCX files in OneDrive for Business and SharePoint Online.
4. Will CloudFuze retain file versions after migration?
Yes, CloudFuze transfers Box files to OneDrive along with selective or all versions.
5. What should I keep handy to initiate Box to OneDrive migration?
In case of a personal data migration, you need the login credentials of Box and OneDrive. If it is a business migration, you need Box admin or co-admin login credentials as well as global admin login information of OneDrive (Office 365).
CloudFuze offers fully managed enterprise content migration solutions for businesses that do not wish to use the self-service model. Please chat with our support team or send an email to support@cloudfuze.com for more information.
6. Should I continue everyday work when migrating files from Box to OneDrive?
Definitely. Since cloud data migration of CloudFuze is a copy-and-paste action, you can resume your company's work at the source cloud when the migration is in progress. The entire migration flows through CloudFuze's migration server, and the end-users will not face any kind of interruption.
7. What timestamps to retain when copying Box to OneDrive?
When performing the migration with CloudFuze, you get the option to choose between created and modified timestamp transfers.
8. How to move files from Box to OneDrive if throttling occurs?
CloudFuze has a re-try mechanism which reinitiates the migration during transfer rate throttling. The re-try mechanism successfully resumes migration by complying with the wait time of the throttling.
9. Are TBs/PBs of data too large to migrate from Box to OneDrive?
No data size is too large for cloud data migration with CloudFuze. Our migration team performs the migration in batches if the data size is in several hundred TBs or PBs.
10. How many delta migrations are needed to transfer incremental changes in Box to OneDrive?
A single delta migration does a good job of migrating all the incremental changes. However, with CloudFuze's managed migration, you can request multiple delta migrations.
You can also opt for comparison delta which helps identify missed files and folders by comparing source and destination cloud data. This process eliminates the need to manually check missed data during post-migration validation.