Google Drive vs. OneDrive: Which is Right for Your Business?

In recent years, cloud storage companies witnessed massive growth. Gone are the days when businesses and organizations used to store their information locally. More than 80% of companies now use one or more cloud services for data storage and collaboration. Nowadays, it has become extremely difficult for businesses to choose the right cloud storage service that suits their requirements precisely.
In this article, we compared Google Drive (G Suite) and OneDrive (Office 365), as Google Drive and OneDrive are the two major cloud services that come to our mind when talking about cloud storage.
Factors Considered
When we are talking about storage and file sharing both Google Drive and One Drive offer the same cloud services. Both clouds provide access to files and folders from anywhere. Therefore, we picked a few factors based on which we drafted this comparison.
Pricing Plans
Files sharing
Security
Pricing Plans
Pricing, of course, plays a key role when it comes to cloud storage decision-making. Let's check how Google Drive and OneDrive for Business fare against each other on pricing.
Google Drive
Google Drive starts with a 100 GB plan that includes 15 GB of free cloud storage for just creating a Google account. If you want more than 15 GB of storage, then you can subscribe to the 100 GB plan. If you need more, you can select 1TB of storage. If 1 TB is not enough for you, just jump on to the 20 TB plan!
| Storage/ Plan | Monthly | Yearly |
| --- | --- | --- |
| 15 GB | Free | Free |
| 100 GB | $1.99 | $19.99 |
| 200 GB | $2.99 | $29.99 |
| 2 TB | $9.99 | $99.99 |
| 10 TB | $99.99 | —- |
| 20 TB | $199.99 | — |
OneDrive
OneDrive provides a free 5 GB cloud storage with every Microsoft account. For users with high data storage needs, they can pick any paid plan that begins from 5 GB and all the way up to 6 TB.
| Storage/ Plan | Monthly | Yearly  |
| --- | --- | --- |
| 5 GB | Free | Free |
| 100 GB | $1.99 | —- |
| 1 TB | $6.99 | $69.99 |
| 6 TB | $9.99 | $99.99 |
One Drive is easy to install desktop clients and mobile apps that are available for Android and iOS.
Google Drive and One Drive offer prices much more comfortable compared to its biggest competitor  Dropbox. However, Google Drive provides you three times more storage than the OneDrive 1 TB plan costs $3 less than 1TYB of the Google Drive storage plan.
OneDrive has more features compared to other cloud storage, it offers a family plan.
Learn about CloudFuze's OneDrive to Google Drive migration-specific features here.
Files sharing
When you are talking about file sharing and permissions, both cloud services provide enough features that work for any business.
Google Drive
You can share both files and folders in Google Drive by right-clicking on the file or folder you want to share.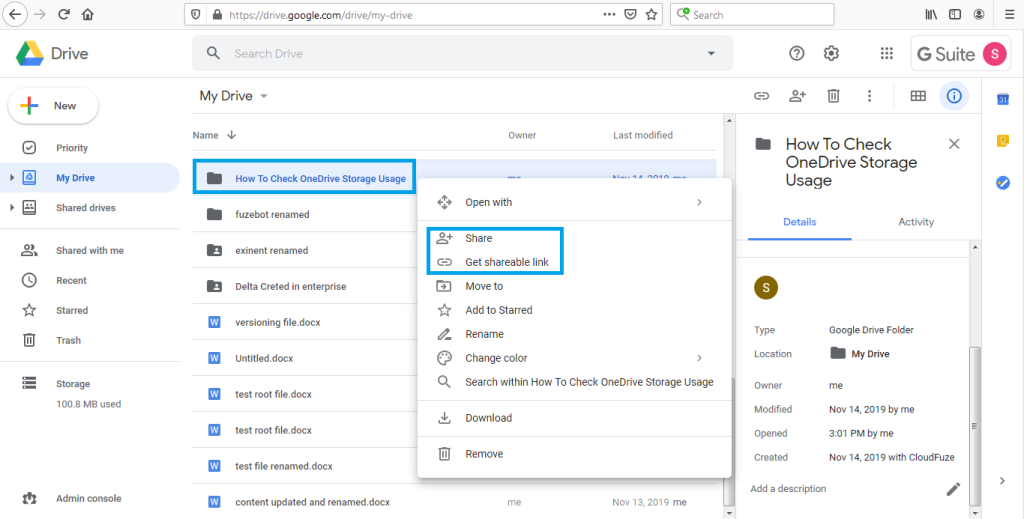 Under the people section, enter an email address of a specific person whom you want to share with. The receiver only is able to view until you permit him to edit, comment, add to your file.
By selecting "Get Shared Link" you can copy the link on your clipboard. If you're sending it to a particular individual type their email that links to the specific person. You can pick as per your needs like read-only permission and disabling downloads. This is all about sharing files or folders with Google Drive.
OneDrive
If you want to share the right file, click on the file you will get the option to share, copy link. Click on the share option you will see a pop-up option where you can enter the email address of the people you want to send the file or click on Get shareable link option generated a shared link can be accessed by anyone with permissions.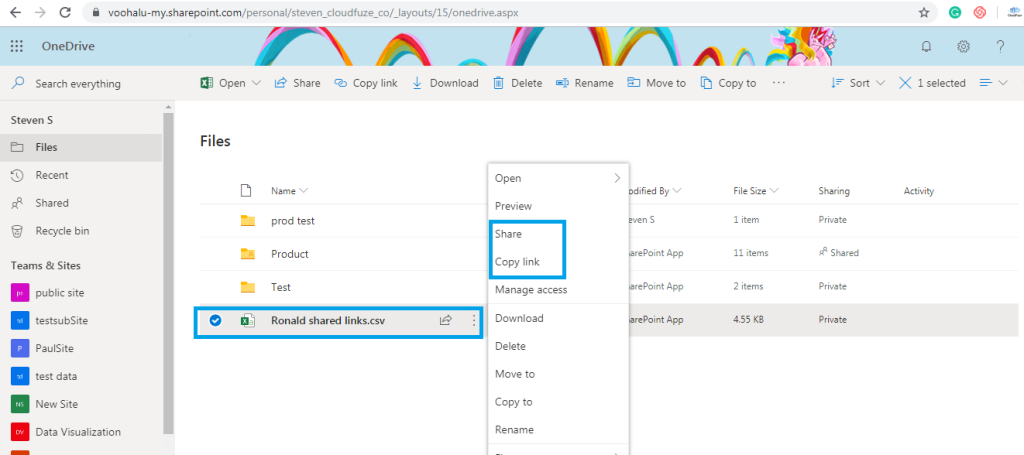 Both Google Drive and OneDrive file sharing work similarly and easy to share. There is a drawback in Google Drive their file-sharing approach as they cannot create a password for links. OneDrive has that feature, though.
OneDrive also allows you to set an expiry date for links, whereas Google Drive does not. In OneDrive "shared" view, it checks both the content shared with you and the content that you have shared. On the other hand, Google Drive only displays your content shared with you.
Security
As the cloud is becoming more and more popular, cloud storage security becomes the most important subject to protect the data.
Google Drive
Google Drive encrypts both files and folders during transit from your computer to the cloud with the help of TLS and 256-bit AES.  Once the data is moved to the data center, your files get decrypted and encrypted with 128-bit AES.
Google supports two-factor authentication that protects your account from hackers. Login verification is an extra layer of security for your account where the machine generates a security code sends to your mobile.
OneDrive
Microsoft often highlights security as one of the top features of OneDrive. OneDrive encrypts data using 256-bit AES.
When it comes to security, none of them provides privacy from client-end, end-to-end encryption. No matter what you go for, it is advisable that you involve your IT admin or manager in decision-making for a far better understanding.