Transfer Files Between Dropbox and Google Drive Easily
What to do when you need to transfer large data from Dropbox to Google Drive? It's simple. Follow these instructions and you will be able to move GBs or even TBs of data quickly between Dropbox and Google Drive without using your internet resources. In addition to file migration, CloudFuze also lets users backup Dropbox to Google Drive. In order to use the sync feature and back up Dropbox files to Google Drive, follow this tutorial. For migration, continue reading this article.
Pre-requisites:
Login credentials for Dropbox and Google Drive accounts (Source and destination)
A CloudFuze account
Step 1: Create a CloudFuze Account
Click here (opens in a new tab) to access the sign-up form. Fill your details and create a CloudFuze account. In order to transfer files from your source Dropbox account to destination/target Google Drive, a CloudFuze account is needed. CloudFuze is free to try. One can migrate up to 10 files a day for the duration of 30 days during the trial periods. Learn more about our pricing.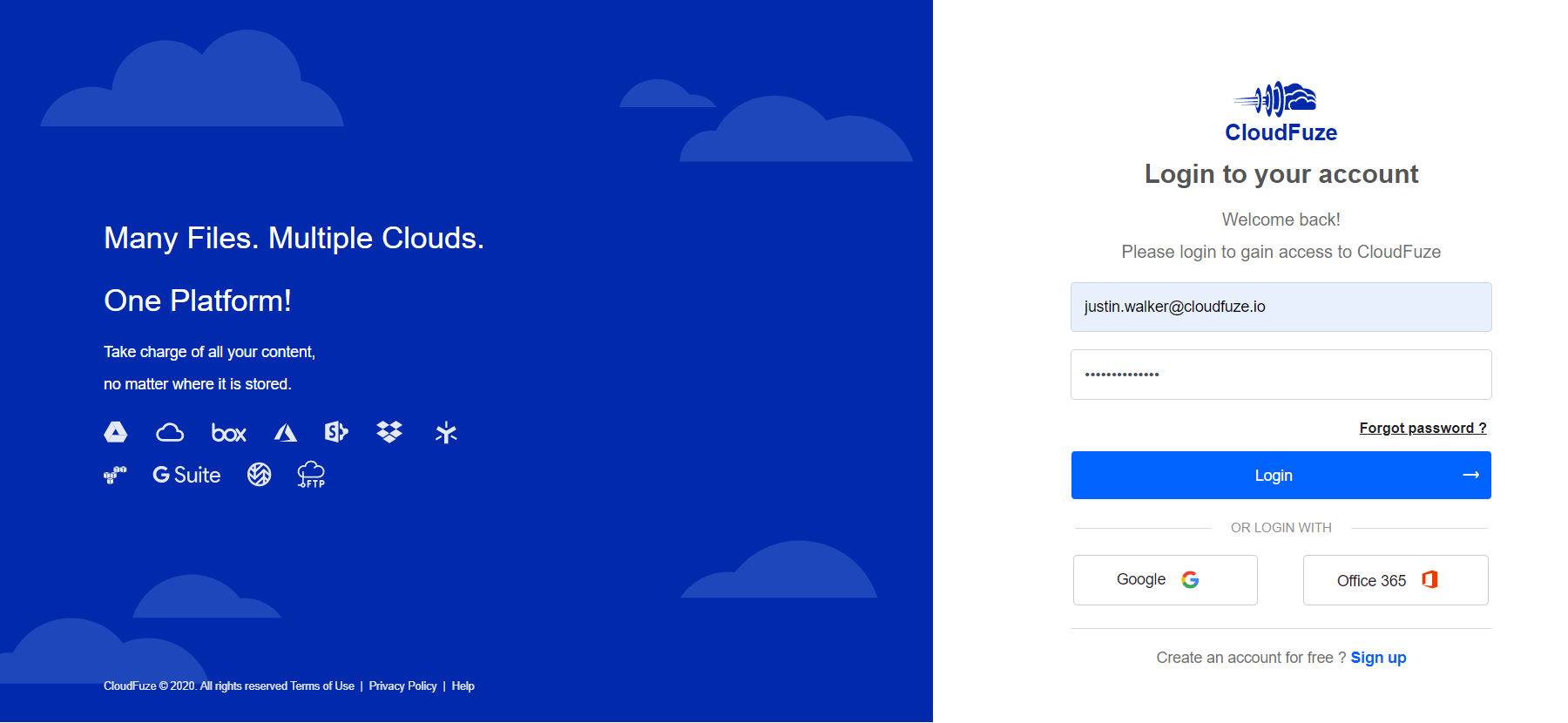 Step 2:  Add and Authorize Dropbox and Google Drive Accounts
Since it is personal data migration from Dropbox to Google Drive, click on the Dropbox icon listed under the personal clouds list. Don't click the Dropbox logo listed in business clouds since you use a personal Dropbox account and not a business one.

Step 3: Add the Source Dropbox Account
To add a Dropbox account,
Click on the Dropbox icon under the personal cloud list
Enter the email ID associated with the Dropbox account
Enter the password
Now, a popup appears. Click on "Accept" and grant permission to CloudFuze
Your destination cloud will be added.

Step 4: Add the Destination Cloud, Google Drive
The procedure for adding destination/target Google Drive account is the same as mentioned above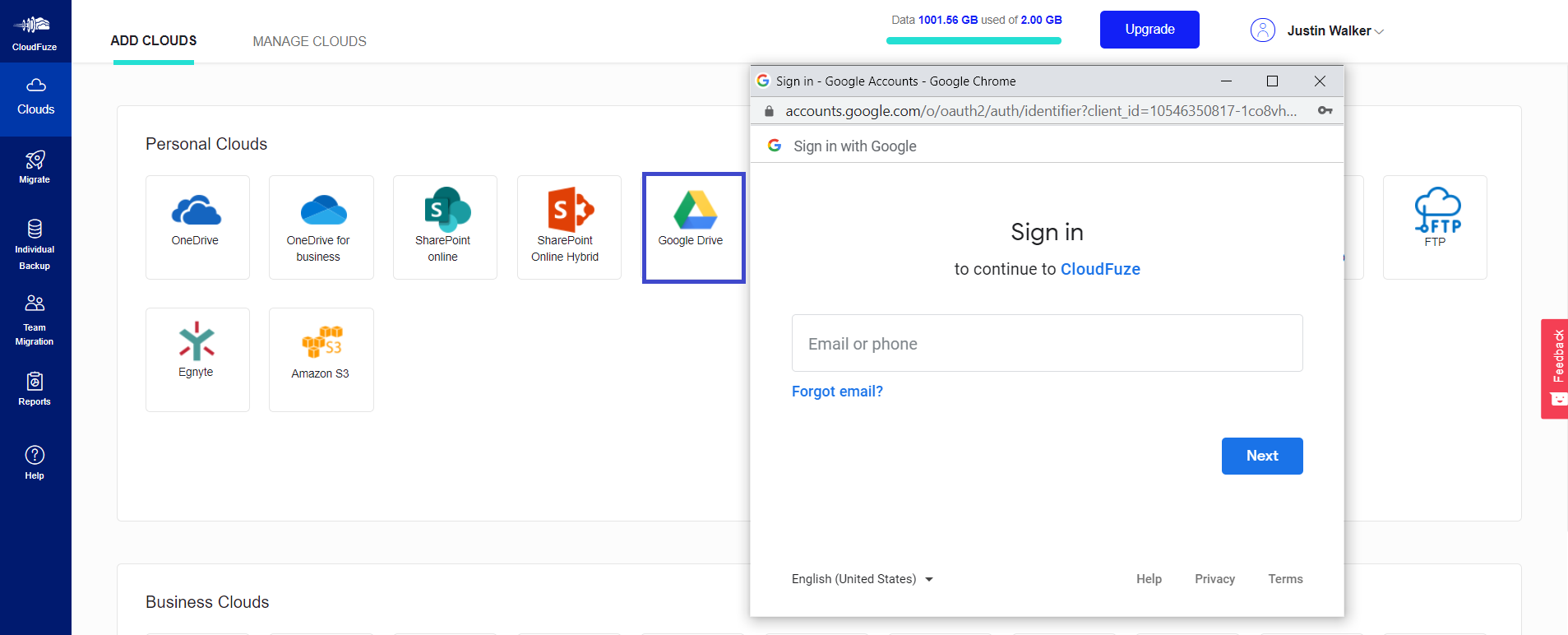 Step 5: Verify Whether Clouds Added Successfully
Click on the "Clouds" logo on the left navigation menu. Both Dropbox and Google Drive accounts can be seen here if the clouds are successfully added.
If the clouds are missing, then it is safe to assume that there was a problem adding them. In that case, the cloud adding must be done again.

Step 6: Start the Migration
Click on the "Migrate" button on the left navigation menu and you will be redirected to the migration page shown in the above screenshot. Select Dropbox as the source and Google Drive as the destination.
Source and destination accounts need to be selected accurately. If you choose the clouds wrongly, Google Drive's data will be migrated to Dropbox.

Step 7: Select Files and Folders to Be Migrated
Upon clicking "Migrate", a page appears displaying all the files and folders in the source and destination accounts.
You can migrate a single file/folder, multiple files/folders, or even entire root data. Just select what you need to migrate and click on the "Migrate" button.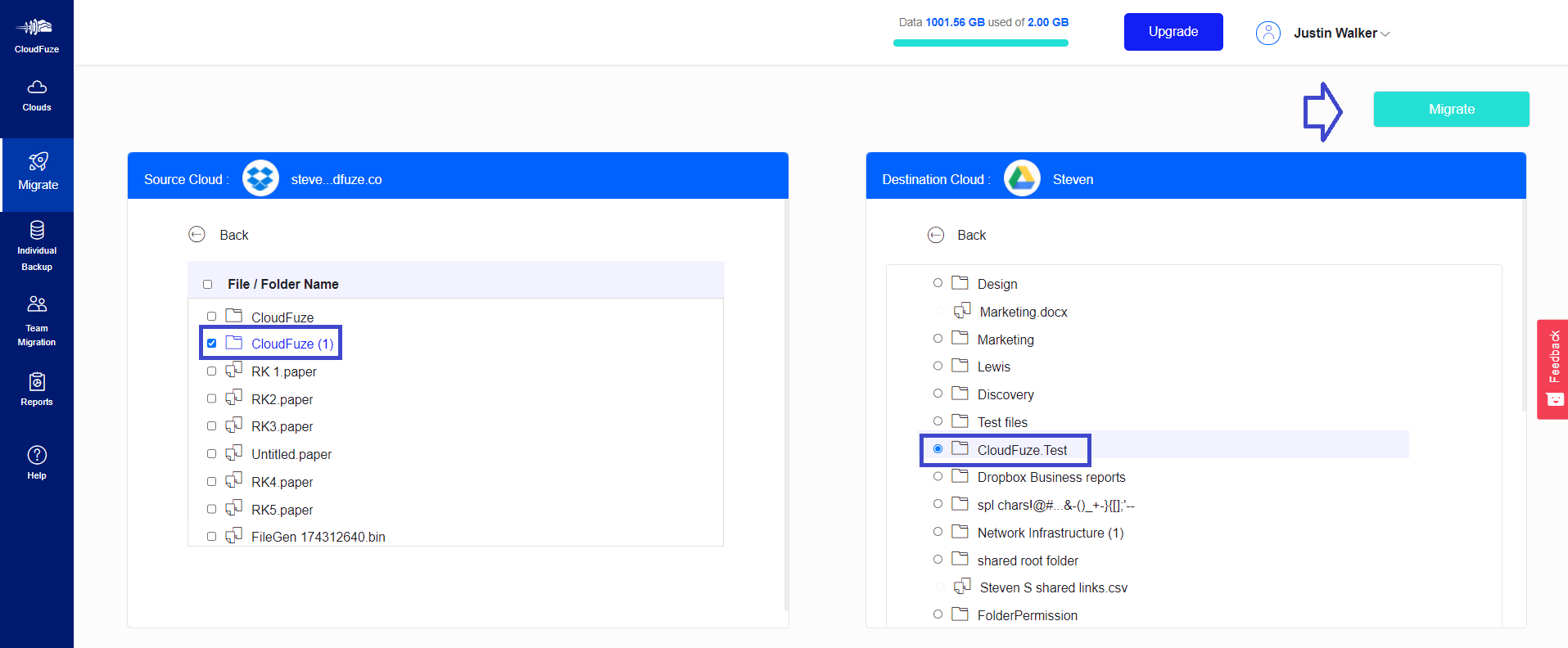 Step 8: Migration Is in Process
All the steps are completed, and migration has been started.
Your Dropbox to Google Drive migration may take anywhere from a few minutes to a few hours depending upon the size of the data.

Step 9: Migration Is Completed
The status of the migration has been changed to "Processed". It means the migration has been completed and the data has been transfer Dropbox to Google Drive successfully.

We hope you liked the tutorial. If you are searching for a Dropbox to Google Drive migration tool, create your account today.