Dropbox Vs. Google Drive: The Best Cloud Storage in 2022
Dropbox vs. Google Drive, which cloud storage service should you choose? Read our analysis to determine which cloud service giant is right for you.
1. Introduction
As we do more and more of our work online, it is essential to store files in an organized way. The one question that arises when it comes to filing storage solutions is whether to choose Dropbox or Google Drive.
Both are popular, cost-effective cloud storage services that include file sharing, syncing, and backup. But, when we compare the two, which cloud storage solution is the best?
Continue reading to learn more about the differences between the two and the aspects you should consider before making your choice.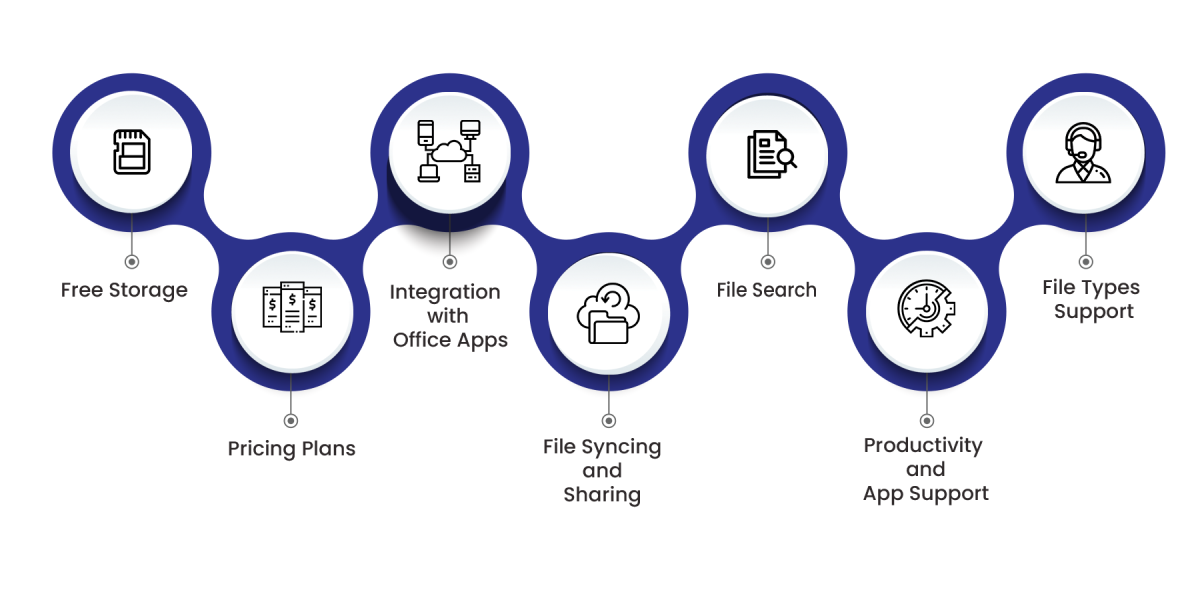 2. Dropbox vs. Google Drive- Free Storage
Both Dropbox and Google Drive offer free storage. As you may already know, Dropbox offers 2 GB of cloud storage space, and Google offers 15 GB. While Google seems to have the upper hand when it comes to free storage, we must not forget the Dropbox referral program that lets users get 500MB of storage space every time they refer a friend or family member to Dropbox .
Google's free 15GB cloud storage includes other Google products like Gmail, Calendar, Meet, Chat, Google Photos, etc. If you have been using Gmail for a very long time, the chances are good that you might have consumed a good amount of space out of that free 15 GB.
To sum up, Google Drive should be your preferred cloud partner if you wish to remain a free user and are unwilling to pay for a cloud storage service.
Winner: Google Drive
Learn about CloudFuze's Dropbox to Google Drive migration-specific features here.
3. Dropbox vs. Google Drive – Pricing Plans
The two cloud storage giants offer attractive plans for consumers and business users.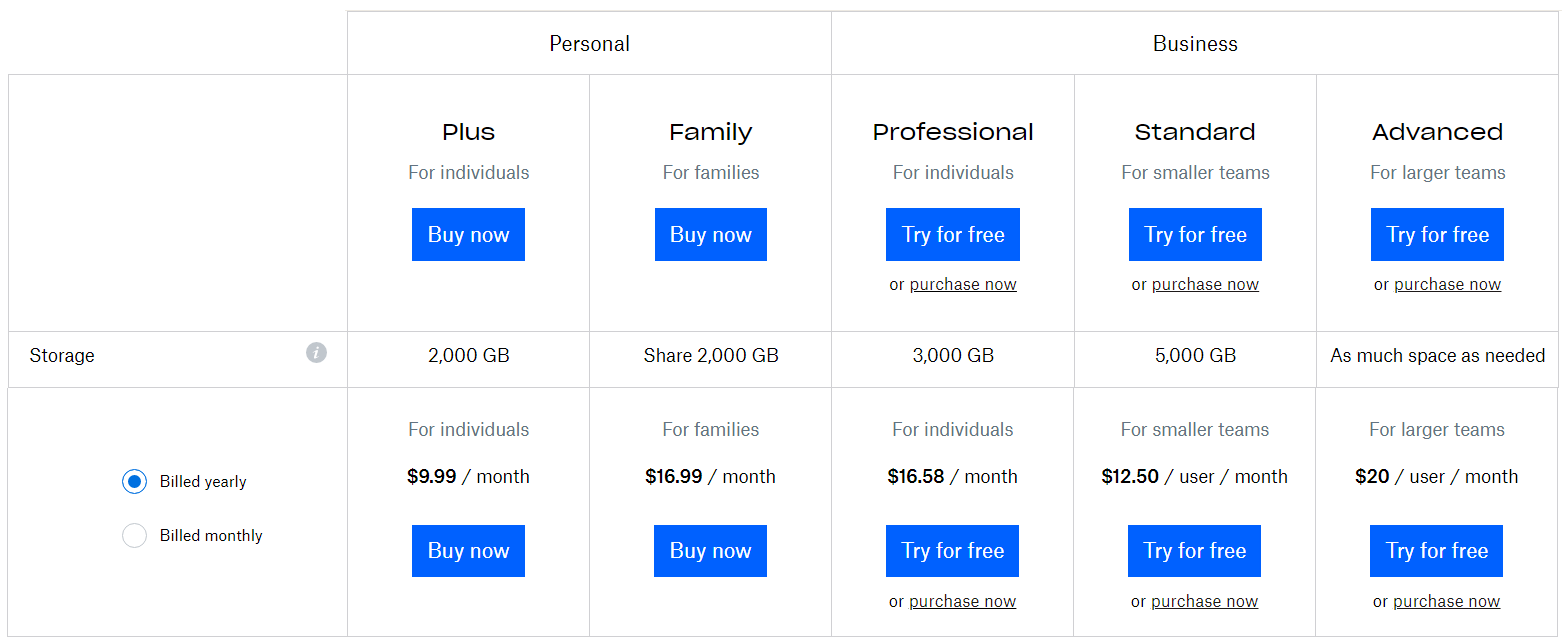 Dropbox has a straightforward consumer pricing, starting at $9.99/month (Dropbox Plus), offering 2 Tb of storage. Upgrading to business plans allows users to enjoy access to some of the advanced Dropbox features like Smart Sync, showcase, full-text search, and file viewer history.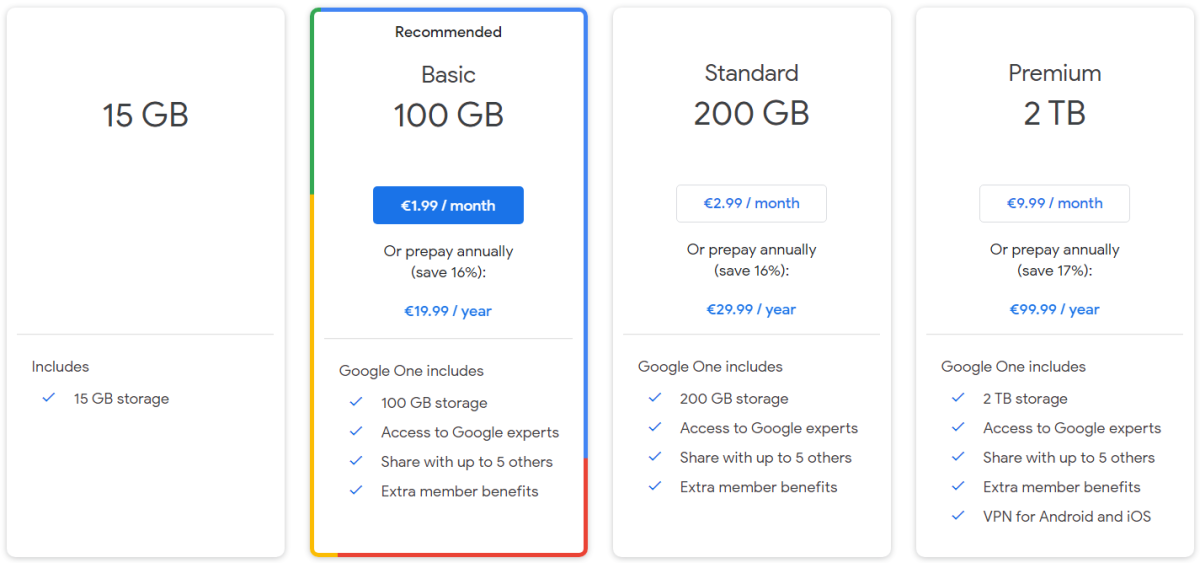 Google Drive's consumer pricing starts from $1.99 a month with 100 GB of storage. The cloud storage plans appeal to a large section of users. Unlike Dropbox, Google lets its customers choose a perfect plan for their storage needs. Google's $1.99/Month (100 GB) is just right for someone who doesn't need much storage space. Business users with high cloud storage needs can go for customized storage (as much as storage you need) plans.

Verdict: Google Drive has the edge over Dropbox concerning pricing.
Winner: Google Drive
4. Dropbox vs. Google Drive- Integration with Office Apps
Dropbox integrates with Google Workspace and Microsoft 365, allowing users to create, organize, and seamlessly edit Google Docs, Sheets, Slides, Microsoft Word, Excel, and PowerPoint n Dropbox.com.
On the other hand, Google Drive deeply integrates with other collaborative and productive apps, including Gmail, Meet, Chat, Calendar, Docs, Sheets, Slides, etc. This makes working together easier and more efficient compared to Dropbox. Using Google Drive, you can work with Microsoft Office files even without Office installed.
Verdict: Google Drive integration with Office apps makes the collaboration easier and more efficient.
Winner: Google Drive
5. Dropbox vs. Google Drive- File Syncing and Sharing
Dropbox has a sound file syncing feature that, at this moment, is unbeatable by any other cloud storage provider. Dropbox lets its users sync data on laptops, desktops, and mobile phones. The best part of the Dropbox sync feature is that it supports multiple operating systems that range from Windows and Android to Linux. Dropbox's highly sophisticated algorithms make file syncing a breeze. As the cloud storage giant proudly proclaims, nobody syncs like Dropbox!
Google Drive falls a little short of Dropbox in this aspect as it doesn't support Linux operating system natively.
Verdict: If sync is all that matters to you, Dropbox is the way to go.
Winner: Dropbox
6. Dropbox vs. Google Drive- File Search
Dropbox doesn't offer any advanced option to search files. You can simply start typing, and a list of email addresses will emerge to choose from, with relevant results appearing below. Moreover, you can filter results by folder or file type.

Like Dropbox, the Google Drive search bar offers some filter options to find files by author and by type, as shown below.

Google Drive offers advanced search to help users find specific types of files in specific folders, the trash, or anywhere else. You can also specify the modification date, the file's owner, the file's name, and any possible words in the file. When you have many files, all these features allow you to do thorough searches.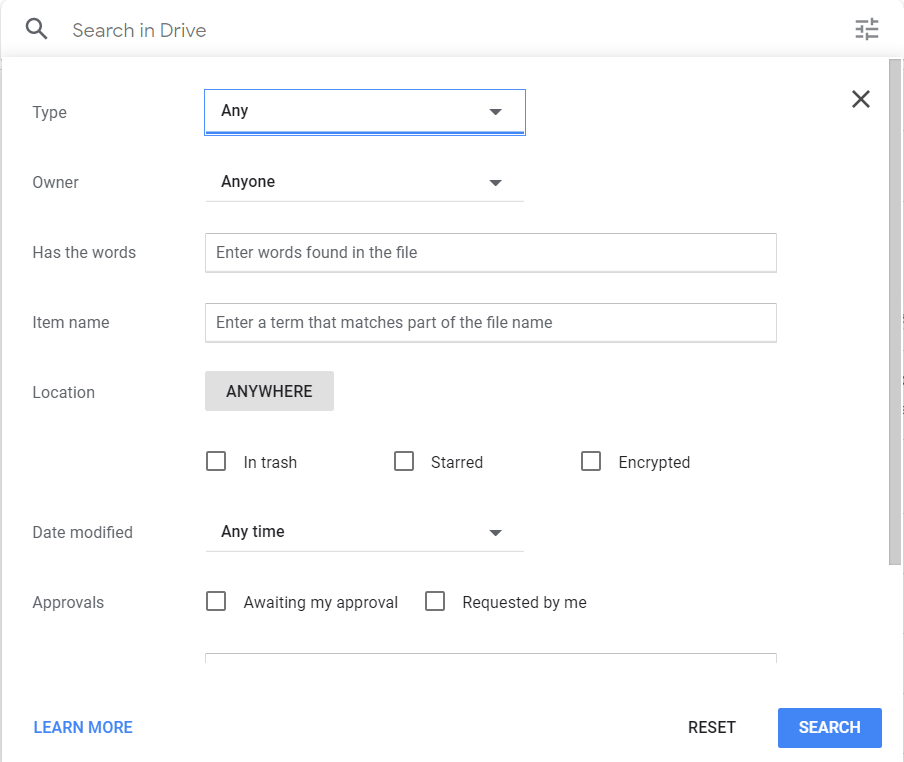 Verdict: If you are storing many files and finding it difficult to search, Google Drive is the best choice with advanced search options.
Winner: Google Drive
7. Dropbox vs. Google Drive- Productivity and App Support
Google Drive, unquestionably, has an edge when it comes to collaboration, productivity, and application support. As you know, Google Drive works exceptionally well with some of its already popular products like Gmail, Google Photos, Google Docs, etc., thus making life simple for its users.
On the other hand, Dropbox needs to catch up to Google and Microsoft to retain its market dominance. Considering Dropbox's history (Carousel and MailBox failures), it will be challenging for Dropbox to position its collaboration tool, Paper, as the best on the market.
Verdict: To summarize, Google is the undisputed king in this comparison, and there's no reason why you should stick with Google Drive if productivity, not sync, is a critical feature to you.
Winner: Google Drive
8. Dropbox vs. Google Drive- File Types Support
When uploading files to the cloud service, you don't have to worry about the file type, but you can only see the supported file types.
Dropbox supports only a limited number of file types, such as Adobe files, Microsoft files, images, text files, videos, and audios. So, you would have to install the software to view any other file type that is not supported.
In contrast, Google Drive supports over 100 file types, including PDFs, CAD files, images, videos, Photoshop, Autodesk, etc.
Verdict: If you work with different file types, then Google Drive is recommended to choose
Winner: Google Drive
9. Dropbox vs. Google Drive: Which Cloud Storage Should You Choose?
The answer depends on your specific requirements. If you want to sync files and folders between multiple devices faster, Dropbox is a good choice. Besides being fast, reliable, and seamless, it operates invisibly in the background. Dropbox doesn't come with many extra features, but by focusing on its core product, it's still one of the best out there.
If you're looking for a complete solution for your business, Google Drive's integration with Google Photos, Gmail, and other Google services will benefit you. Dropbox cannot compete with its tight integration with G Suite apps.
If you are a Dropbox user and planning to migrate from Dropbox to Google Drive, you don't have to worry about your data migration if you have chosen an ideal migration service.
CloudFuze, as a leading managed migration service provider, manages your entire Google Drive migration journey with zero disruption and data loss.