Tips to Improve your Google Drive Security

Google is the undisputed leader of the digital world. With internet searches, email, cloud storage, file sharing, and more, the popularity of Google has always been on the rise. Google workspace (formerly Gsuite) is used by over five million enterprises today.
Google Drive is especially beneficial for businesses. Users may store, view, and share files from any desktop or mobile device, allowing them to remain productive and collaborate on projects no matter where they are.
Google Drive provides convenient solutions to keep workplaces connected and organized. As Google Drive is increasingly utilized by businesses, the question of security arises.
How Secure is Google Drive?
Is Google's built-in security adequate to protect the organization's confidential data?
In this article, we aim to answer these questions and explore how we can improve the security of data in your Google Drive.
How Secure is Google Drive for Business?
Uploads to Google Drive folders are kept in safe, encrypted data centres.
Google Drive uses two different levels of security.
256-bit SSL/TLS encryption

When files are uploaded, downloaded or accessed by end users, this 256-bit encryption level makes it harder for hackers to access them.

128-bit AES keys

When files are stored on servers, this encryption level is used.
Furthermore, when Google stores your data, the content is divided down into smaller chunks. Each of these chunks is protected by its own security key. This means that a potential hacker would have to break many keys in order to access your data.
Having said that, let us explore some areas that can improve the security of data in your Google drive.
How to Secure your Google Drive?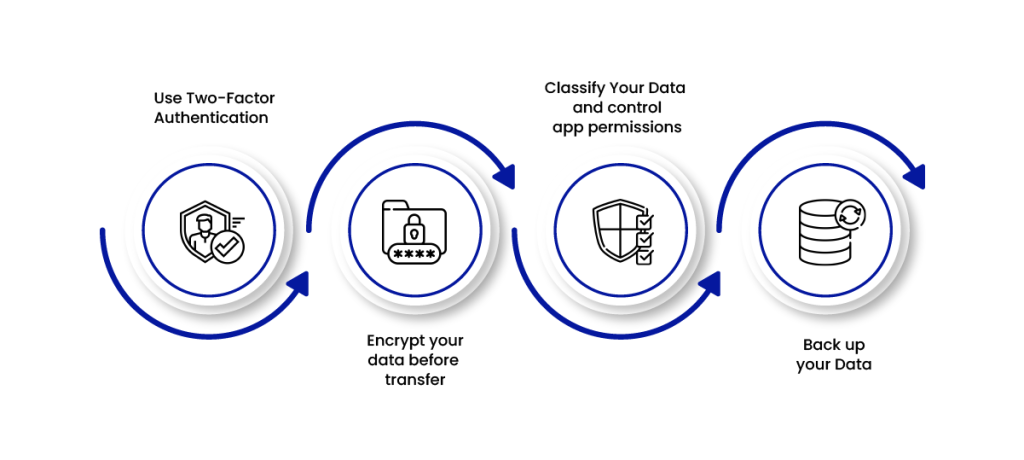 Here are a few measures you can take to improve the security of your data in Google Drive:
Use Two-Factor Authentication
Two-step verification is a straightforward approach that creates a barrier for anyone who obtains your password. With two-factor authentication enabled, the user must also enter a code sent to your phone via text message from Google. You can keep your users' accounts safe from hackers by investing a few extra seconds each time they log in.
Encrypt your data before transfer
You can use third-party solutions to encrypt your data before uploading it to Google Drive. While this step adds some complexity, it provides greater privacy and security. It may be worthwhile, particularly for your most sensitive and critical data.
Data classification is the process of categorizing and identifying data so that IT teams can correctly secure it and business users may efficiently use it. Make sure confidential data like credit card details are not stored in an employee's Google drive.
You can monitor and regulate which apps and Google services each user has access to as an administrator. Ensure that everyone has access to only the files they need to accomplish their tasks. This allows you to keep track of who has access to data and can help you reduce potential data exposure.
Back up all important files saved in Google Drive on a regular basis. This will help reduce the risk of business disruption. Users can automate the backup process by using Google's Drive File Stream service. The service provides two-way synchronisation of their hard drive with their Google Drive.
Bottom Line
Google Drive offers strong collaboration capabilities and powerful built-in security. However, data security is crucial for businesses. One can improve the security of their Google Drive by enabling the techniques discussed above. Activate two-factor authentication, check security dashboards on a regular basis, identify and classify data saved in your company's Google Drive, and automate backups. These extra security measures offer additional obstacles to hackers and give you more control over your data.