1. Introduction
Transferring all data and conversations from Slack to Google Chat is a complex undertaking that requires careful planning and execution. Businesses must ensure that all the Slack Workspace data, including direct messages, channels (private and public), emojis, timestamps, mentions, replies, attachments, etc., are migrated to Google Chat accurately. As a result, it is crucial to choose a tool that performs the Slack to GChat migration smoothly while meeting business requirements.
With over a decade of successful cloud migrations for Enterprises and SMBs, including Slack to Microsoft Teams expertise, CloudFuze excels in tailoring Slack to Google Chat migrations to business needs.
This guide serves as a reliable resource for IT admins and MSPs embarking on the migration journey from Slack to Google Chat. It offers valuable insights and strategies to ensure a smooth and effective transition.
2. Why Migrate from Slack to Google Chat?
Migrating from Slack to Google Chat offers numerous benefits to enhance collaboration, streamline workflows, and improve organizational communication.
While both Slack and Google Chat facilitate seamless communication among team members, a comparison between these platforms, Slack vs Google Chat, reveals significant differences in their respective features and functionalities. Some of the reasons why organizations consider making the switch from Slack to GChat include:
Integration with other Google Workspace apps, creating a unified workspace
Centralized collaboration
Cost-efficient
Streamlined user management
Enhanced security
Effective data retention policies and compliance features
3. Challenges of migrating from Slack to Google Chat
Migrating from Slack to Google Chat presents significant challenges that IT Admins and MSPs must navigate to ensure a seamless transition. Some of the key challenges associated with this migration are as follows:
Mapping user's chat accurately
Migrating all the direct messages
Migrating public and private channel conversations
Migrating all the Slack features such as emojis, threaded messages, files, etc.
Migrating incremental changes
CloudFuze facilitates data migration from Slack to Google Chat, guaranteeing zero data loss, minimal disruption, and comprehensive data security measures. By working with our experienced migration experts, organizations can navigate the complexities of the migration process, fostering a successful adoption of Google Chat.
4. Steps to Migrate from Slack to Google Chat
1. Log in to CloudFuze
Go to webapp.cloudfuze.com and create a CloudFuze account. You can contact our migration team for a live demo or quote.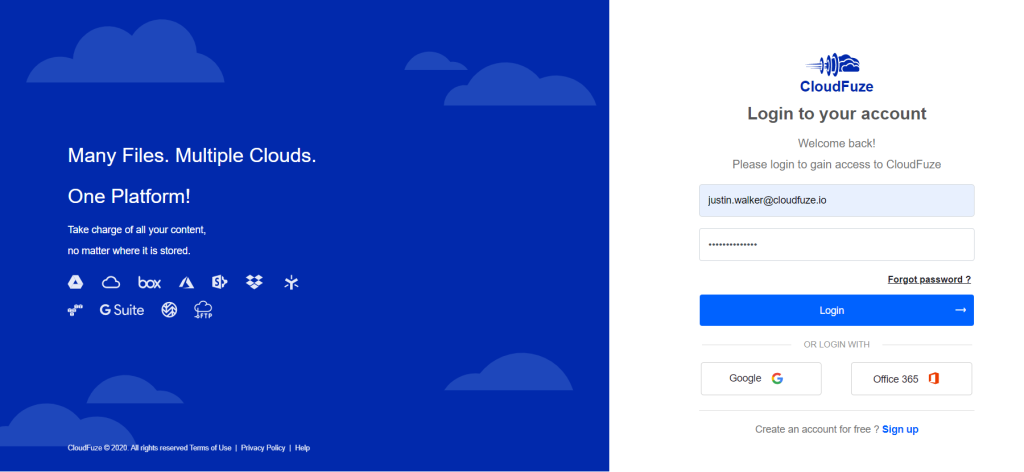 2. Add Your Slack Account to Cloudfuze
Locate the Slack logo in the business clouds list and click on it. A popup will appear where you need to enter Slack account details.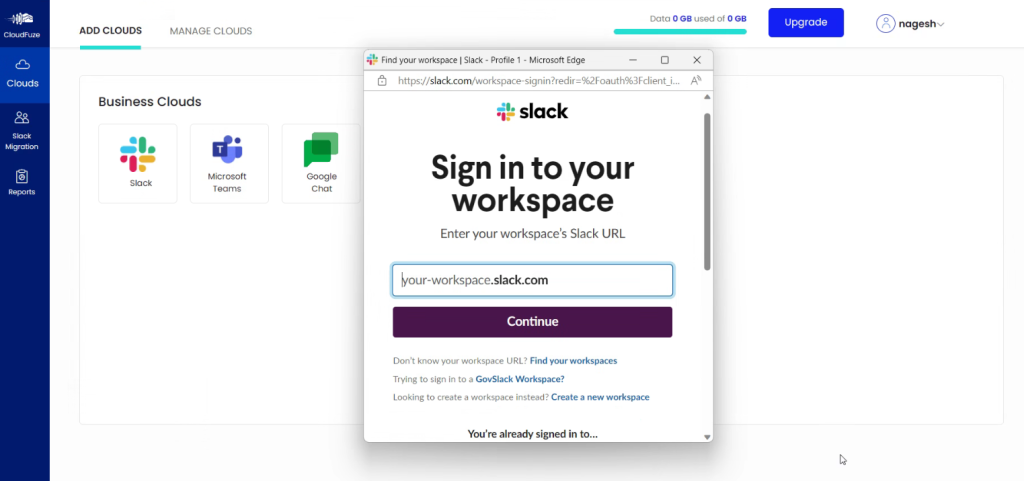 3. Enter Slack Login Credentials
Enter your company's Slack login details and click on the Sign-in button.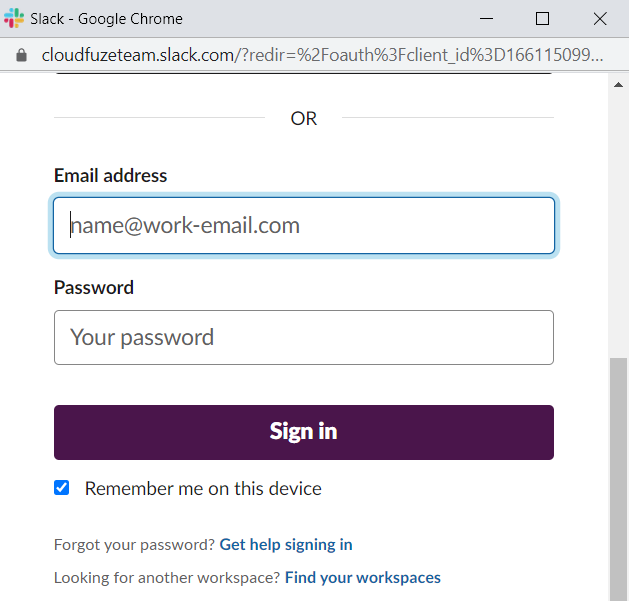 4. Provide Access to CloudFuze
Click on the Allow button to provide access to CloudFuze.
5. Add Google Chat to CloudFuze
Click on the Google Chat logo that you can see in the business clouds list and enter the credentials.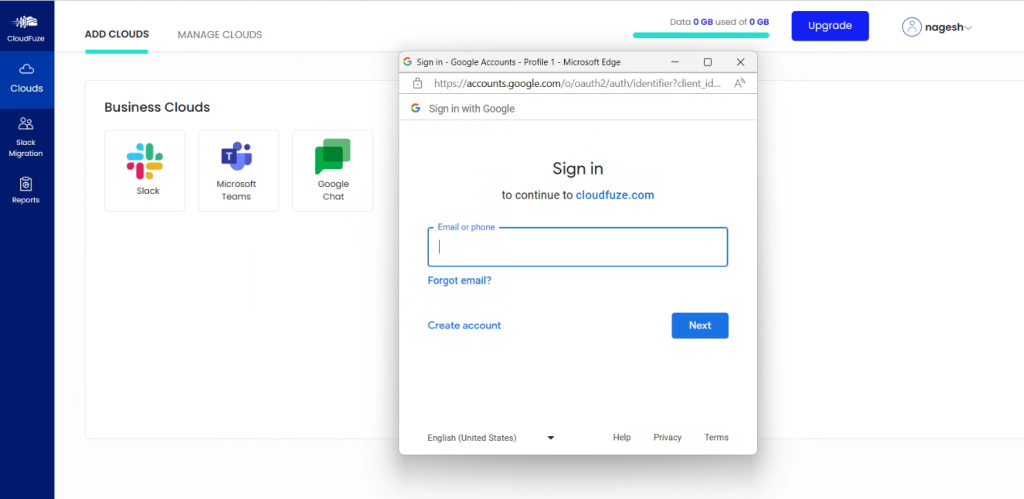 6. Verify Whether Slacks and Google Chat Are Added
Click the Manage Clouds tab to check if Slack and Google Chat accounts are successfully added.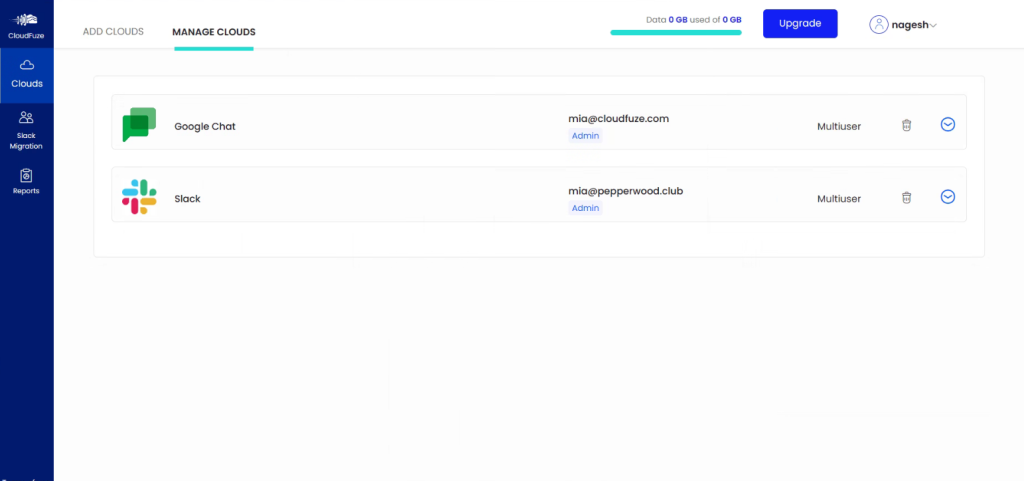 7. Select Source and Destination
Click on the Slack migration tab in the navigational menu on the left. Since it is a Slack to Google Chat migration, we must select Slack as a source and Google Chat as the destination.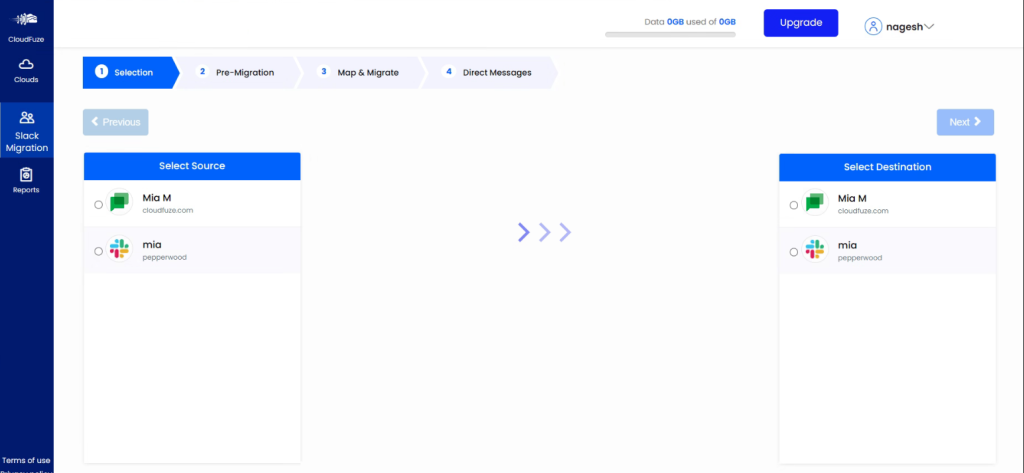 8. Run Pre-Migration
After selecting the source and destination clouds, click the Run Pre-Migration button.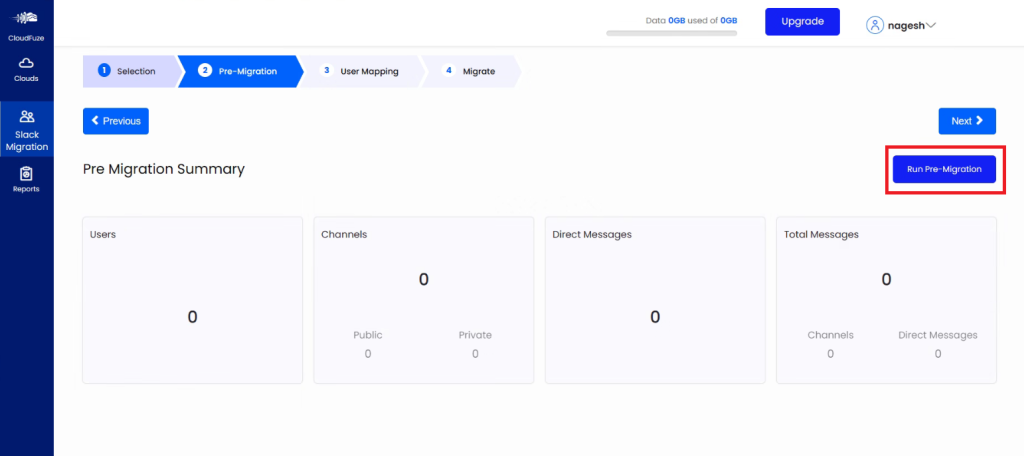 The tool analyzes your source cloud, i.e., Slack, and fetches all the details, such as the number of users, channels, direct messages, and total messages of a Slack Workspace.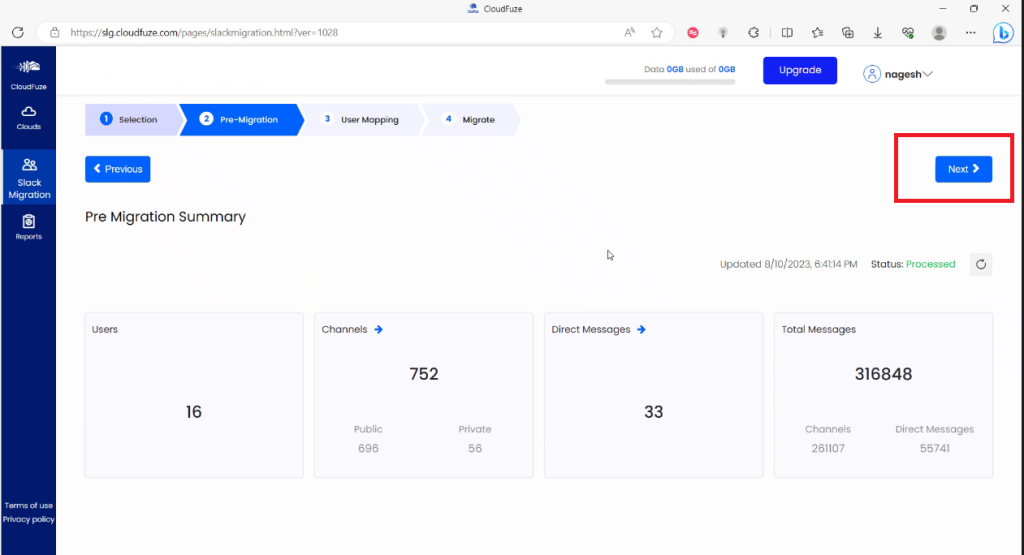 9. Select Users to Migrate
CloudFuze's Slack to Google Chat migration solution maps users automatically based on their email addresses. IT admins can choose CSV mapping to map source and destination users as required if there are any changes in the email addresses.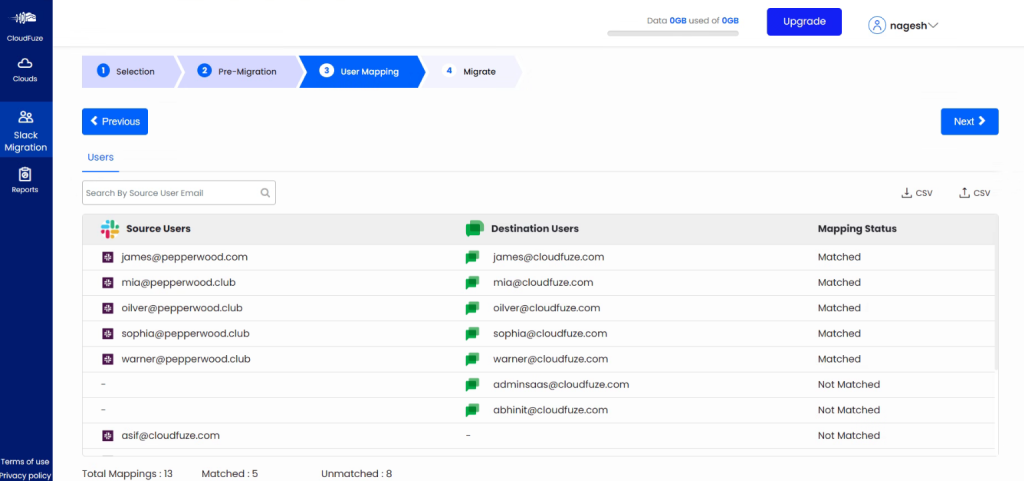 10. Select Channels to Migrate
CloudFuze pulls and displays all the public and private channels of Slack Workspace. Select the channels you want to migrate to and click the "Start Migration" button.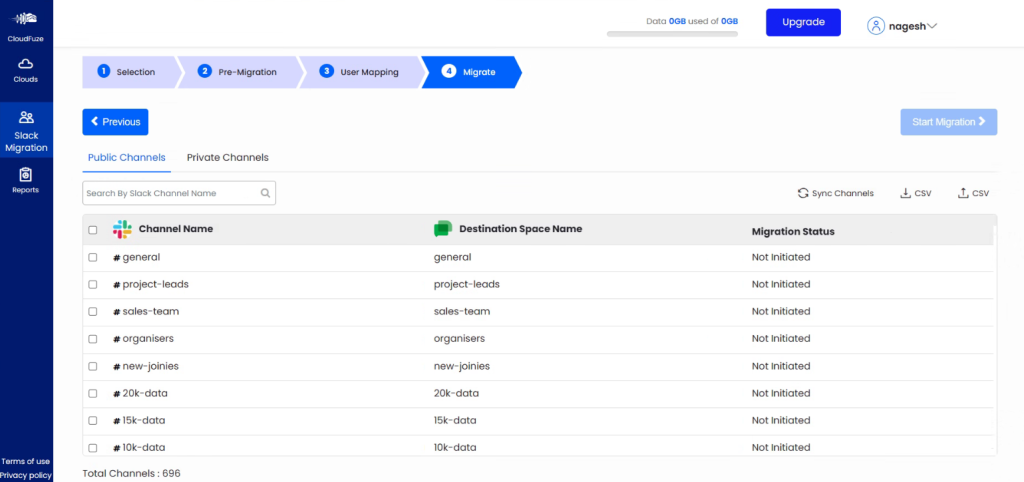 11. Migration Has Been Completed Successfully
Go to Reports and check for the status of the migration. The status will be displayed as In Progress during the chat migration process. Once the migration is completed, the status will be changed to Processed from In Progress.