Microsoft Teams: How to Automate Workflows for Maximum Productivity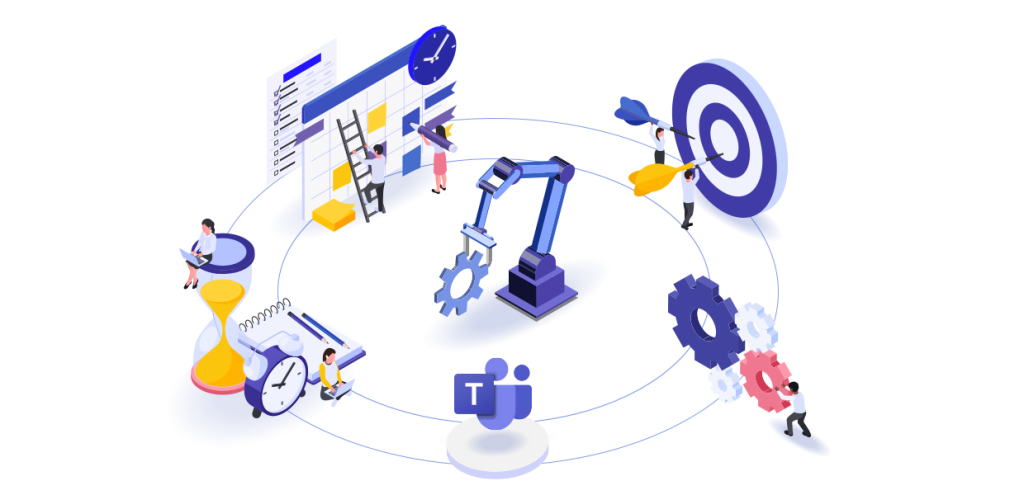 With hybrid work becoming the norm today, the way we work has changed dramatically. Staying organized and finding time to focus is critical in this new era. Automating daily routine tasks has become an essential part of our work. Microsoft Teams workflow automation software has made it easier to start automating your everyday tasks with little to no effort.
You can find a variety of workflow templates in the Teams marketplace that make it simple to automate a variety of basic productivity tasks with only a few clicks. Teams combined with the Microsoft Power Automate tool can help to streamline and make your team work more efficient and effective.

Though Slack and Microsoft Teams offer similar features to communicate, Teams is a step ahead in providing real-time collaboration, workflow automation, and more. So, many businesses are migrating from Slack to Teams to make collaboration effective in the remote workplace.
Here are a few benefits of workflow automation and its use within your business.
1. Create Task From a Message in Teams
It's easy to lose track of work delivered over channel messages while working remotely. You can use the pre-configured workflow template to fix this issue quickly. This workflow creates a keyword trigger on a channel that checks for the keyword "TODO" and automatically creates a task in Planner with a link to that message thread. This allows you to remain on top of things discussed in messages.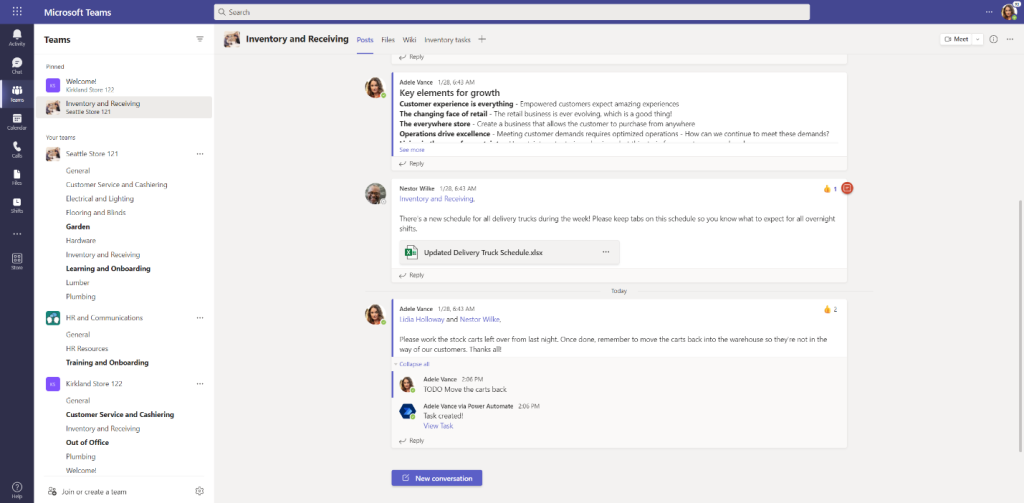 Source: Microsoft
2. Get Faster Results With Automated Approvals
Monitoring approvals is challenging for many businesses as employees may have different clearance levels and restrictions. Approval workflows allow you to streamline all your requests and processes with your team or partners.
Approvals in Microsoft Teams make it simple to create, manage, and distribute approvals from your team's hub. You can start an approval flow from where you send a chat, in a channel conversation, or right from the Approvals app.
Simply choose an approval type, fill the fields, attach files, and assign approvers. When you file a request, approvers are notified and can verify and respond to it.
3. Forward Emails to a Teams Channel
You'll probably be dealing with various platforms during the day while working remotely. One of the best things about Microsoft Teams is how easy it is to reduce email usage. Whenever you receive a message, the workflow will forward it to a specific channel, so you're always informed.
The easiest way to make decisions is to coordinate discussions in a threaded conversation that's easy to follow by forwarding emails to Microsoft Teams.
4. Schedule Messages
As we continue to balance the hybrid work environment and standard work routines, one major challenge that many employees confront in the workplace is sticking to multiple work schedules and staying on top of time-sensitive messages.
Because of the remote team, multiple time zones, and personal commitments, everyone's work and attention times may not match. This problem is now simple to fix with this new workflow functionality.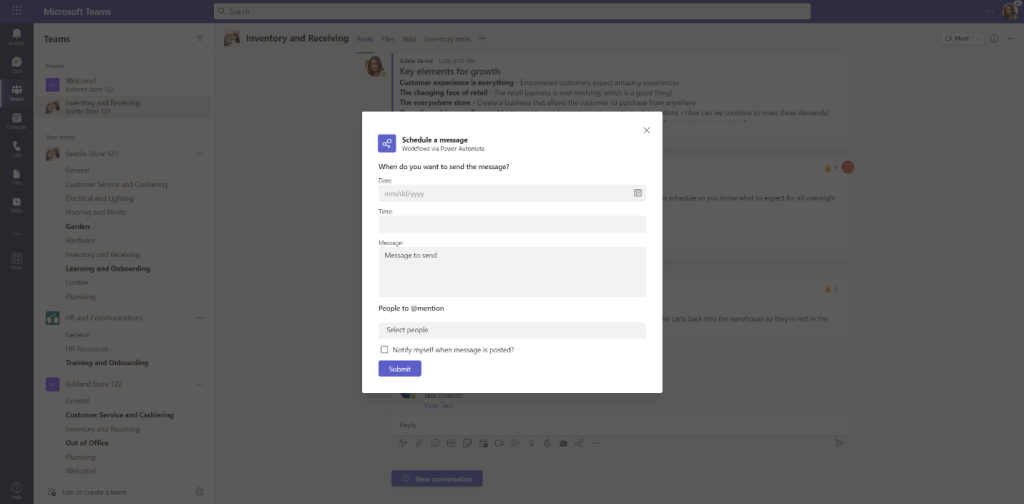 Source: Microsoft
This workflow allows you to send a message at a specific day and time, so we can all be aware of our peers' working hours. It can also serve as a reminder to send or respond to communication that we forgot to do so.
5. Maximize Your Data Collection
Companies rely on data to track risks and opportunities and improve decision-making. But how can you maximize your data collection and use it to improve your efficiency? Microsoft workflow automation software comes into play when maximizing data collection. Microsoft Power Automate enables your company to evaluate data sources, collect data, and share it with the team.
Most businesses collect and evaluate data that helps them make informed decisions. Data collection is now easy to monitor and analyze with the pre-configured workflows. You can use those flows to respond to PowerBI report alerts, track new files added to a specific SharePoint folder, and share information with team members while collaborating.