How to Transfer Files from Amazon S3 to Google Drive?
CloudFuze offers file transfer and migration services for Amazon S3 and Google Drive users to help them shift their cloud storage loads. The process is automated and quick, thus helping users save not only time but also their internet data. In this article, we explained the Amazon S3 to Google Drive migration process along with screenshots. Read on to know more about Amazon S3 to Google Drive migration.
Please note that this article discusses personal/consumer migration. For queries related to business migrations, please write an email to support@cloudfuze.com.
Migration Prerequisites:
A CloudFuze account with a paid subscription (free trial available)
Amazon S3 login credentials
Google Drive login credentials
Step 1: Create a CloudFuze Account
Go to webapp.cloudfuze.com and create your account using your email or a social account (Google or Office 365). If you already have an account, log in to CloudFuze using your account credentials.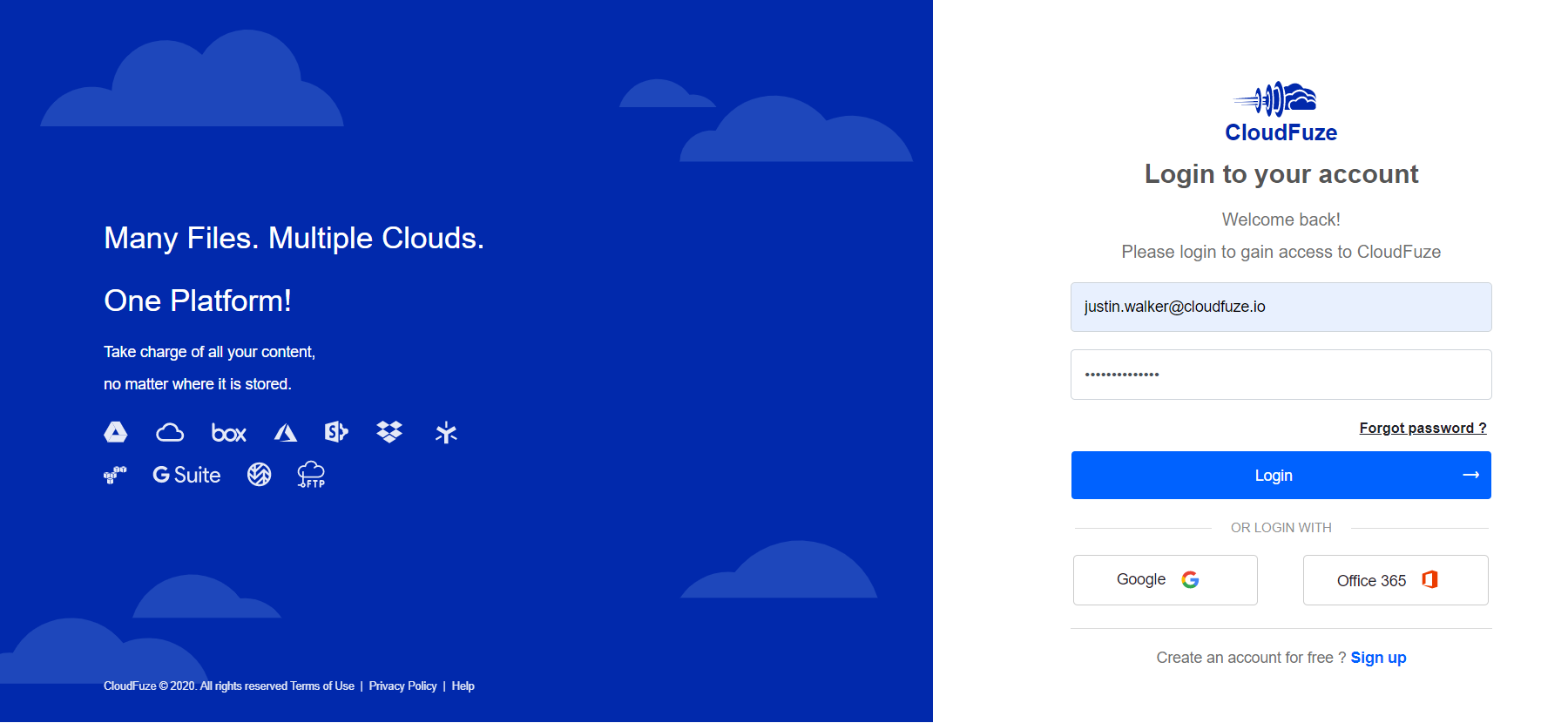 Step 2: Add Your Amazon S3 Account to CloudFuze
In order to transfer files from Amazon S3 to Google Drive, you first need to add and authorize the two cloud accounts to CloudFuze.
Click on the Amazon S3 icon listed under the personal clouds.

Step 3: Authorize Your Amazon S3 Account
Enter Amazon S3 login details in the pop-up window and connect the Amazon S3 account to CloudFuze.


Step 4: Amazon S3 (Source Cloud) Is Added
Click on the Clouds icon in the menu and go to the Manage Clouds tab. You should be able to see the Amazon S3 account here.


Step 5: Now, Add Google Drive (Destination Cloud)
Similarly, click on the Google Drive that you can see in the personal clouds section. Since it is a personal/consumer migration, you should not add Google Drive listed under the business clouds.


Step 6: Authorize Google Drive
Enter your Google account login credentials to authorize the account.


Step 7: Grant Access to CloudFuze
Google asks if you would like to grant your access to CloudFuze. Click on the Allow button. Note that CloudFuze will not be able to read your data like a human does. CloudFuze uses OAuth, an industry-standard protocol used to access cloud or web accounts. The procedure is the same as you signing up for a website or an application using your social media accounts. If you have concerns, read more about CloudFuze security.

Step 8: Google Drive Has Been Added
Head to the Manage Cloud sections once again to verify whether Google Drive added successfully. By this time, you should be able to see both Amazon S3 and Google Drive accounts here.


Step 9: Initiate the Migration
Locate and click on the Migrate button in the menu on the left.


Step 10: Select Source and Destination Accounts
Select Amazon S3 as a source and Google Drive as the destination cloud account. Pay attention to what you are adding as a source and destination to ensure you are not transferring files from Google Drive to Amazon S3.


Step 11: Begin the Migration
CloudFuze allows you to transfer a few files/folders or the entire content in your Amazon S3 root. Choose what you would like to migrate and then click on the Migrate button.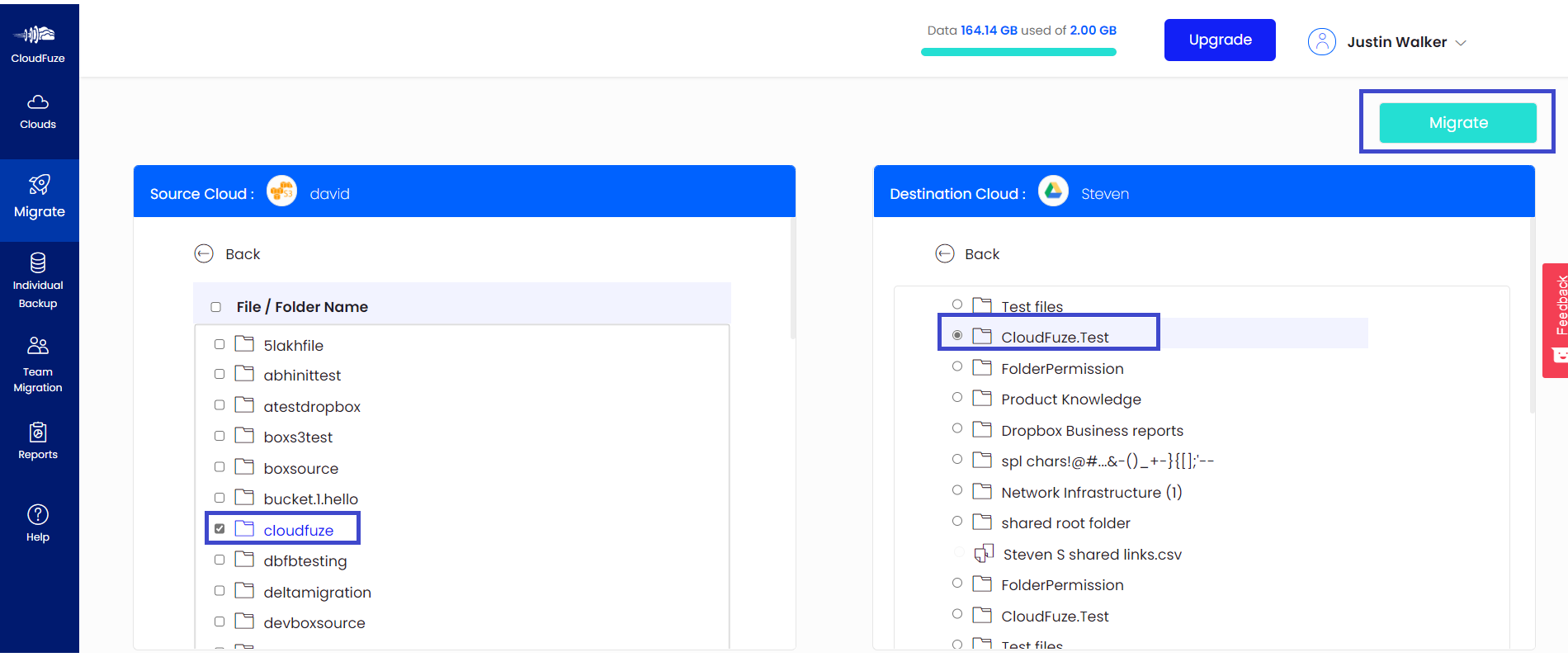 Step 12: Preview and Confirm the Migration
Preview the migration options. Once it's all good, click on the Confirm Migration button.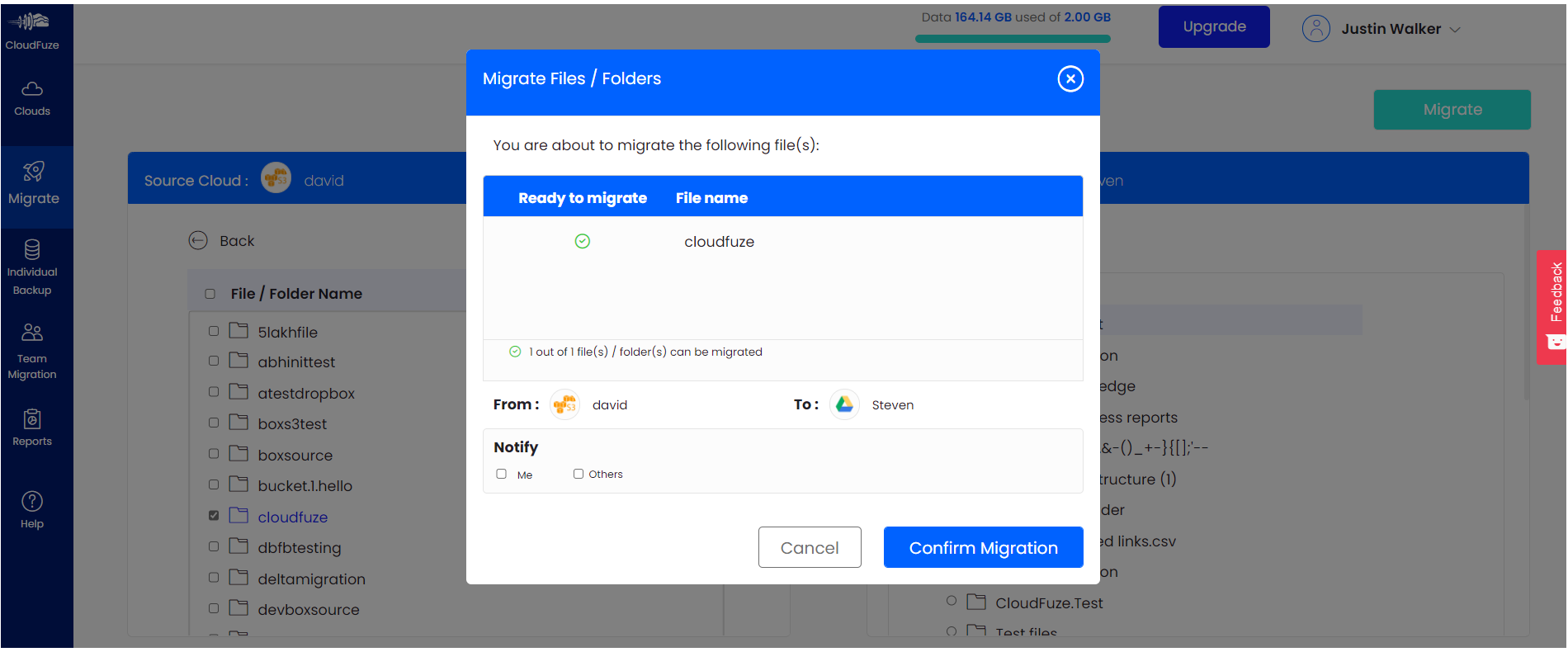 Step 13: Migration is in Progress
This status indicates that your Amazon S3 to Google Drive migration is currently in progress. Please keep in mind that may take anywhere from a few minutes to several hours for the migration to get completed. The duration migration majorly depends upon the size of the content you are migrating.
You may cancel the migration anytime by clicking on the cancel icon.


Step 14: Migration Has Been Completed
The status "Processed" indicates that the migration has been completed successfully. You can click on the download icon to access the migration report.


Create a CloudFuze account today to start transferring files from Amazon S3 to Google Drive.