How to Solve G Suite Admin Login Problems?

G Suite is a fast-growing workplace collaboration suite, and it has been transforming how teams work together. G Suite apps like Google Drive, Gmail, etc. are pretty straightforward to use. However, managing  G Suite as an admin can be a little difficult.
In this article, we discussed common G Suite admin login problems and their solutions. If you are facing problems while logging in to the G Suite Admin console, we will guide you step by step on how to troubleshoot and solve the issues.
Understanding Login Error Messages
Regular Gmail accounts cannot be used to sign in to Admin.google.com. If you can't sign into the admin console or facing any issue login in with your personal mail id or another account that is not managed by Google Account,  replace it with an admin.google.com address linked with your managed Google Account, G suite, or Cloud.
1. Type admin.google.com in URL
2. Add account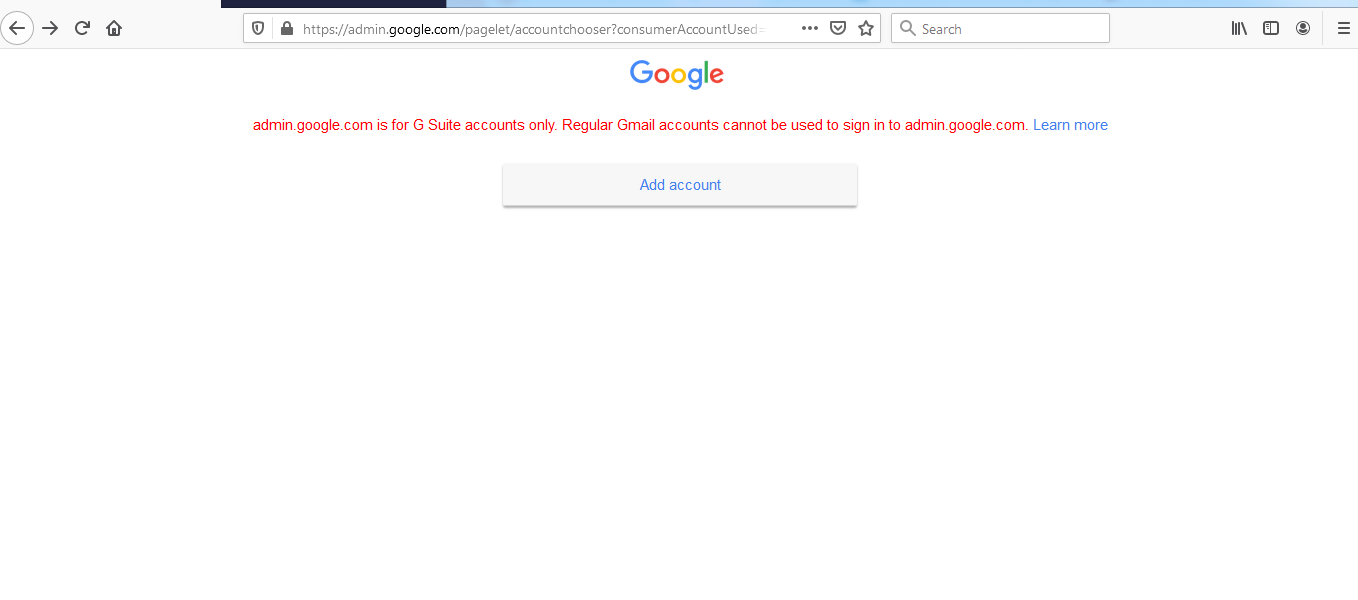 3. You can see a window where you click on Add account
4. Log into your admin console by using the admin email id and password.
Read our comprehensive guide on Box to Google Drive migration to understand the process better.
How to login to a domain that does not use G Suite
If you see an error while signing in to your Admin console, that means G suite or Cloud identity accounts have been deactivated or deleted. Google deactivates your account if you failed to verify ownership of your domain before the free trial period ends.
You can't recover your data from the deleted account. But, if you want Google services back you can sign up with your domain.
To reactivate your account, you should wait for 24 hours from the time the account was deleted.
If you want to sign up for G Suite, go to https://gsuite.google.com/
Couldn't find your Google Account
Both G suite or cloud identity accounts doesn't exist or are unavailable
Step 1: Verify text before you entered
Recheck before you enter your username and password when you sign in to your G Suite account.
If you redirect to the Admin console page by using the URL https://www.google.com// a/ your domain, you should be careful while you address your domain name correctly in the address bar.
Step 2: Sign in with a different domain
If additional domains are required to your G Suite, then skip this step.
You can't sign in to the Admin console with your address that belongs to the domain alias, as in you@domainalias.com. A domain alias is a domain name where you and your user gets email addresses at the domain. You can send and receive emails at your primary domain and domain alias. No additional cost is charged.
Instead, sign in with your username which belongs to a domain that was used to create your account.
How to find my admin username or password
If your admin and you are signed up for your admin for G Suite, or other managed accounts, access your admin console, by logging in with your admin credentials.
Forgot my admin password
Option 1: Ask other admins help
If you have another person in your organization who manages the admin account, ask him to reset your password.
Option 2:  Reset your own admin password
If no one is there to help you in the admin account :
Step 1: Visit https://admin.google.com/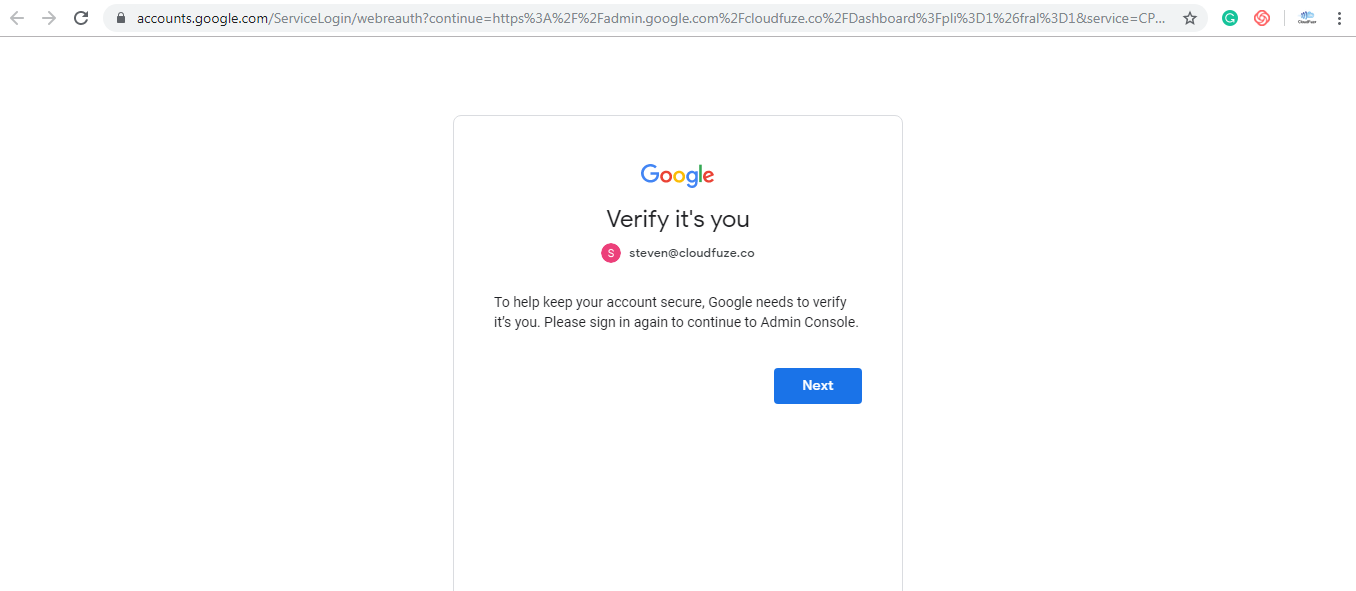 Enter the user name if it doesn't appear on the sign-in page click on Next.
Step 2: Click on forgot password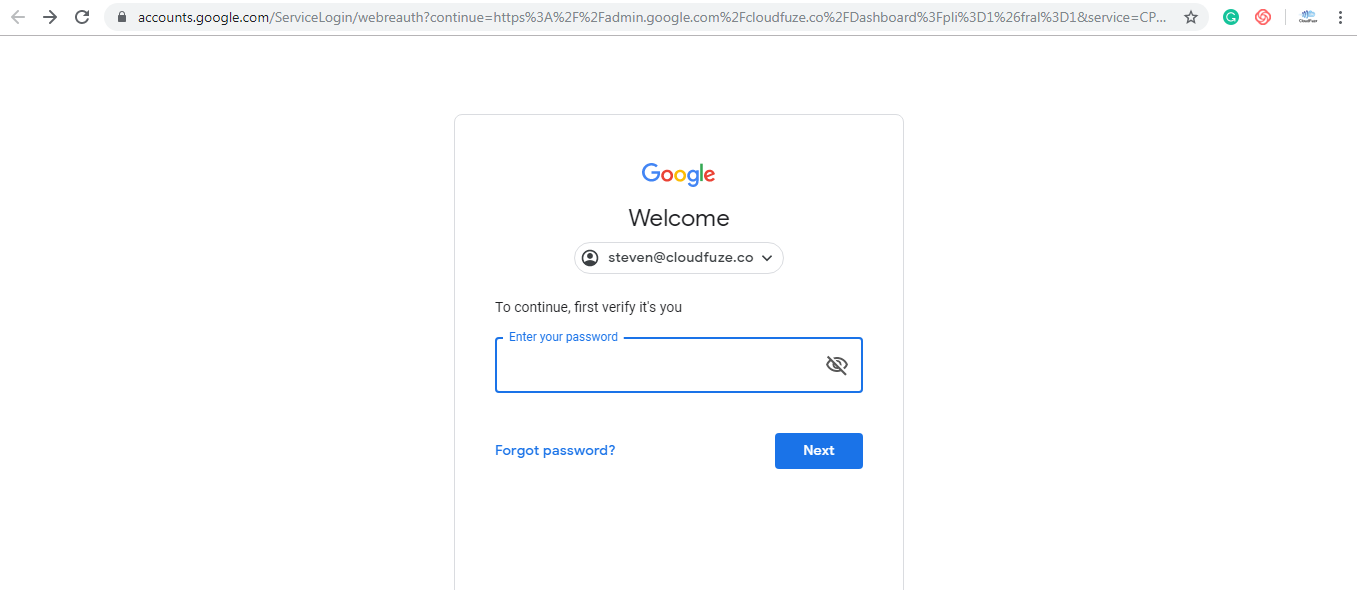 Click on forgot password and follow the instructions to reset your password.
Forgot my admin username
If you're using your email address as your username from your domain, it should be steven@cloudfuze.co but it should not end with steven@gmail.com. To retrieve your username.
Step 2: Click on forgot email

Redirect to a sign-in page, click on forgot email? And follow the steps to retrieve your username.
Step 3: If admin leave company and no one has access
If you want to retrieve your username and password, you should contact your admin. If you found that the admin left the company, then you need to fill out the fields https://support.google.com/a/contact/recovery_form.
You should prove that you are the owner of your domain and account.
Once you gain access to the account, you will be recommended to add recovery options to your administrator account https://support.google.com/a/answer/3033063.
Signing still fails
I can sign in but don't see the Admin console
If you are trying to sign in to the Admin console at admin.google.com, but end up at  apps.google.com/user/hub, you can ask an admin for your G-suite account to provide you administrator advantages.
I reset my password but can't sign in because of the 2-Step Verification
If you reset your admin password but you still can't sign to your G-suite account because of 2-factor authentication, you should follow the onscreen steps or contact a person who can help you to reset a password for the backup verification code.
If you feel these options do not work out, create a G-Suite support case of your own. You will be asked to show your own domain just by adding a CNAME record to your domain DNS settings and providing answers about your G Suite account. To create a support case you need to fill in Google Admin Console: Login Issues.
You need to know the information to fill out the form.
Date when the G-Suite account was created.
The original secondary email address is associated with your organization's G Suite account.
Google order number should be associated with your account.p
The number of  G-suite user accounts you created.
All the billing address are linked to your G Suite account.
Type of credit card is used for the purchase of G-Suite and its last 4-digits.
We hope you found the article useful.