How to Restore an Office 365 User That Has Proxy Address Conflict
Office 365 admins, at times, deal with proxy address conflict issues that will prevent them from restoring some users. A proxy address conflict usually happens when a user account with a proxy address is deleted and the proxy address is added to another user. In such a case, a few steps need to be followed to restore the accounts.
Step 1:  Go to Admin Center
Go to office.com and enter your admin login credentials to access your account. Once logged in, click on the Admin logo and access the Office 365 admin center.

Step 2: Go to the Users Section
Click on the Users link from the menu on the left. Now, click on the Deleted Users link that you can see listed under the Users section.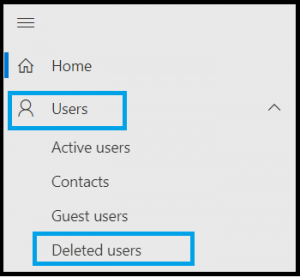 Step 3: Select the User You Want to Restore
Under the deleted users list, locate and select the users you want to restore.

Step 4:  Restore the User
Select the preferred user and then click on the Restore User link on the top.

Step 5: Click on Auto-Generate Password
Once you click on the Restore User link, a popup will be opened with few options to choose from. Select an Auto-generate password or you can create a password by selecting appropriate radio buttons. Tick mark the last option where a user will be asked to change their password upon first sign-in.
Click on the Restore button once all the options are selected.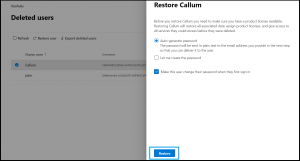 Step 6: Account Has Been Restored
Conflicting proxies are automatically deleted and the user account has been restored.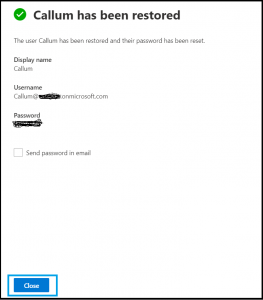 We hope you find this article on Office 365 helpful.