5 Things to Consider While Migrating your Data Between Cloud Storage Accounts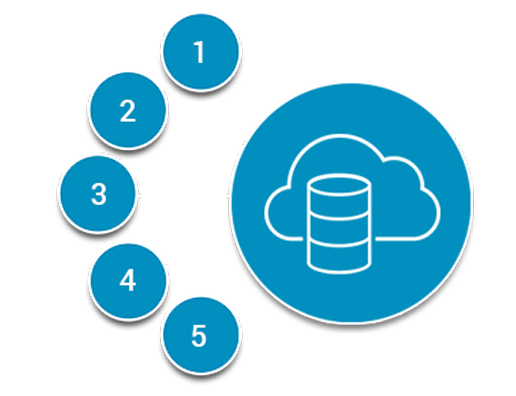 Cloud computing: What was a buzzword only five years ago has become an integral part of people's daily lives. The positive aspects of cloud computing are enormous- the ability to access your documents from anywhere in the world, knowing that your files are safe from local hardware failure and that they are encrypted securely are but a few benefits. With cloud computing being a growing industry there are numerous choices available to you.
However, it is possible that a cloud storage platform which you currently use is no longer suiting your needs, making it necessary to migrate your data to a different service. While this can, at first, seems a daunting task when huge amounts of data are involved, there are cloud migration strategies you can use to help make the transition as seamless as possible without incurring any data loss.
 One of the great things about cloud storage services is that they offer the ability to create a deep folder structure, similar to what you would find on your local hard drive. It is recommended that you keep the folder tree structure identical and intact when migrating between cloud platforms. This will keep users from becoming confused and will to streamline the process.
 During the cloud to cloud migration, it may at first seem logical to delete files from the source cloud while data is still being moved around. This is a mistake. You must carry out the copying process in its entirety, and only after the transfer of files is complete should you delete any files from the original cloud service. It is better to have duplicate files for the duration of the cloud migration than to potentially lose anything during the transfer.
 It is important to make sure that the names of each and every file conform to the criteria of the destination cloud service before initiating the migration. Many cloud services have regulations regarding file length and the use of special characters. Moreover, you should ensure that you when you are determining the lengths of file names that you account for the number of characters used within the entire tree structure in which the file is located. A file that is buried many folders deep can easily have a name which is one hundred characters or more in length.
 In the twenty-first century, our data is one of our most valuable assets. Its irreplaceable nature is one of the reasons we turn to cloud computing in the first place. Likewise, when formulating a cloud migration plan you need a cloud storage migration service which guarantees first-rate security of your data throughout the process. Be a smart shopper, so to speak, and make sure your potential cloud migration service has live chat support as well as email support before engaging them.
 When dealing with a data-sensitive task such as cloud migration it helps to have peace of mind with regard to the status of the process. It is best to hire a company which offers comprehensive updates of a cloud to cloud migration. CloudFuze ensures that customers receive a detailed report with all of the specifics of your cloud migration process, including status updates and reports of any errors or other potential problems so that we can get you the best result as soon as possible.
CloudFuze supports more than 40 cloud Migration services including Google Drive,
Dropbox, Amazon, and Box etc.