The smart phone is quickly becoming king when it comes to mobile devices (in fact, the CEO of BlackBerry said tablets will be useless in five years, but that's another story) so it's important to be able to access all your cloud files from your Android mobile device.
The Android App lets you share, sync and access your Google Drive, Dropbox, and Box accounts pretty much everywhere. Anywhere that your phone can connect, you'll be able to sync your Cloud accounts.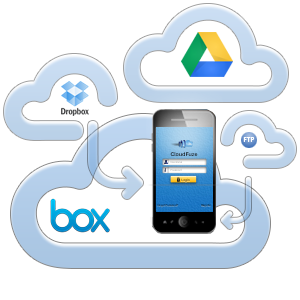 All your accounts and files are presented in one screen – a pretty essential feature considering most Android screens are only a bit bigger than a playing card. Accessing files from multiple cloud storage providers can be a real pain when you have to keep swiping between screens. And with the CloudFuze Android App, you don't have to because all those files are presented in one screen.
The CloudFuze vision is to create a universal solution that provides access to any cloud from any device at any time – and with the newly released Android App we are one step closer to that.
The Android App is an easy way to consolidate all your Cloud files from Google Drive, Dropbox, and Box, along with the other features that allow you to share and sync Cloud files.
Next up? A Web App and an iOS App!