MSP Guide to Handling Slack to Teams Migration Requests
Many businesses are migrating from Slack to Microsoft Teams to accelerate communication between teams while working remotely. But, Slack to Teams migration is a complex and time-consuming process requiring significant effort and financial investment.
Many companies outsource MSPs because of their technical expertise and efficiency to make complex data migrations as simple as possible. Therefore, MSPs should be knowledgeable in every aspect while planning to migrate from slack to teams to handle multiple migration requests from different clients.
If you are wondering, how do you migrate business-critical data? Most importantly, how do you achieve business migration goals? The article helps you plan and execute the migration project seamlessly within the timeframe.

1. Understand the need for Slack to Teams Migration
Before you start, first and foremost, you need to know why businesses want to switch to Teams. Teams included in the Office 365 subscription help employees eliminate the multiple email threads and attachments and offer a streamlined collaboration solution.
Teams allow employees to share files, schedule meetings from their calendar, and integrate with other Office products such as Word, Excel, PowerPoint, OneNote, OneDrive, etc., without switching between multiple platforms. This increases teamwork and communication while also increasing the Teams migration.
All the Slack Channels were migrated to Teams successfully without any data loss.
2. Understand How Slack to Teams Migration Works
Although Slack and Teams offer collaboration and communication services, their UI differs. So, MSPs must understand the data storage in Slack and Teams before getting started.
Similar to Slack "Direct messages", Teams has "Chat".
Similar to Slack "Channels", Teams has "Teams" where all the channels are stored.
Choosing the right migration service provider that can map the data between Slack and Teams appropriately is critical for MSPs to achieve the migration successfully.
CloudFuze, a Microsoft Gold Partner, automatically maps the users and their respective data based on their email alias and migrates the data. The CloudFuze migration tool: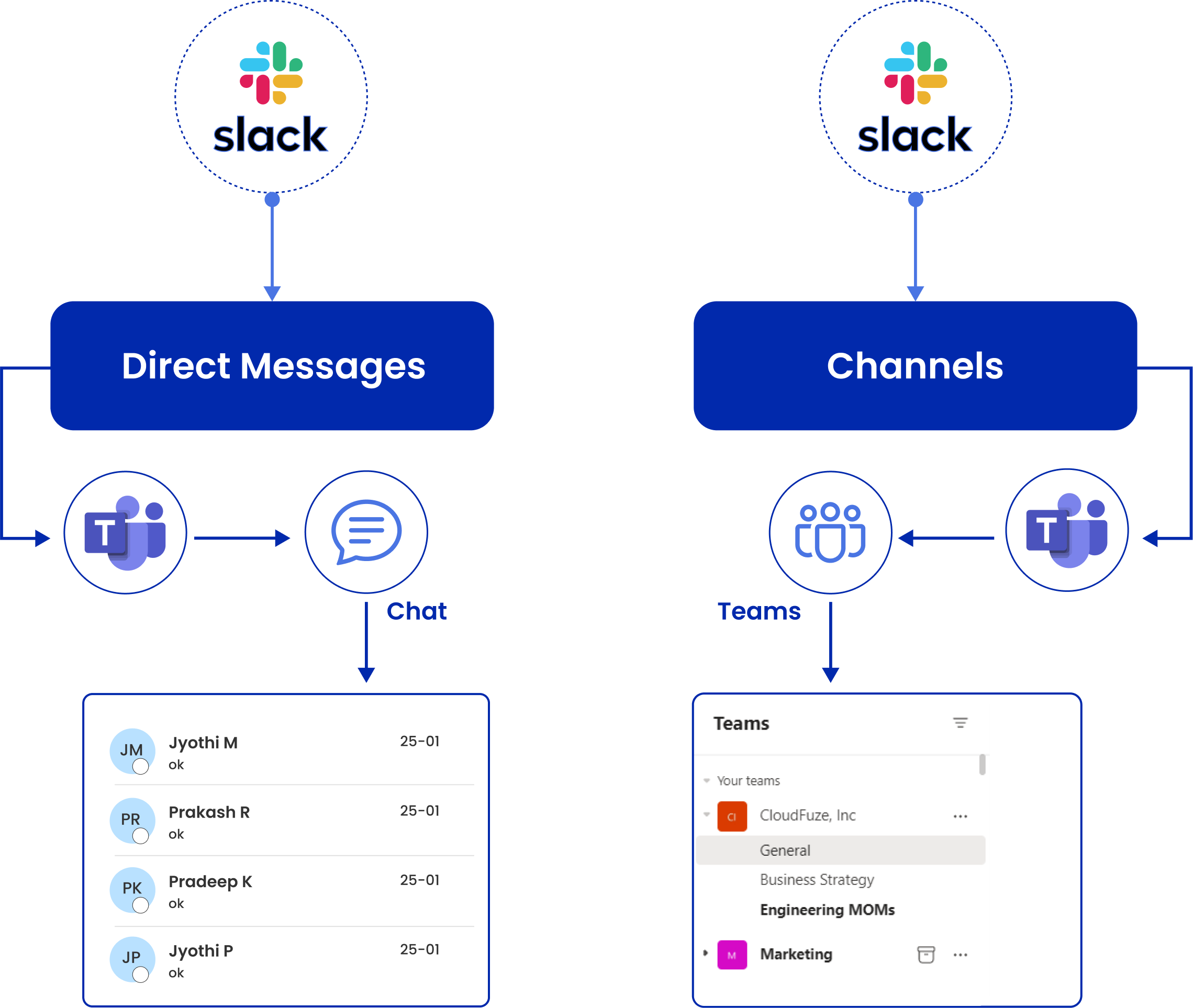 CloudFuze is the best choice if you are looking for a tool that migrates all the Slack data leaving no data behind.
Partner with CloudFuze and start giving your customers quotes now!
3. Free vs. Paid Slack to Microsoft Teams Migration Tools
When comparing both the free and paid tools, it is obvious that paid third-party tools like CloudFuze offers better migration features, speed, and accuracy. Free tools may work for small and simpler migrations.
People with scripting knowledge can migrate data from Slack to Teams freely with the help of PowerShell. However, PowerShell can't direct messages. Regardless of your expertise, a small error might result in huge data loss for businesses that can't be figured out and retrieved.
For large datasets, manual execution of these PowerShell scripts can be time-consuming and resource costly. Choosing a migration tool that automates the migration process and migrates all the data can make the process more efficient and error-free.
4. Choosing the Right Data Migration Tool
Choose a Slack to Teams data migration tool that supports migrating all the below features:
Direct Messages
Public and Private Channels
 Workspaces
Users
Chat
Emojis
Timestamps/metadata
@mentions
Videos
Files (documents, sheets, slides, etc.)
Replies
CloudFuze, with over a decade of experience, successfully migrated all the above Slack features to respective chat in Teams without any error.
Companies with sensitive data can install CloudFuze on their cloud or data centers and run the migrations. CloudFuze allows its customers to either run the migration on:
CloudFuze SaaS servers
Dedicated SaaS servers on the CloudFuze network
Deploy CloudFuze in the company's data centers
5. Choose MSP-Friendly Migration Partners
Many migration service providers offer services to the end customers, whereas only a few offer customized services for MSPs. For MSPs that plan on doing multiple cloud migrations, it is best to look for tools that offer longer terms and discounts for signing longer contracts.
CloudFuze offers flexible licensing models for MSPs and ITSPs to meet your specific business needs and objectives. We will also provide discounts on large-scale data migrations reducing the migration costs for MSPs.
CloudFuze will not only help to save costs, but MSPs are more likely to get dedicated support when preparing for large migrations. Maximize your revenue with the CloudFuze flexible licensing model!