Most Common Mistakes Done During Employee Offboarding

It is important to recognize that the experiences your workers have with your firm contribute to shaping their full potential. Effective onboarding, performance management, and offboarding procedures demonstrate to your workers that your firm appreciates the importance of an effective employer-employee relationship.
Employees may quit businesses for a variety of reasons. Whether the reason for leaving is positive or negative, a going out employee can be a rich source of information, connections, and objective insights. Departing employees can also have an influence on your capacity to attract quality personnel, generate new business, and retain both.
Why is Employee Offboarding Important?
Offboarding is the process of formally disconnecting an employee from a corporation by resignation, termination, or retirement. It includes all the decisions and processes that are carried out when an employee quits.
In essence, offboarding guarantees that there are no loose ends when an employee departs the organization. The process might also help you discover what you can do better for your present and prospective workers.
Because of the rise of hybrid and remote work arrangements, a proper offboarding strategy is more important than ever. Offboarding mistakes can have significant financial and security consequences. Ex-employees can also pose as a significant 'cyberthreat'. If the offboarding procedure is not done correctly and swiftly, potentially dissatisfied employees may maintain control over critical systems long after they leave.
When an employee departs, he or she either becomes an advocate for or an adversary of your organization. Advocates may refer you to potential new workers. Antagonists might be detrimental in the long term. Effective offboarding can help make all departing workers into advocates.
Common Employee Offboarding Mistakes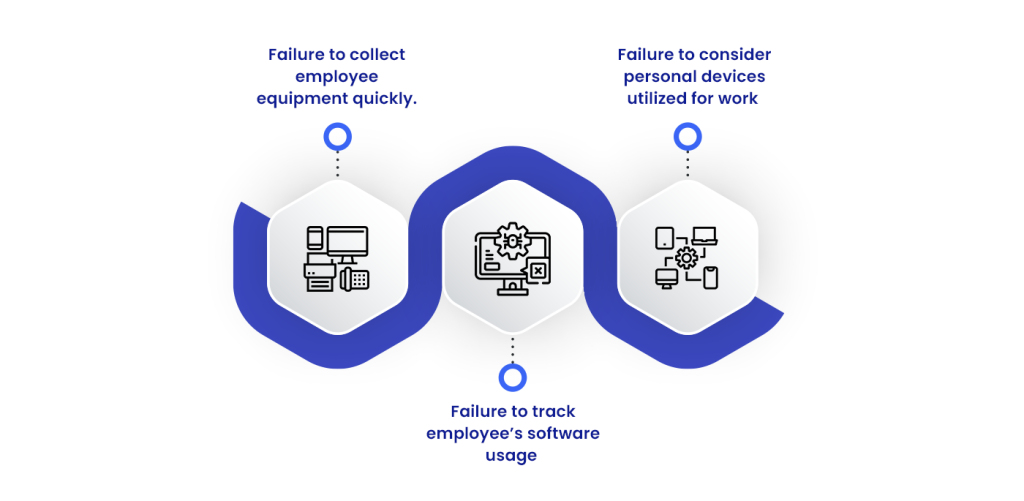 Let us discuss here the three most common employee offboarding mistakes.
1. Failure to collect employee equipment quickly
To guarantee that all staff equipment is immediately collected, a good mechanism for handling provisioning and deprovisioning is required. Put together a comprehensive record of employee-assigned equipment. Require workers to accept and sign an equipment agreement, which contains a list of received equipment that must be returned upon termination, and guarantee that all equipment is collected as soon as someone leaves your firm.
Standardizing your offboarding process helps eliminate employee risks and uncertainty, resulting in a smooth transition of events. This can also help to avoid offboarding issues in certain circumstances.
2. Failure to track employee's software usage
The difficulty with the rise of SaaS and Shadow IT is identifying which applications workers have signed up for and utilized. Failure to revoke access permissions and to identify the business data existing in these apps can cause significant offboarding issues.
Utilizing a SaaS management platform can significantly improve visibility while minimizing security concerns related to employee offboarding.
3. Failure to consider personal devices utilized for work
Companies are transitioning to a BYOD approach, in which employees may bring their own devices – laptops, mobile phones, and tablets – on top of organization technologies.
Monitor data access proactively and guarantee that when someone quits, you erase any enterprise data from their devices.
This should be explicitly stated in any BYOD device agreement signed by employees.
Streamline Offboarding Procedure
The offboarding issues mentioned above can be easily mitigated. A proper offboarding procedure should be designed once and reviewed and renewed on a regular basis.
When compared to the possible dangers and implications of not automating and streamlining this process, the effort is well worth it.
A SaaS management platform can also significantly minimize the risks and efforts associated with offboarding. With automated procedures, Offboarding can be carried out with ease, simultaneously removing chances of errors.