Migrate Permissions Between Dropbox, OneDrive, G Suite, and More Clouds
Migrating permissions manually is the biggest obstacle that often discourage many business and organizations switch to a new cloud service. This article explains how CloudFuze's migration engine, CloudFuze X-Change, handles user mapping and permissions migration.
Mapping Users and Migrating Data
CloudFuze provides three different choices for users to handle mapping.
Auto-mapping
Manual mapping
CSV mapping
While auto-mapping is the easiest way to map users in the source and target clouds, the other two options, manual and CSV, come in handy during those scenarios when auto-map doesn't work.
How Auto-Mapping Works?
CloudFuze compares the usernames of source and destination users
If both the user names are identical, CloudFuze then considers at a valid pair (Example: chris@cloudfuze.co (source) and chris@cloudfuze.io (destination)
Similarly, CloudFuze compares all the users and in the source and destination clouds and creates pairs for data migration
As seen in the image below, all these pairs will be displayed in the mapping table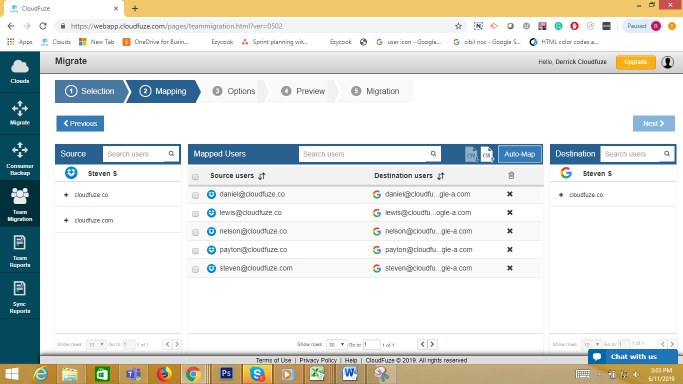 What If When There Are Mismatched Pairs?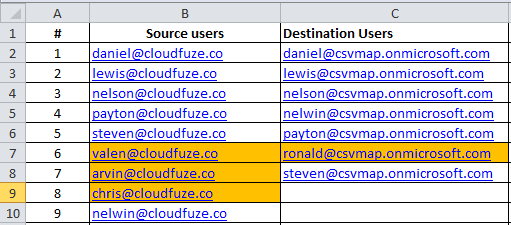 In the above picture, the users Valen, Arvin, and Chris are missing in the destination cloud. Similarly, we couldn't find Ronald in the source cloud. CloudFuze will not include such users in the auto-map list. CSV mapping comes handy in scenarios like these.
What If None in the Source and Destination Matches?

CloudFuze will not create auto-map pairs in this scenario. A data migration of this kind can only be done vis CSV, a feature that CloudFuze supports.
How CloudFuze Migrates File Permissions?
Content in a business cloud storage or collaboration environment can roughly be classified into two types;
What is Owned Data?
Owned data is something a user creates or uploads, be it a document or an image. The user remains sole owner of the content until they delete it.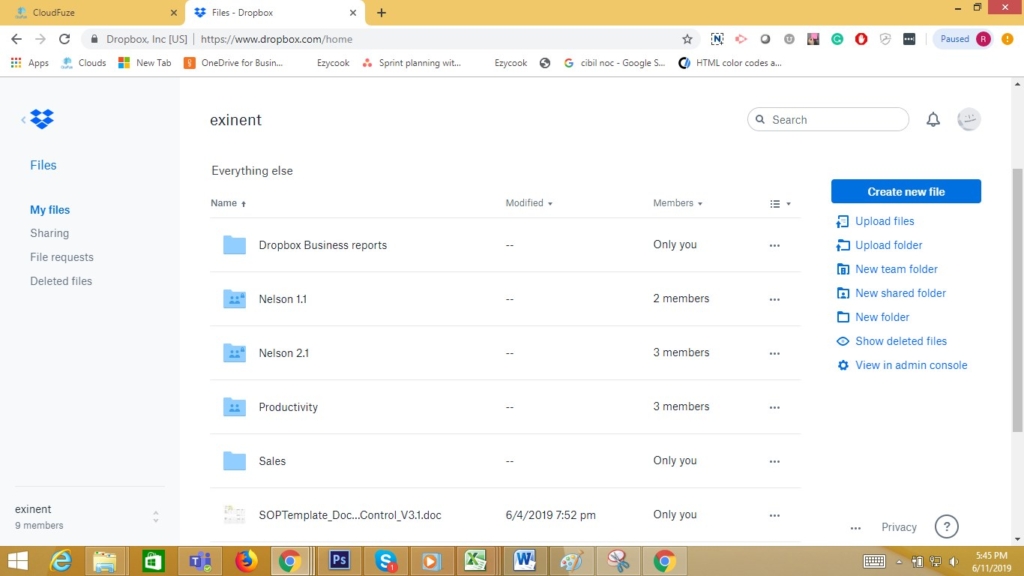 The above picture shows content in a Dropbox Environment. Notice the 'Productivity' folder.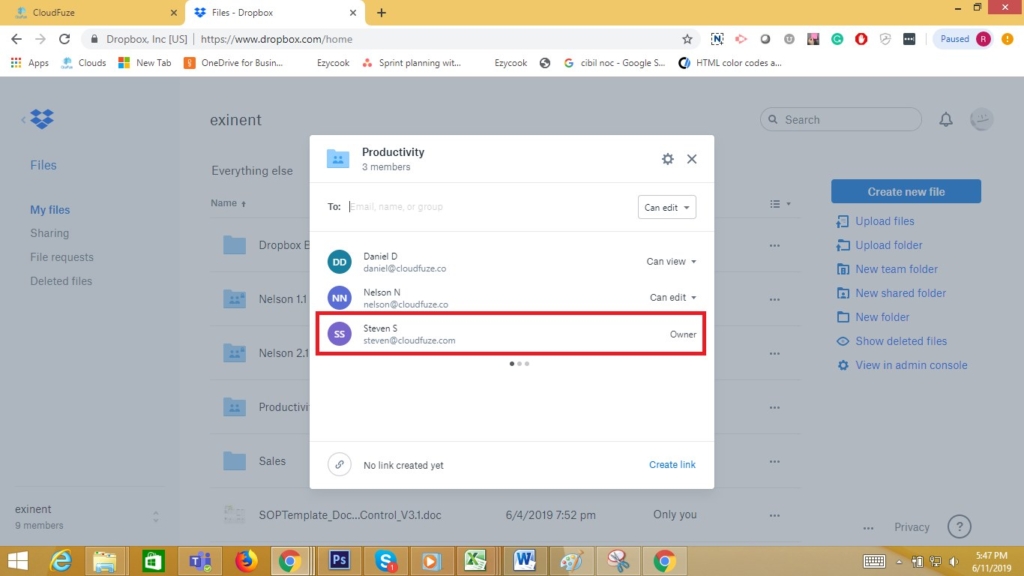 This picture shows the users, Daniel, Nelson, and Steven sharing a folder named Productivity. As we can see, Steven is the owner of the folder. He is the owner and pretty much every file inside this folder is his 'owned' content. Daniel and Nelson, on the other hand, have this data as shared content. Similarly, when Daniel shares something with Steven, Daniel becomes the owner and Steven has it only as shared content.
CloudFuze identifies the owners of content and migrate their data. CloudFuze will not can't migrate  While migrating data between cloud storage services, CloudFuze retains these complex file sharing permissions and ensure that an exact replica of content and its structure appears in the new source environment.