Manual vs. Software-Based Enterprise Content Migration
Migrating enterprise content from one cloud service to another is never going to be an easy task unless the IT team of a company clearly knows what they are doing. In this article, we compared the two possible ways of migrating cloud content; manual (DIY) and automated (software).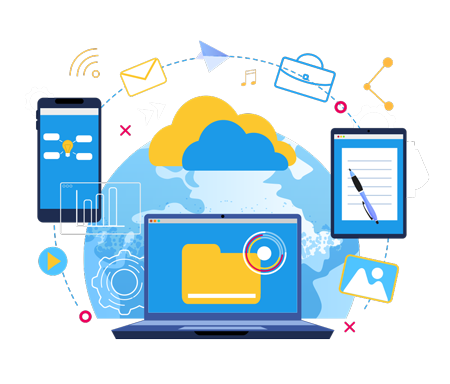 Manual Migration
Manual migration may sound like the right choice for many businesses as they find it more secure and don't need to spend dollars on third-party migration services or tools. Often the IT professionals in a company are tasked to carry out the content migration.
The Cons of Manual Content Migration:
Downtime
From storing documents to the cloud to sharing them with coworkers, a cloud service directly impacts the productivity of an organization. Manual migration could potentially disrupt the service as it may take weeks or even months in some cases to migrate the data. If the team continues using the cloud platform during the migration, the newly added or modified content will not show up in the new cloud. It forces the IT team to download the latest content and upload it to the new cloud account.
Poor File Transfer Speeds:
Most businesses or organizations aren't equipped with powerful internet lines that could transfer large data in fairly less time. Depending upon the speed of the internet, the data migration could take months to complete. Speed throttling by ISPs and download failures are one of the biggest bottlenecks of manual migration. Simply put, many organizations lack the IT infrastructure to carry out large scale content migrations.
Migrating Permissions Manually is the Biggest Roadblock:
Permissions are not automatically migrated in a manual migration. It's the single biggest reasons why many businesses and enterprises around the world are relying on third-party content migration specialists like CloudFuze.Without software or a tool, it takes months for IT professionals to manually map the permissions and sharing structure in the new cloud environment.
Loss of Man-Hours:
As said earlier, manual migration may take weeks or even months to complete depending upon the size of data and the number of users to be transferred. The IT team of a company needs to spend a significant amount of their man-hours to ensure a successful migration. It also means that they don't get enough time to focus on their developmental tasks.
Manual Migration is Highly Error-Prone:
When humans are involved, there always exists a room for error.  With so many files, folders, users, and permissions to track, it's virtually impossible for an IT team to carry out migration without a single error.
It's Not Safe Either:
Manual migration poses a big risk of temporary or permanent data loss. It could also mess up the way how an organization and its employees access, view, and share their data.
Software-Based Migration
Software-based migration refers to using a tool or an application like CloudFuze to transfer content from one cloud service to another.
The Advantages Tools Have Over Manual Migration:
Superfast File Transfer Speeds
Since files are transferred on the servers of third-party content migration specialists, the file transfer rate is very fast. The enterprise-grade servers and infrastructure ensure that a large ECM migration is completed in days, not weeks or months.
The Migration Process is Completely Automated
With a service like CloudFuze by their side, a business or an IT professional doesn't need to get their hands dirty. Software-based migration is completely automated from the beginning to the very end of the migration.
Permissions Migration is a Breeze
A cloud file migration software's primary USP lies in its ability to migrate users and permissions along with data. The same permission migration that costs months of manhours for an organization would only take a few days with the help of a software.
It's Comparatively Inexpensive
Unless an organization has huge amount of enterprise data and a large number of users, most of the times, it only costs a few hundreds of dollars to complete the migration.
It's More Secure
Cloud storage migration services like CloudFuze uses OAuth protocol to authorize and enable file transfers between clouds. The protocol ensures that migration companies only have limited access to the content and that they wouldn't be able to access or interact with the data like a human does. Learn more about the security here.