Cloud Storage Migration
Cloud storage and file collaboration
Cloud storage solutions are adopted globally in all-size businesses for better team collaboration and communication. Different types of solutions offer a broad range of capabilities based on a customer's needs. There are pure cloud solutions like GDrive, Box, and Dropbox and hybrid solutions like Egnyte, Sharefile, and others.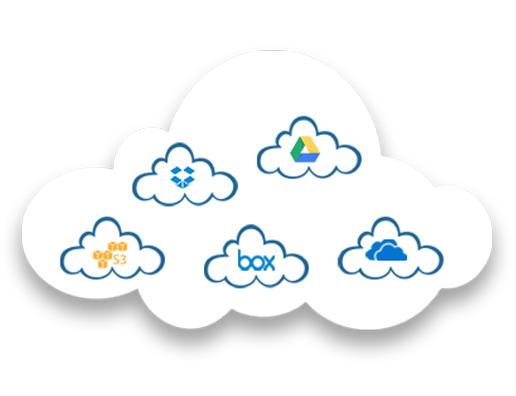 What is cloud storage migration?
Every company and employees in the company are using more than one cloud storage based on their needs like security, usability, flexibility and for many other reasons. As the market is expanding, there is a need to switch from one storage solution to other with a minimum impact to the end users. Based on the size of the organization, number of users and size of files stored, migrating from one cloud storage to another will become very complex to manage without losing user's productivity and IT team cost.
Need for migration tools
In a manual cloud storage migration, users can download all their files to their local machine and upload to the new cloud storage solution. This process is very manual, error-prone, time taking and user file permissions can't be migrated. Based on the size of the organization, this process can result is a huge loss of productivity and can become very expensive.
Cloud storage migration tools will minimize the complexity and the overhead of manual migration. Migration tools will migrate any size and number of users and files. Advanced solutions like CloudFuze can also migrate file sharing permissions into the new storage. These tools have several advantages.
Automated process
Secured migration
Reduce the bandwidth cost
Time saving for employees & IT
Accuracy in migration
Cloud storage migration for individuals
Personal cloud storage account migration can be simpler and faster than a business migration. If you have several accounts and want to consolidate all your cloud storage into one service, migration tools are the best and fast. Based on your files and size, these migrations can happen in a weekend. You will still get all the benefits of the migration tool including security, accuracy and time-saving. Most tools provide a full audit log of files migrated, file size and many more details.
Cloud storage transfer for business
Business cloud migration is designed specifically for the organization to transfer all their employee data from one cloud storage to another. Unlike personal storage business cloud storage services required additional features like.
Migrate every employee storage in the company
Retain file permissions and collaborations of all shared files
Easily map users from source to target without hassle
Notify IT admin and individual user on migration status
Secure data while in transfer and at rest
CloudFuze – Industry leading cloud storage migration
CloudFuze is the industry leading solution for personal and business migration with inherent features to perform highly secured, accurate, fastest migration tasks.
CloudFuze platform for cloud storage migrations with features including.
256 bit encryption
OAuth authentication
Migrate unlimited users & their files
Migrate file permissions & collaborations
Migrate incremental changes (Delta migration)
Map all users with a single click
Migrate based on CSV list
Auto-retry for efficient migration
Accurate file transfers
Detail Audit Log
How Many Cloud Storage Services Does CloudFuze Support?
CloudFuze migration allows transfer of data between 40+ different cloud storage services including GDrive, Google Team Drive, Dropbox, Dropbox for Business, OneDrive, OneDrive for Business, Microsoft Office 365, Sharepoint Online, Amazon S3 and Box etc.