5 Tips to Build an Effective Dropbox to Google Drive Migration Roadmap
Most businesses recognize the Dropbox to Google Drive migration because of its benefits. However, moving to Google Drive without a clear strategy can cost much time, effort, and money.
Google Drive migration involves a lot more than just moving workloads. Its successful implementation enables businesses to improve workflow, increase agility, and improve process efficiency.
Companies may simply transfer files from Dropbox to Google Drive with a defined cloud migration plan. This article will discuss the effective ways to move data from dropbox to google drive roadmap for your business.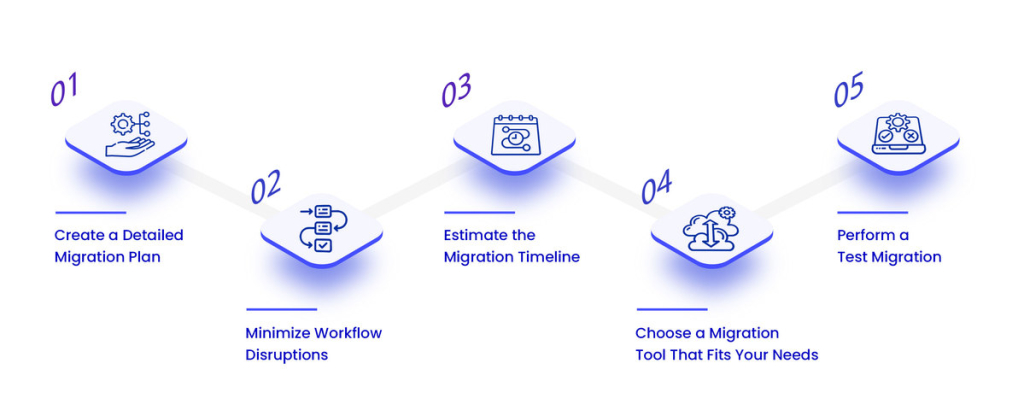 1. Create a Detailed Migration Plan
Every business needs a clearly defined strategy. A cloud migration plan will serve as a foundation for a successful move of files from Dropbox to Google Drive. The cloud migration plan specifies all the data to be migrated and outlines the migration process step-by-step. Also, plan out the activities you will perform and write down each step. It reduces the possibility of unexpected errors occurring during the migration process.
2. Minimize Workflow Disruptions
No matter how well-thought-out, data migration plans can be interrupted or end in error due to unforeseeable circumstances. Furthermore, you should plan your data migration approach in such a way that minimizes workflow disruptions.
A few challenges and problems are sometimes unavoidable and unpredictable. By identifying and resolving these problems on time, migrations will proceed smoothly even if these obstacles arise.
CloudFuze, for example, can scale up or down as needed to handle unexpected workloads and minimize workflow disruptions.
3. Estimate the Migration Timeline
It's tough to estimate how long it will take to move your data from Dropbox to Google Drive. This is because numerous factors determine migration speed. The time it will take to complete the migration depends on the following factors:
Total number of users you are migrating
Total data size you are migrating
Data structure
API limits of the destination cloud (Google Drive)
Our experts at CloudFuze analyze all your data and provide estimated timelines saving your time and efforts. Talk to the migration experts and get accurate timelines for your migration project.
If you are also planning to migrate to Shared Drives, please refer to this Dropbox to Shared Drive migration guide.
4. Choose a Migration Tool That Fits Your Needs
Choosing a migration tool that automates your data migration process is imperative if you're moving terabytes or  petabytes of data in various formats and sensitivity levels. Before picking one, be sure it includes the functionality you need, such as:
Migrates permissions, versions, comments, embedded links, shared links, and timestamps
Easy user and data mapping
Dedicated migration support
Customized migration options
Delta migration (Incremental changes)
At CloudFuze, we ensure that the migration solutions are tailored to your business needs and ensure data is mapped appropriately and migrated as quickly as possible. Through a dedicated migration specialist who will work directly with you, we have helped countless firms with a smooth migration to Google Drive.
Get a demo or pricing now and find out how we can help you with this data migration to save you money and make your users' lives easier.
5. Perform a Test Migration
It is recommended to perform a test migration rather than testing migration results once the entire migration project is complete.
A test migration could save you time and money in the long run. As a result, your organization will become able to gauge how smoothly everything is running and whether your strategy is on track and can achieve your goals.
We offer cloud migration services over 40 clouds, including Dropbox, Box, Egnyte, Google Drive, etc. With our assistance, you can rest assured that your Dropbox to Google Drive migration will be performed on time, on budget, and according to your specifications.
Schedule a free demo today and validate all the migration features the tool provides!