5 Key IT Admin Checklist to Transfer Box to Google Drive
Box to Google Drive migration can be a cost-effective solution for your business, but it's a challenging task for IT Admins to execute the migration. When you transfer Box to Google Drive, you don't want to repeat the same mistakes that other organizations make.
You should consider several factors before migrating from Box to Google Drive. In this article, we have created a checklist to successfully move files from Box to Google Drive without any delays.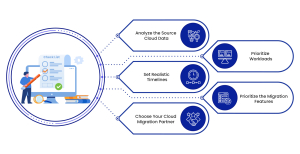 1. Analyze the Source Cloud Data
It's critical to gather all the necessary information to complete the migration effectively. Thus, make sure you analyze your Box business account carefully and list all the below details.
Amount of data to migrate
Number of users to migrate
Number of files to migrate
Individual user data size
Analyzing this data helps you determine what data you are migrating and how you want to migrate and organize it in the destination cloud.
CloudFuze experts analyze all your Box data and provide you with all the information, saving you time and money. Contact us and speak to our migration experts today!
2. Set Realistic Timelines
Google Drive restricts the amount of data that can be migrated into it per day per user. It significantly impacts migration times, especially for large organizations that want to transfer terabytes of data from Box to Google Drive.
So, remember this while estimating the migration timeline, which could delay the migration process more than expected to complete.
Talk to the migration experts with years of experience in the industry and get accurate timelines for your Box to Google Drive migration project.
3. Choose Your Cloud Migration Partner
Finding the right cloud migration provider that can help you with the expertise and resources should be the next thing on your to-do checklist. While they all provide similar services, they are not identical. So, which one to choose should be determined based on the organization's goals. Some major elements to consider when comparing migration tools are:
Google partnership
Experience
Technical competency
Market leadership
Customer satisfaction
Migration Support
Security measures
CloudFuze is the topmost rated and trusted data migration platform by IT professionals, according to a Gartner Peer Insights report.
4. Prioritize Workloads
Migrating from Box to Google Drive can be time-consuming and complicated for large volumes of data. IT admins should prioritize and move the data in batches. As a result, more complex technical errors are less likely to occur, and it will reduce the waiting time. Furthermore, decide which datasets to migrate first when migrating data in batches.
5. Prioritize the Migration Features
Several migration tools are available to copy Box files to Google Drive, but each will offer different features and capabilities. There is no point in migrating the files and folders without its features. So, you will have to research more to understand the features that a Box to Google Drive migration tool supports.
Here are the most important ones to consider:
One-time & delta (incremental) migration
Root file and folder permissions migration
Sub-folder permissions migration
Versions & selective versions migration
External shares migration
Shared links migration
Embedded links migration
In-line comments migration
Timestamps migration
CloudFuze migration platform supports migrating all the features of Box files and folders. Request a demo today to see how it works!