Dropbox vs Google Workspace- Which is Best For Your Business?
Cloud storage has changed the way businesses operate, allowing teams to save important documents without fear of security breaches, share workplace files instantaneously, and collaborate on files remotely. Dropbox and Google Workspace are two of the most popular cloud services that support file sharing, syncing, and backup functionalities. Let us dive deep into the differences between Dropbox vs Google Workspace and understand which is better for your business.
1. Introduction
While the pandemic imposed the businesses to work remotely, businesses of all sizes, from small companies to Fortune 500 corporations, are migrating from Dropbox to Google Workspace to collaborate more effectively.
Choosing the appropriate cloud storage service for your business is harder, especially when choosing among the most popular clouds. In this article, we'll see how Dropbox is different from that Google Workspace.
Before you migrate from Dropbox to Google Workspace, compare Google Workspace vs Dropbox business in various aspects, such as collaboration, file sharing, storage options, pricing, and more. This can help you determine which is best for your business needs and decide whether migrating from Dropbox to Google Workspace can benefit your business.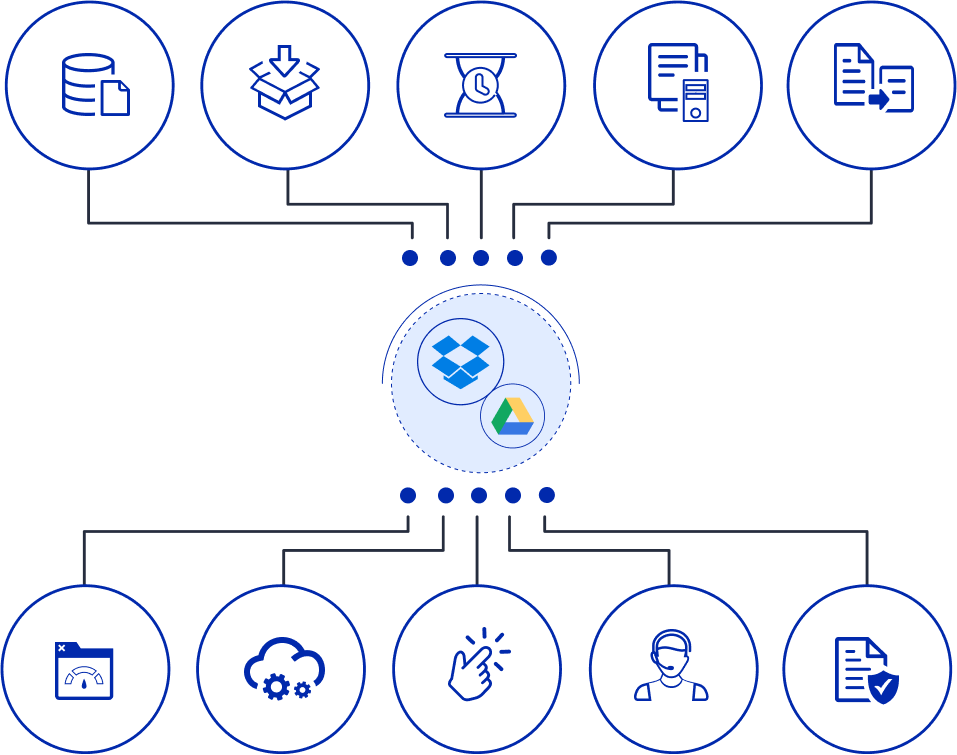 2. Dropbox vs Google Workspace- Paid Storage and Pricing Plans
Dropbox offers separate pricing for individuals and teams. Here's the pricing of Dropbox when paid yearly:
Professional: 3TB storage for $16.58 per user per month.
Professional + eSign: 3TB storage with unlimited eSignature requests $24.99 per user per month.
Standard: 5TB storage for $12.5 per user per month.
Advanced: Unlimited storage for $20 per user per month.
Google Workspace has varied pricing for corporate user plans. Paying for Google Drive means you're also paying for Google Workspace, which includes online file storage and Google's other apps like Gmail, Google Meet, Google Docs, Google Sheets, and more.  Let's have a look at the annual costs of the business plans:
Business Starter Plan: 30 GB storage for $6 per month per user.
Business Standard Plan: 2 TB for $12 per month per user.
Business Plus Palan: 5TB for $18 per month per user.
Enterprise: For custom pricing, you must contact Google.
With a similar paid storage and pricing plan, Google Workspace comes along with Google-supported apps for free use for your business, making the collaboration between the teams easier and more productive.
CloudFuze helps your business or organization migrate from Dropbox to Google Drive for Business while preserving all the important aspects of the data.
3. Dropbox vs Google Workspace- Real-time Collaboration
Both cloud services include video conferencing capabilities. Google Meet and Zoom are both compatible with Google Workspace and Dropbox.
Dropbox allows you to collaborate in real-time on Office documents, and you can watch others editing a file and have a comment dialogue in a document.
However, you may effortlessly collaborate using Google Drive with team members in real-time. To assign a task or an action item, you can add a comment to any file type, including image files and PDFs, and tag team members in your comment.
Google Drive also delivers email notifications that highlight activity and comments on your files, and you may respond to these comments without having to switch apps. Hence, a successful transfer to Google Drive makes your collaboration more effective with tagging, commenting, and action items.
4. Dropbox vs Google Workspace- File Type Support
When uploading files to the cloud service, you don't have to worry about the file type, but you can only open the file types supported by specific cloud storage.
Google Drive is well-known for handling a wide range of file types. It supports a total of 30 distinct file formats. You can modify documents without downloading them to your computer, and you can view files such as photoshop and AutoDesk files even if you don't have those tools installed. When editing Microsoft files online, they will be converted to Google Docs, Google Sheets, and Google Slides, respectively.
Dropbox only allows you to preview a restricted number of file types. You can view basic text, links, audio and videos files, presentations, documents, and spreadsheets in various formats in Dropbox. Dropbox's Office Online integration allows you to edit only MS Office file types when it comes to modifying the files. Apart from that, you'll need to download any other file type you want to edit.
5. Dropbox vs Google Workspace- Ease of File Sharing
Dropbox and Google Drive are excellent cloud solutions for managing your team's file access. Individual files or complete folders can be shared via a shared link or by email using both services.
On the other hand, Dropbox is a step ahead of Google Drive when it comes to offering users control. Dropbox users with a professional or corporate account can set link passwords and expiration dates. As a result, even if you exchange links, your files will be safe in the long term.
Read our comprehensive guide on Dropbox to Google Shared Drive migration to understand the process better.
6. Dropbox vs Google Workspace- Speed of File Syncing
Dropbox and Google Drive use different syncing methods, which impacts sync speed. While both save files automatically, Google syncs the complete document by downloading and uploading it. If you're trying to access the most recent document version using a different device, this can cause delays. Furthermore, if your internet connection is lost while Google updates your files, you may lose the work you've completed.
On the other hand, Dropbox syncs changes to a file using block syncing. It syncs files across devices faster, and any of your collaborators can see new modifications to your files from other devices much faster. If you wish to access the most recent version of your file on a different device, you won't have to wait so long.
7. Dropbox vs Google Workspace- Integration
Both the cloud services, Dropbox and Google Drive, have a third-party app library with hundreds of integrations available.
Google Workspace by default integrates with Gmail, Calendar, Google Docs, Google Sheets, Google Slides, etc. Email attachments can also be immediately saved to Google Drive by Gmail users, whereas Dropbox offers its document editor, Dropbox Paper, and integrates with Office 365. Dropbox's open API makes it simple for developers to build apps for the service. According to estimates, over 100,000 third-party apps sync with Dropbox.
8. Dropbox vs Google Workspace- Ease of Use
Dropbox and Google Drive have created a clean and simple user interface (UI) that even the youngest tech-savvy individual can understand across desktop, browser, and mobile.
Dropbox, on the other hand, recently revamped its desktop platform. It no longer uses the same design as the web interface but rather has its design. While it isn't difficult to use, individuals who use Dropbox on the web may require some time to get used to it.
The desktop version of Google Drive is more simplified, appearing as a folder in your favorites list. You can drag and drop files into the folder or add them when saving a document.
9. Dropbox vs Google Workspace- Customer Support
Both Dropbox and Google Workspace offer great customer support. Phone assistance is included with Google Drive membership, and you can also obtain support through live Google Drive forum, chat, e-mail, and website tutorials. Besides, Dropbox also offers live chat or phone support, email, website, and forum support for its cloud storage.
10. Dropbox vs Google Workspace- Security
Another important factor to consider before making a decision is security. The files you may want to upload to the cloud require the highest level of security. Both Dropbox and Google Drive deliver excellent performance when it comes to security.
Both the cloud services use encryption to protect user files. They allow users to activate two-step verification, which requires an additional code to be sent to the user's phone to access the account, making it more difficult for hackers to access the user's information. Moreover, both services employ perfect forward secrecy, which prohibits hackers from accessing files saved in the cloud using outdated session keys.
Dropbox's encryption protects files at rest with 256-bit AES keys and encrypts data in transit with 128-bit AES SSL/TLS encryption or. Similarly, files at rest are encrypted using 128-bit AES keys, while files in transit are protected with 256-bit SSL/TLS encryption.
Conclusion
In the end, there isn't much of a difference between Dropbox and Google Drive. Google Drive offers a better account value because of its more flexible premium packages and larger storage capabilities out the door. Compared to Dropbox, its web interface offers more features, more file types supported, and an advanced search tool.
Dropbox, on the other hand, offers more flexibility with its simplified desktop and mobile apps, as well as robust third-party app support and platform compatibility. Determine your business objectives and select the one that best fits your business needs.
If you want to migrate from Dropbox to Google Drive to enjoy the benefits it offers, you can contact our domain experts and schedule a free demo session to learn more about the migration process.