Slack Migration: 5 Do's & Don'ts When Moving to Microsoft Teams
In an era where remote work has become the usual, businesses aim to switch from Slack to Teams. Microsoft Teams allows businesses to have safe access to data from anywhere while lowering costs and streamlining processes. Slack-to-Teams migration projects are increasingly prompted by cost savings, as Teams comes as part of the Office 365 bundle, aiding companies to eliminate the added cost of Slack. Experts anticipate that soon and even more, businesses will migrate from Slack to Teams.
If your company hasn't yet switched to Teams, now is the time to set up a migration plan and checklist. But data migration can lead to delays, stress, and data loss, and sometimes the entire migration process could fail. As a result, our experts with extensive experience in carrying out Slack to Teams data migration have listed a few dos and don'ts to assist you in getting started and making your migration project a success.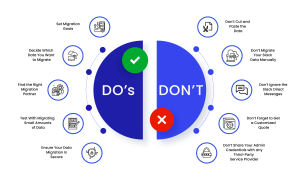 Check the guide to know the complete Slack to Microsoft Teams migration process.
5 Dos for Migrating Slack to Teams
1. Set Migration Goals
Determine what you want to achieve for your business by moving to Teams, like improving your team working efficiency with the additional advanced features that Teams offers, saving costs, etc. Having explicit knowledge and a set of objectives can help develop a smooth cloud data migration.
2. Decide Which Data You Want to Migrate
Decide in advance which data you want to migrate to Teams as Slack includes different workspaces where each workspace will have users, direct messages, and public and private channels data. The size of the data you are moving decides the migration completion time.
3. Find the Right Migration Partner
migrate data from slack to teams involves many challenges and necessitates a third-party tool to migrate all the workspaces, direct messages, and public and private channels data which include users, files, emojis, timestamps, and @mentions without any error and loss. You must invest time in choosing a partner that fits your business migration requirements. A strategic partnership can help your businesses speed up the migration and time to results.
CloudFuze being the leading data migration service provider across the globe has served many organizations ranging from small scale to large scale in moving large quantities of data from Slack to Microsoft Teams dealing with and solving all the complexities involved on behalf of the organizations. Additionally, CloudFuze is the only tool available that migrates slack direct messages to teams with accurate mapping of users.
CloudFuze was able to transfer all Slack channels to Teams without losing any data.
4. Test With Migrating Small Amounts of Data
Your data is your asset for your business. So, don't just believe in words. Request a demo on how to migrate from  Slack to MS Teams and start testing by migrating small amounts of data. This helps you to double-check if the data migration is accurate. For example, verify whether the data is migrated to the right person in the destination, whether the files shared/received are accessible, whether the file permissions are migrated, whether direct messages are migrated, and whether users, emojis, timestamps, and @mentions are migrated. This can help you identify any potential issues so you can address them before doing the complete migration.
5. Ensure Your Data Migration Is Secure
You must be cautious of how safe your data is both during and after your migration. Take measures to secure your data and limit access to sensitive information to those who require it. You should also make sure that your service provider's cloud encryption capabilities meet the level of sensitivity of your data.
CloudFuze leverages APIs to perform the migration from Slack to Teams with new functions, ensuring a high level of data protection with a robust encryption algorithm and state-of-the-art security measures. CloudFuze also uses the OAuth (open authorization) protocol to offer safe authorized access.
You can migrate your Direct Messages without losing them. It is easy to move Direct Messages with CloudFuze.
5 Don'ts for Migrating from Slack to Teams
1. Don't Cut and Paste the Data
We all know how important data backup is. Imagine migrating the data from one cloud to another with the cut and paste option and end with missing some amount of data in the destination cloud. As you have followed the cut and paste feature, finally, you end up with data loss which can't be retrieved at any cost.
So, you need to ensure that all your data is safe in Slack during and after the migration. Once the data migration is complete and accurate, you can deactivate your Slack account at any time of your choice. CloudFuze tool works in such a way that it copies your data from the source and transfers it to the destination where you will not be missing a single piece of your data.
2. Don't Migrate Your Slack Data Manually
It is difficult to move large amounts of data from one cloud storage to another and migrating the data through a manual process which is downloading and uploading the data will lead to errors and data loss. Slack and Teams are two different collaboration platforms with different features and functionalities. Hence, migrating file permissions, timestamps, emojis, @mentions, and most importantly direct messages can't be migrated through the manual migration process. To migrate all the data from Slack to Teams along with the features, you need to choose a third-party migration service provider like CloudFuze.
3. Don't Ignore the Slack Direct Messages
Many third-party tools are available to migrate your data from Slack to Microsoft Teams. But most of them don't migrate direct messages. If you ignore it just because you don't find a tool or option to migrate your teams' direct messages, you will lose a lot of your business's important data.
To help businesses like yours, our expert engineering team has built a feature that migrates all your teams' direct message data, including users, files, emojis, timestamps, and @mentions.
Check how Slack direct messages are migrated to Teams using the CloudFuze data migration tool.
4. Don't Forget to Get a Customized Quote
The size of the data that each business has will be different. As the pricing to migrate data from Slack to Teams depends on the data size, the Slack to Teams business data migration cost differs from company to company. Evaluate your business data size and get a customized quote by defining the features you require.
5. Don't Share Your Admin Credentials with any Third-Party Service Provider
Being an IT administrator, you will have the ability to access and control your Slack business team account, and third-party services will be needing your credentials to migrate your teams' data from Slack to Teams.
Your admin credentials hold a lot of sensitive data. So, don't share any of the admin or user credentials but ensure that you provide secure delegated access to the tool to initiate the migration.