MSPs Strategy to Move Data From Dropbox to Google Drive
MSPs must ensure that their cloud data migration offerings fit the needs of their customers. Understanding client pain points and expectations are important to determine which strategy will be the most effective for them to move data from Dropbox to Google Drive. The MSP must also plan to avoid pitfalls like security, downtime, cost, etc.
A detailed plan should be built based on the specific business migration needs to achieve a smooth Dropbox to Google Drive migration. By doing this, MSPs can provide their clients with the best value and the right solutions for their data migration needs.
Here is how to make a strategic plan that helps MSPs to make a smooth transition from Dropbox to Google Drive.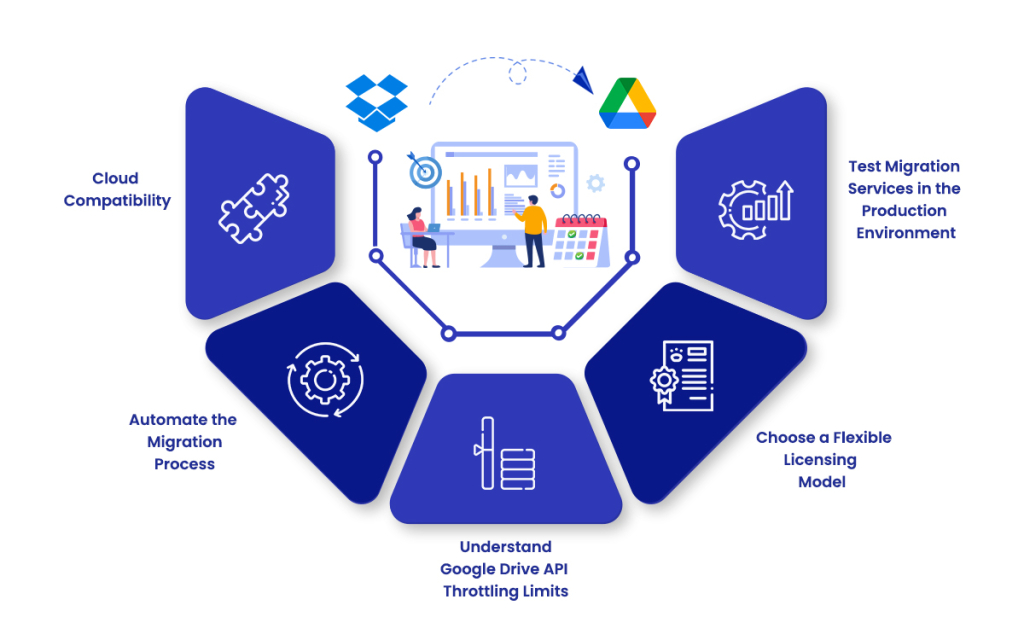 1. Cloud Compatibility
MSPs need a tool that supports migration across multiple cloud environments as the requirements vary from client to client. While many cloud migration service providers are available, not all support all platforms. As a result, MSPs should choose a tool that can meet all their client's business migration needs.
CloudFuze offers migration services over 40 clouds, including Dropbox, Box, Egnyte, Google Drive, etc. We ensure that your Dropbox to Google Drive migration is on time, on budget, and as per your requirements.
2. Automate the Migration Process
MSPs usually receive huge data migration requirements, which necessitates migrating large volumes of data without business disruptions. You can accelerate the migration by using automation, which also lessens the impact on daily business operations. Building a reliable automated migration strategy guarantees that your cloud migration will be quick and easy.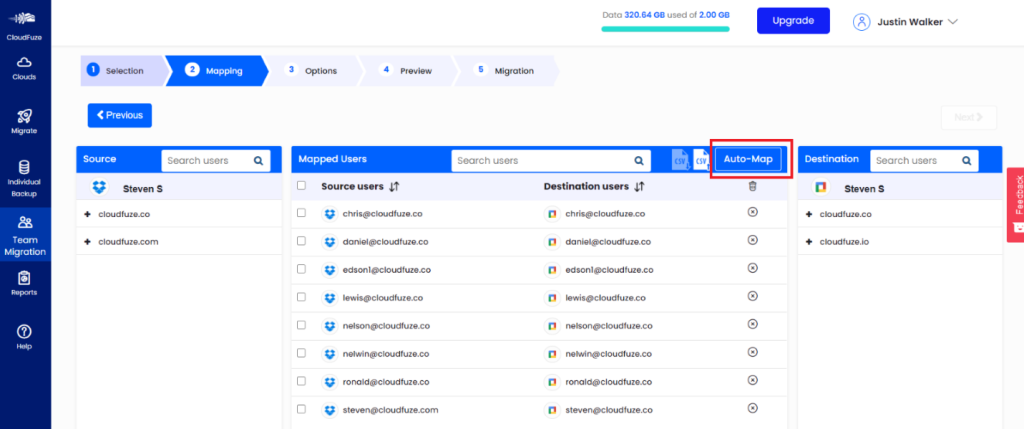 CloudFuze migration platform automates the entire migration process while mapping the users and their respective data based on their email aliases. Request a demo to see how CloudFuze automates and performs the Dropbox to Google Drive migration!
3. Understand Google Drive API Throttling Limits
Google Drive API throttling limits limit Dropbox to Google Drive migration timelines. So, MSPs should learn about these limits before giving clients a timeline.
Data upload limit per day per user- 750 GB
Individual file size upload limit- 5 TB
The maximum number of files and folders a Team Drive can contain- is 400,000
The maximum number of sub-folders a single Team Drive supports- is 20
As a result, transferring files from Dropbox to Google Drive can expect longer wait times, especially when migrating large volumes of data. So, when scheduling and performing migrations, MSPs should keep this in mind.
4. Choose a Flexible Licensing Model
Choosing the right tool with the flexible licensing model can help MSPs save organizations time and money. Drive your data migration projects with a customized licensing model that suits your client's diverse business needs.
Partnering with CloudFuze migration service provider offers flexible licensing options for MSPs tailored to their requirements.
CloudFuze offers discounts on large-scale data migrations and a dedicated migration team to help you seamlessly migrate from Dropbox to Google Drive.
5. Test Migration Services in the Production Environment
MSPs should test the data migration in the production environment rather than using the free trial to evaluate a smaller sample data set. By doing this, you can encounter real-world situations that might result in migration issues during execution.
Let our team guide you through migrating data in the production environment, which will help you make the right decision.