How Do You Avoid Data Loss When Moving Dropbox Files to Google Drive

Data loss might occur when moving Dropbox files to Google Drive, which means some data may not transfer from Dropbox to Google Drive when the data is migrated. Even the simplest data migrations pose an inherent risk of data loss, making larger migrations even riskier.
Due to the increasing complexity of data migrations, the risks of data loss are increasing, not only from large amounts of data being stored but also from technical errors occurring during the migration.
In this article, we will explore the tips that help to prevent data loss during complex data migration from Dropbox to Google Drive:
1. Overcoming Google Drive Limitations
There are certain limitations of Google Drive, some of which restrict data migration and result in data loss when you transfer from Dropbox to Google Drive. It includes:
Long folder path limit- Allows a maximum of 20 sub-folders in a Shared drive
A number of files and folders storage limit- Allows a maximum of 400,000 files and folders in a single shared drive.
On the other hand, Dropbox doesn't have any limits as such. So, this could result in data loss when migrating from Dropbox to Google Shared drives if you have sub-folders exceeding 20 levels or have more than 400,000 items.
CloudFuze bypasses the long folder path limit and migrates the sub-folders that are beyond 20. Besides, it runs a pre-migration test and splits the items across multiple shared drives if the total files and folders exceed 400,000.
Get in touch with our experts to see how the CloudFuze platform overcomes Google Drive limitations and ensures no data loss.
2. Mapping Data Accurately
Data mapping is an essential part of the migration process. Each user data in the source cloud in the source cloud is mapped to the respective user in the destination cloud during the migration setup. At this stage, it is critical to cross-verify that the user permissions are mapped accurately between Dropbox and Google Drive. However, an incorrect mapping can result in significant data loss and even more rework.
CloudFuze maps the user's data automatically using their email addresses and allows its customers to customize the mapping through .CSV if any changes are needed.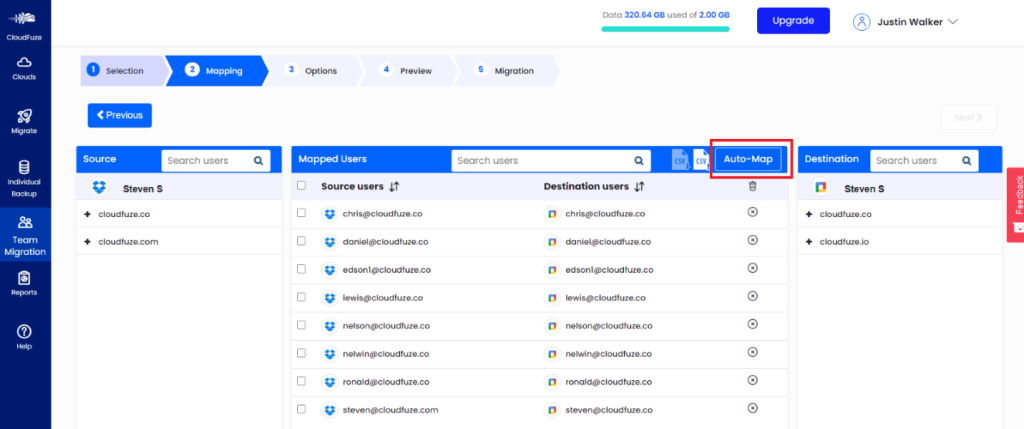 3. Migrate Incremental Changes
Moving Dropbox files to Google Drive takes time, depending on how much data to migrate. The more data, the more time it takes to migrate, which could vary from weeks to months. As a result, restricting users from making changes during migration will impact business operations.
An incremental (or delta) data migration is a type of data migration that only migrates data that has been changed in the source cloud since a specific date and time. A successful incremental data migration transfers both new content and modifications.
CloudFuze fully supports incremental data migration to transfer Dropbox to Google Drive with its delta migration feature.
4. Find the Right Migration Service
Both Dropbox and Google Drive support Google and Microsoft file formats in general. But each cloud will have a specific file format that no other cloud might support. For example, Dropbox Paper is a free option for anyone with a Dropbox account, which Google Drive doesn't support.
So, migrating Dropbox Paper is similarly important as migrating other files. You can find many tools that support migrating data from Dropbox to Google Drive. But ensure that your chosen tool also migrates Dropbox Paper to Google Drive.
CloudFuze platform successfully supports moving all Dropbox files to Google Drive, including Dropbox Paper.
5. Back Up Your Dropbox Data
Although you can avoid data loss during the move from Dropbox to Google Drive, you may still lose critical data throughout the process, which might disrupt your daily operations. So, securely backed-up data can afford losses as it can be recovered if something goes wrong during execution.
As CloudFuze copies and transfers data from Dropbox to Google Drive, it doesn't get deleted from your Dropbox business account and can be backed up in case of any errors occur during the migration process.