Google One Plans, Features, and Pricing: What's New?
Google launched Google One back in May 2018 and made it available for users in the USA in August. The search engine giant has rebranded Google Drive as Google One. It has added a couple of new features and made a few changes to the old storage plans. We created this article and infographic to help you understand Google One plans, features, and pricing better.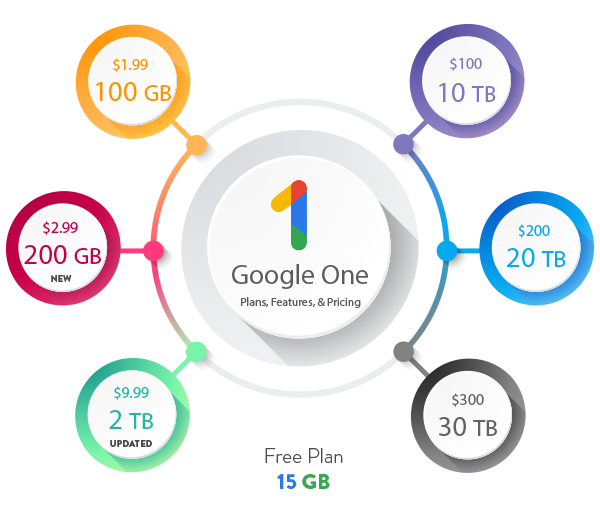 Before we talk about the Google One plans, let's answer some quick Google One questions that our readers from around the world may have. Remember, Google One is available only in the United States as of August 2018. Therefore, many cloud storage users and enthusiasts haven't got a chance to explore Google One yet.
What is Google One?
Google One is the new name of Google's cloud storage service. It's fundamentally the same as Google Drive except for the updated cloud storage plans and pricing structure. Shortly, the brand name, Google One, will replace the Google Drive moniker.
When Will Google One Come to My Country?
Very shortly! There's no definitive answer from Google as well. We believe that Google will start rolling Google One to global users in the next couple of months. If you don't live in the USA and if you want to know when Google One will be available in your country, you can sign up for Google One updates.
Google One Storage Plans and Pricing
Free Plan – 15 GB
Google still offers 15 gigs of free cloud storage to everyone who signs up for Google One.  The existing Drive users can continue using their free storage as well. The free tier remains the same.
100 GB Storage ($1.99)
This 100 GB/$1.99 storage plan remains the same as well.
200 GB ($2.99) (New)
The new Google One plan offers 200 GB of cloud storage for $2.99. This plan will probably become the most popular Google One plan in the coming days given the fact the consumer cloud storage requirements are growing day by day.
 2 TB ($9.99) (Updated)
Google doubled the storage of $9.99 tier and offered an additional 1TB  for Google One users. Drive users who subscribed to $9.99 plan will now get 2 TB of cloud storage, which was previously 1 TB.
10 TB, 20 TB, and 30 TB plans are same as old Google Drive plans that cost users $100, $200, and $300 a month respectively.
Google One New Features
In addition to the sharing and collaboration feature the Drive currently has, Google offers a few extra features for One users.
Family Sharing
The Google One's family sharing plans allow users to share the cloud storage space up to five of their family members or friends. Note that a Google One account user will not have access to the shared storage space.
Free Google Play Credits and Retail Discounts
Irrespective of plans, Google One users will enjoy perks like Google play credits, discounts on travel and hotels bookings, etc.
Google says the One users are going to get many more benefits in the months ahead.
Keep in mind that Google One benefits may change from one country to another. Hence, read the country-specific page of Google One to understand the plans, features, and perks better.
Do you wish to migrate to Google One from other cloud storage providers but not sure how to transfer the data? CloudFuze helps you switch to Google One easily, quickly, and securely. Try our Google One migration service now!