5 Tips That Will Help You Switch to Google Drive from Box Successfully
As a result of the pandemic, many organizations have accelerated their migration to the cloud office suites to stay competitive. And many businesses are looking to migrate to Google Drive for enhanced communication and productivity. However, switching to Google Drive from Box is challenging because of a lack of strategy or an unclear roadmap.
Here are some tips for organizations planning to migrate from Box to Google Drive successfully.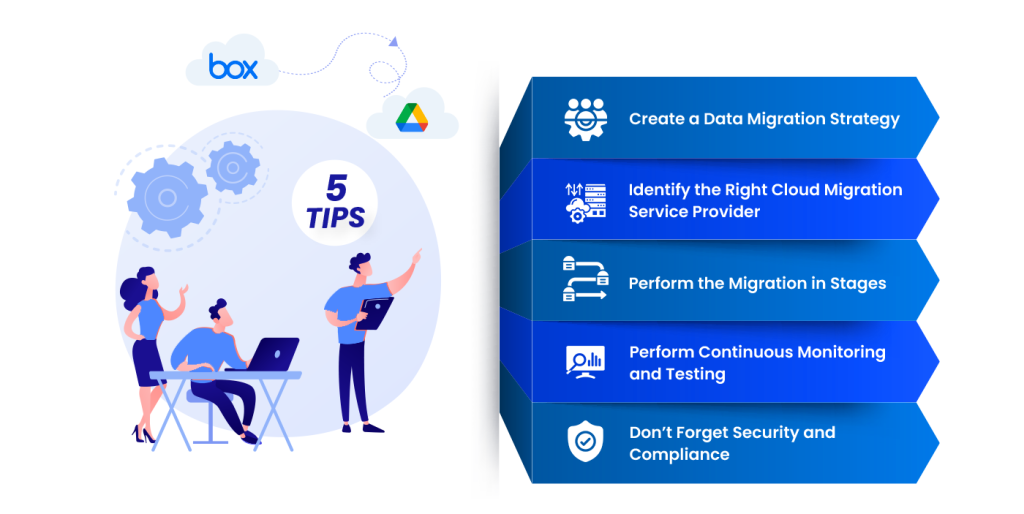 1. Create a Data Migration Strategy
Getting started without a migration strategy brings significant risks that could delay the entire process. Companies should adopt a successful data migration strategy to make day-to-day business operations more efficient.
The Box to Google Drive migration strategy should be tailored precisely to the needs of each organization to achieve the desired business goals and improve efficiency. To build a successful cloud data migration strategy, prioritize workloads, conduct a pilot test, and modify the strategy based on the test results.
At CloudFuze, our experts help you analyze your Box business data and create a custom migration strategy saving your time and efforts.
2. Identify the Right Cloud Migration Service Provider
Picking the right cloud migration service provider is key in making your migration successful. With so many cloud providers to choose from, IT admins and business owners struggle to find the ideal cloud migration tool.
The best option for your Box to Google Drive migration project depends on many factors, such as the amount of data you need to migrate, the timeline to complete the migration, features you need to migrate, your security requirements, etc.
A leading solution for business migration, CloudFuze has in-built features to ensure highly secure, accurate, and fast migration processes.
3. Perform the Migration in Stages
Box to Google Drive migration process can result in losing business sensitive data if performed incorrectly. To ensure a seamless migration and avoid losing crucial data, you must segregate and perform the migration in batches.
But, when you move files from Box to Google Drive in batches, you must first decide which user's data you want to migrate.
4. Perform Continuous Monitoring and Testing
Transferring files from Box to Google Drive involves complicated steps, but continuous monitoring during the migration helps ensure your migration project is running as planned. Also, test the data migrated frequently and ensure that the data migration is accurate compared to the source cloud.
Continuously monitoring and testing the migration can make the process smooth and fast, ensuring no data loss.
Our migration expert team continuously monitors and manages the migration process while resolving the technical errors immediately that may occur.
5. Don't Forget Security and Compliance
Moving files from Box to Google Drive can present new security challenges. Ensure that any platforms or services you choose to migrate from Box to Google Drive take security measures and adhere to government and industry compliance standards.
For example, there are government regulations for user data, i.e., the General Data Protection Regulation (GDPR) in Europe and the California Consumer Privacy Act (CCPA) in California. So, you must adhere to compliance requirements depending on the country during the migration process.
CloudFuze is an industry-leading, secure, and advanced platform that can comply with different countries' regulations.