5 Tell-Tale Signs Your Cloud Productivity Suite 

Isn't

 Working
There were not many collaboration platforms available a few years ago. Companies had to rely on whatever the one or two options available back then. In 2021, we have quite a few leading cloud storage and productivity suite that suite every business need.
Are you satisfied with your productivity suite? Do you know when is the right time to switch? Continue reading to learn more.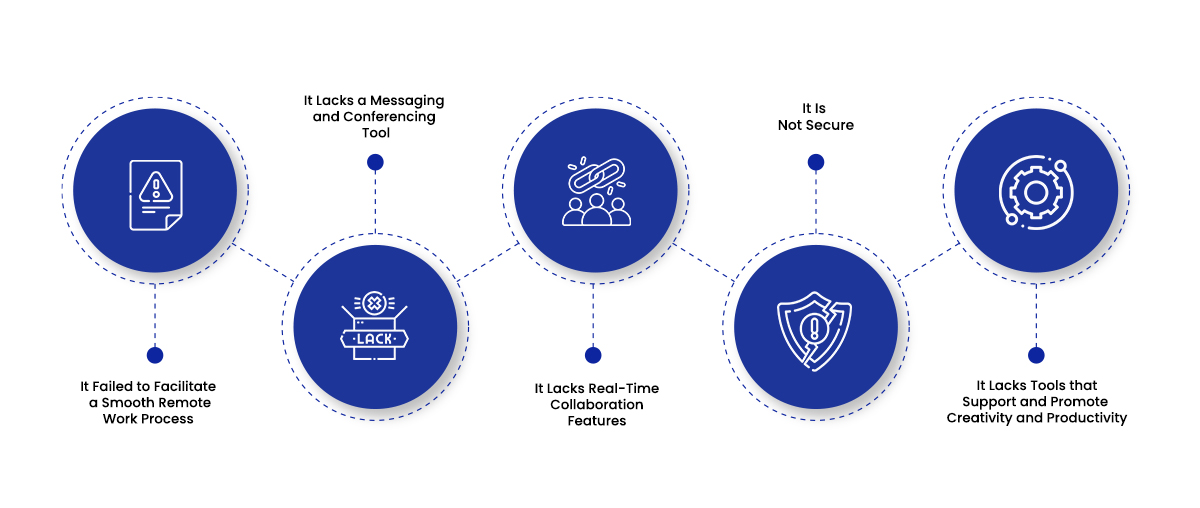 1. It Failed to Facilitate a Smooth Remote Work Process
Many companies successfully managed to create an efficient and secure work-from-home ecosystem with the help of leading cloud office suites like Microsoft 365, Google Workspace, Dropbox, Box, SharePoint Online, etc.
If your company struggled to establish fast, robust, and secure processes that simplify and speed up remote work, your current storage or collaboration platform is incapable of supporting your business.
2. It Lacks a Messaging and Conferencing Tool
Tools like Microsoft Teams, Slack, Google Meet, etc. made is possible for remotes to teams to collaborate in real-time. Many companies have turned these chat tools into a virtual office. If your company is using personal chat apps like Skype or any legacy tools, you're missing out on a lot of productivity.
Prefer a cloud office suite that has a native chat app for optimal results.
3. It Lacks Real-Time Collaboration Features
Gone are the days when people had to send and resend a document to make changes. Most collaboration platforms now offer real-time editing or collaboration features that allow two people to work on the same document at the same time but from two different locations.
Check whether your existing productivity suite supports this. If it does not, consider migrating to another cloud service.
4. It Is Not Secure
Remote work can cause serious security problems sans a robust cloud office suite. Employees can knowingly or unknowingly leak critical business data that could hamper their company's reputation or growth.
Suites like Microsoft 365, Google Workspace, Dropbox, Box, etc. provide state-of-the-art security features and controls. Secure login, multi-factor authentication, remote wipe, IP restriction, secure sharing, etc. are some of the security features every company should use.
5. It Lacks Tools that Support and Promote Creativity and Productivity
Many cloud suites offer an array of digital tools that promote creativity, collaboration, and productivity in employees. Ensure that your current collaboration platform has these tools built-in and comes free of cost with the subscription.
If you are only paying for cloud storage, your and your employees are missing out big time on next-generation digital tools that help your company in several ways.
Are you not happy with your current cloud office suite? CloudFuze can help your company to a new cloud provider quickly, securely, and without downtime. Contact us today.