Transfer Files from G Suite to Dropbox for Business
CloudFuze is the best platform for companies or large enterprises that are planning to migrate their cloud data from Google Workspace  (formerly G Suite ). The tool can migrate TBs of data effortlessly. Besides, CloudFuze replicates the G Suite folder structure in Dropbox and migrates sharing permissions as well. Continue reading this article to know more about G Suite to Dropbox migration.
Step 1: Create a CloudFuze Account
A CloudFuze account is needed for migration. You can create a CloudFuze account for free to test the service. Business users can also request an enterprise trial account. However, in order to execute actual migration, you need to reach out to our migration team for a custom quote.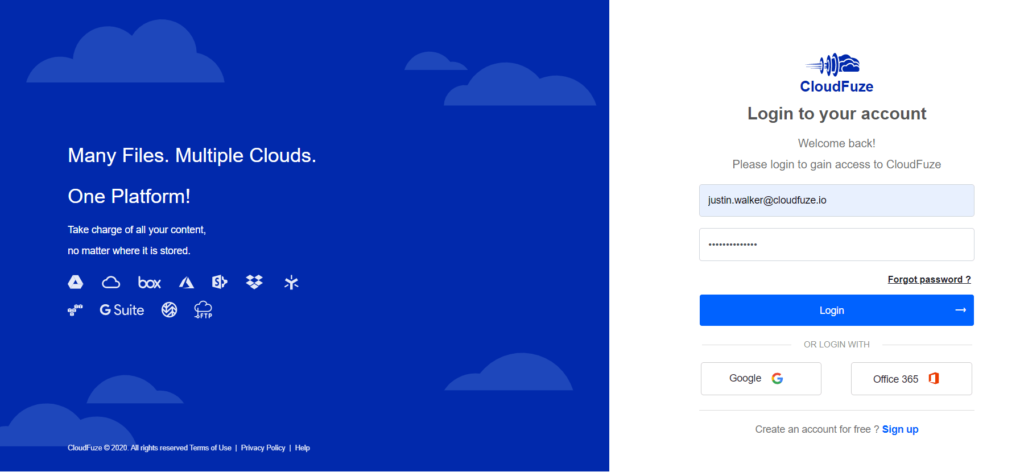 Step 2: Add Your Source Cloud, G Suite
Locate the G suite logo in the business clouds list and click on it. The next step is authorizing your G Suite account to CloudFuze and provide needed access for migration.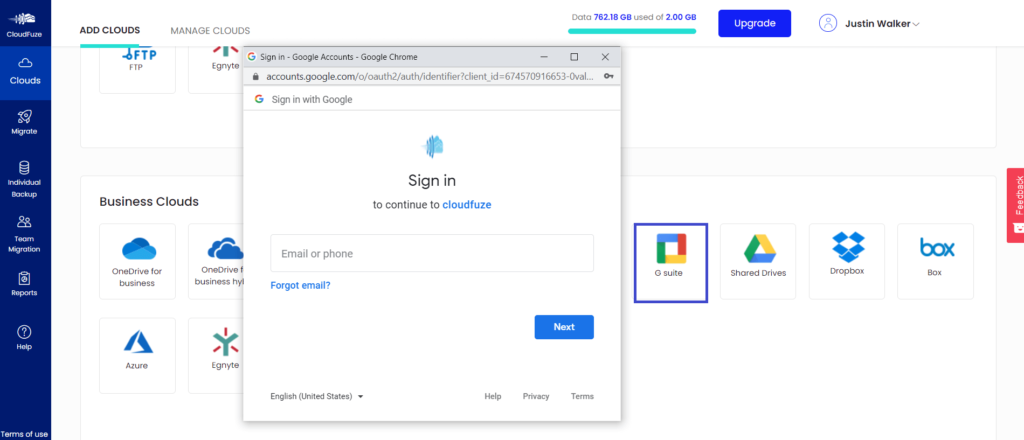 Step 3: Authorize Your G Suite Account
Click on the Allow button to complete the cloud-adding process. Please keep in mind that you can authorize G Suite and initiate migration only with admin login credentials.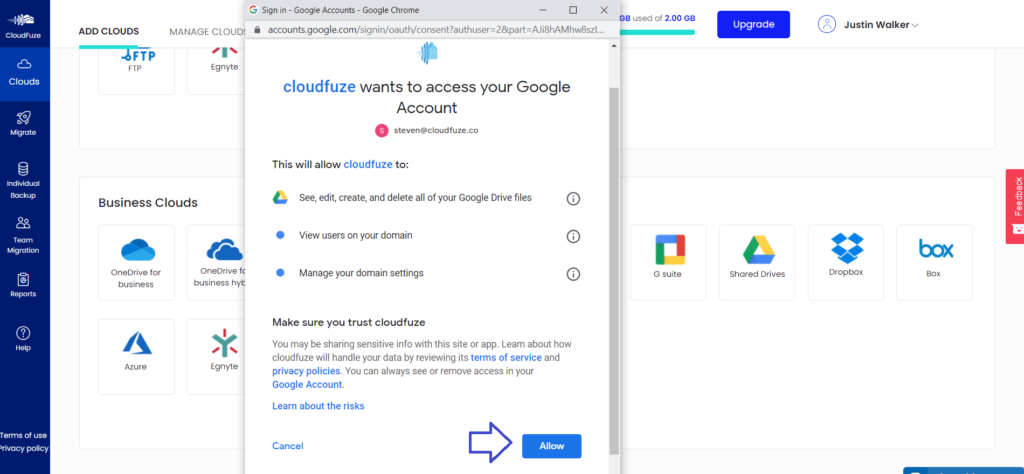 Step 4: Add Dropbox Business Account
Same way as above, click on the Dropbox logo listed in the business clouds. Enter your Dropbox Business admin login credentials and complete adding the cloud.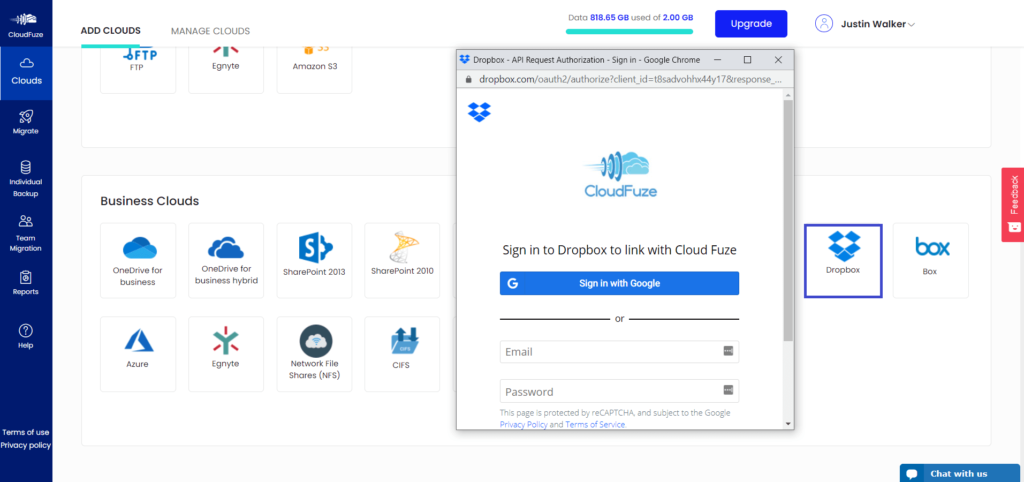 Step 5: Verify Whether Clouds Added Properly
Click on the Clouds logo in the menu on the left and then go to the Manage Clouds section.

Step 6: Click on Team Migration
To initiate migration, click on the Team Migration icon. Please note that you need to configure a few options before actual migration begins.

Step 7: Select Source and Destination Clouds
Select G Suite as the source and Dropbox as the destination accounts for migration.

Step 8: Auto-Mapping and CSV Functionality
CloudFuze supports both auto-mapping (matching and preparing user accounts based on email alias) and manual migration. In most cases, Auto-mapping does the trick. In cases where Shared Drives migration is involved, CSV migration comes into the picture.
In this demo, we ran an Auto-map based migration.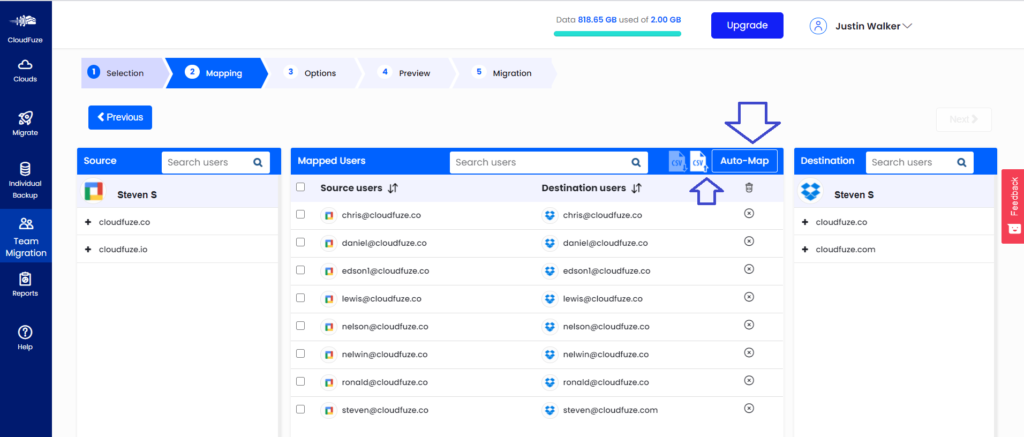 Step 9: Select Users to be Migrated
You can migrate all the users in G Suite or a few selected based on your migration needs. Select all the users you want to migrate and click on the Next button.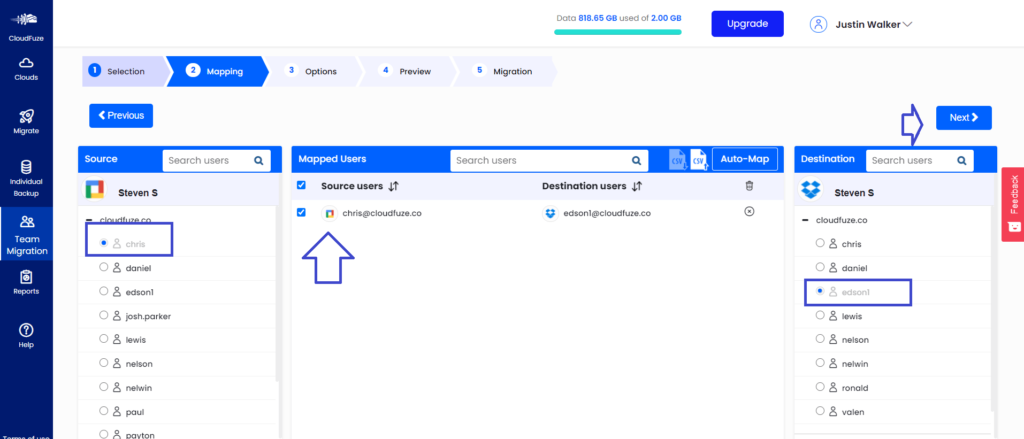 Step 10: Configure the Migration
You can give the migration an easy-to-remember name. This feature is particularly useful when you need to run multiple migrations at the same time. Choose other options like job type and special characters.

Step 11: Preview and Start the Migration
Once everything looks good, click on the Start Migration button. This step starts the actual data migration.

Step 12: Migration Is In Progress
When the migration is in progress, you can pause or cancel it. But please keep in mind that the data that has been already migrated can't be reversed or deleted.

Step 13: Migration Has Been Completed
Once the migration is completed, you will receive the migration report in the email to review for accuracy.