SharePoint Online to Google Drive Migration Guide
If you need to migrate a lot of data from SharePoint Online to Google Drive, you can use CloudFuze to speed up and automate the migration. Without a tool like CloudFuze, you may have to spend a lot of time and internet resources downloading and uploading content between SharePoint and Google Drive accounts. Continue reading to learn how one can transfer files between SharePoint Online and Google Drive using CloudFuze.
Step 1: Create a CloudFuze Account
Go to webapp.cloudfuze.com and create a CloudFuze account. CloudFuze offers a limited free trial to test the service, but a subscription is needed for a full migration.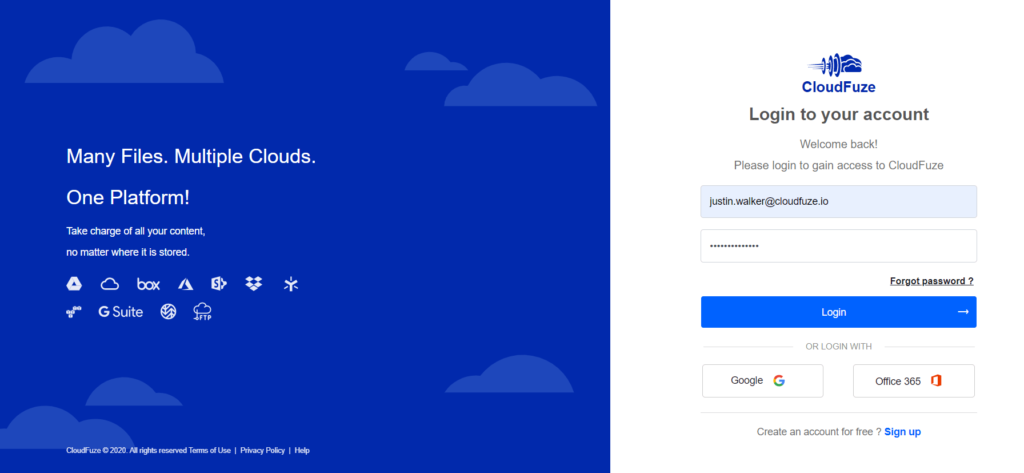 Step 2: Add and Authorize SharePoint Online Account
Click on the SharePoint logo that is listed under the personal clouds section.

Step 3: Enter SharePoint/Office 365 Login Credentials
Enter your SharePoint account login credentials in the popup window. This will add and authorize the SharePoint account to your CloudFuze account.

Step 4:  Add and Authorize Google Drive Account
Now, click on the Google Drive icon listed under the person cloud section. A browser window will pop up requesting your Google Drive account login credentials.

Step 5: Enter Your Google Drive Account Credentials
Enter your login ID and password and then click on the Next button.

Step 6: Verify Cloud Addition
Go to the cloud management section of the app by clicking on the Clouds icon in the left. Then, click on the Manage Clouds tab. You should be able to see both clouds added here. 

Step 7:  Click on Migrate Icon
To start the migration, click on the Migrate button in the menu toolbar on the left.

Step 8: Select Source and Destination Clouds
Choose SharePoint as a source and Google Drive as a destination.

Step 9: Select Content to be Transferred
You can migrate the entire root content of your SharePoint account to Google Drive, Alternatively, you have the option to migrate selected files or folders.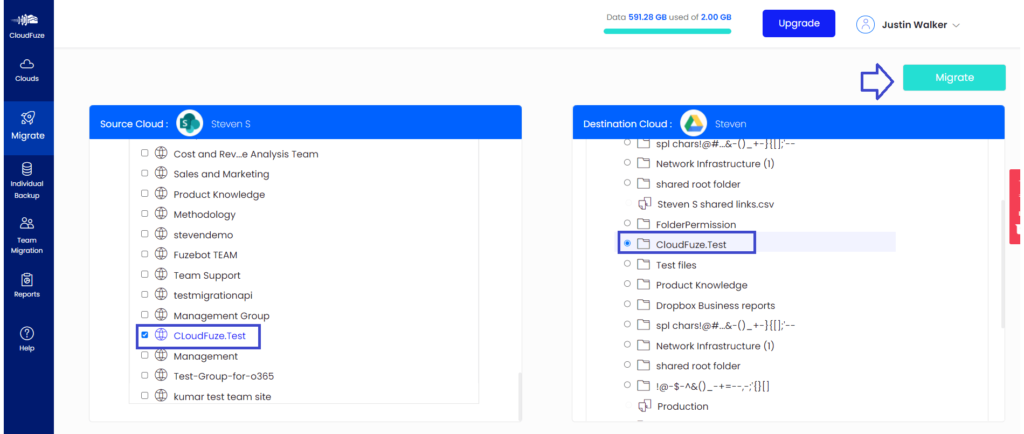 Step 10:  Confirm Migration
Preview your migration preferences and click on the Confirm Migration button.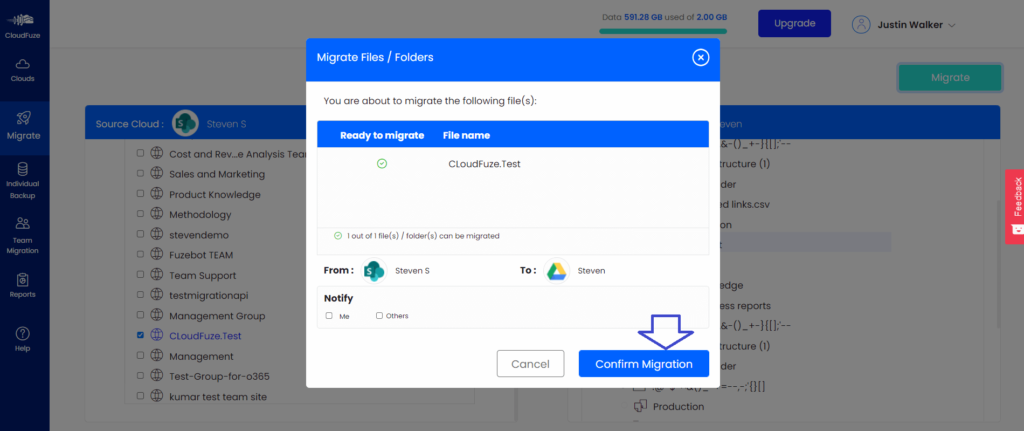 Step 11:  Migration Is in Progress
During the file transfer process, the status will be displayed as in In-progress. At this period, you can cancel the migration if you wish to.

Step 12: Migration Has Been Completed
When the migration is completed, the status will show as Processed. Once the migration is completed, you can download the migration report by clicking on the download icon.