How to Migrate from SharePoint Online to G Suite Google Drive
If your company is currently using SharePoint Online (Microsoft 365 / Office 365) and planning to migrate to Google Drive (Google Workspace / G Suite),  CloudFuze can help speed up and automate the migration. CloudFuze is one of the very few SharePoint Online to Google Drive migration tools in the world, allowing IT admins to focus on their core priorities while CloudFuze takes care of the migration. Continue reading this article to know how CloudFuze works. 
Migration Prerequisites:
A CloudFuze account (Enterprise trial available on request)

SharePoint Online (Microsoft 365/Office 365) admin login credentials.

GSuite admin login credentials
Step 1: Create a CloudFuze Account
Go to webapp.cloudfuze.com and create an account. Alternatively, you can contact our migration team for a demo or a customized trial.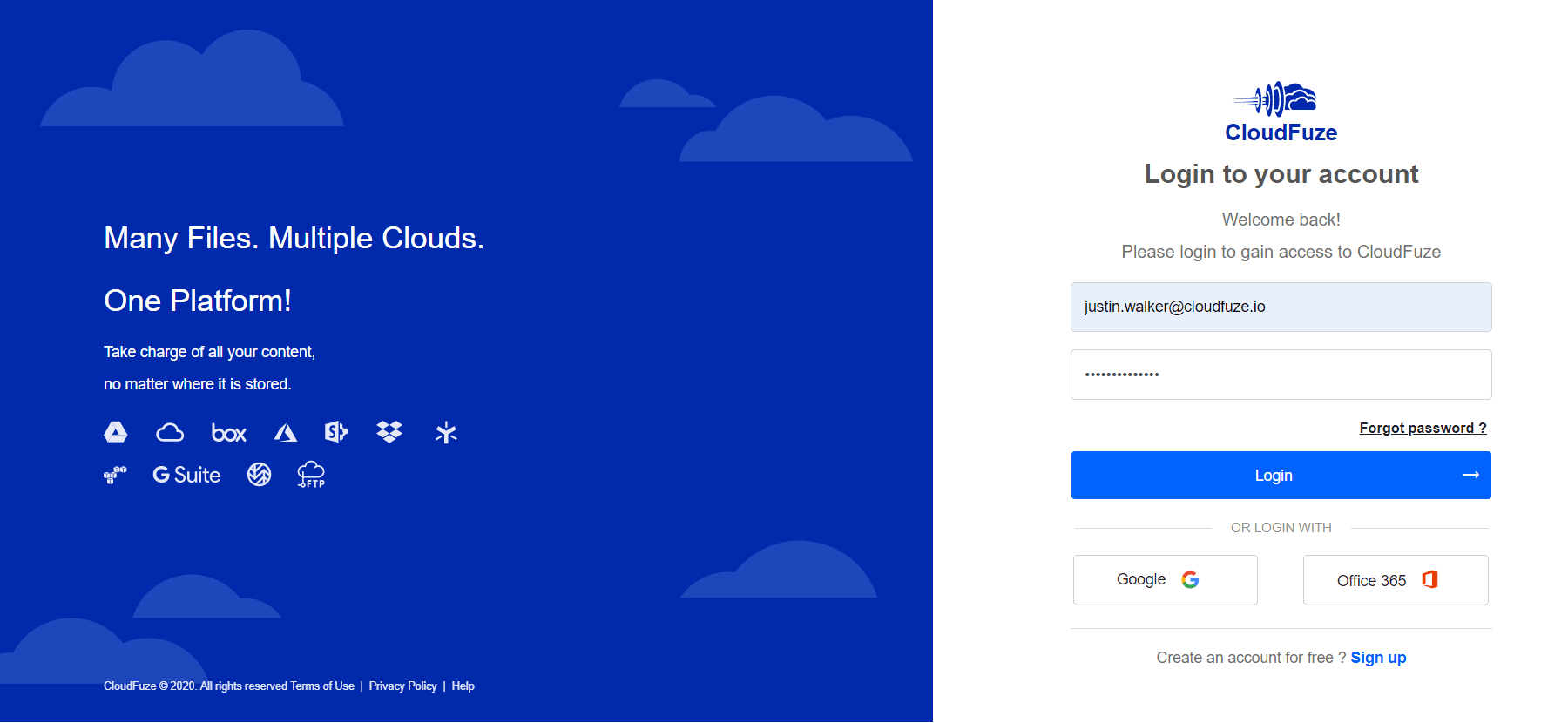 Step 2: Add SharePoint Online Account to CloudFuze
Once logged in, locate the SharePoint Online logo in the list of business clouds. Click on it and enter your company's Microsoft 365 (Office 365) admin login credentials and click on the Next button. This will authorize your ownership and add your Microsoft 365 account to CloudFuze.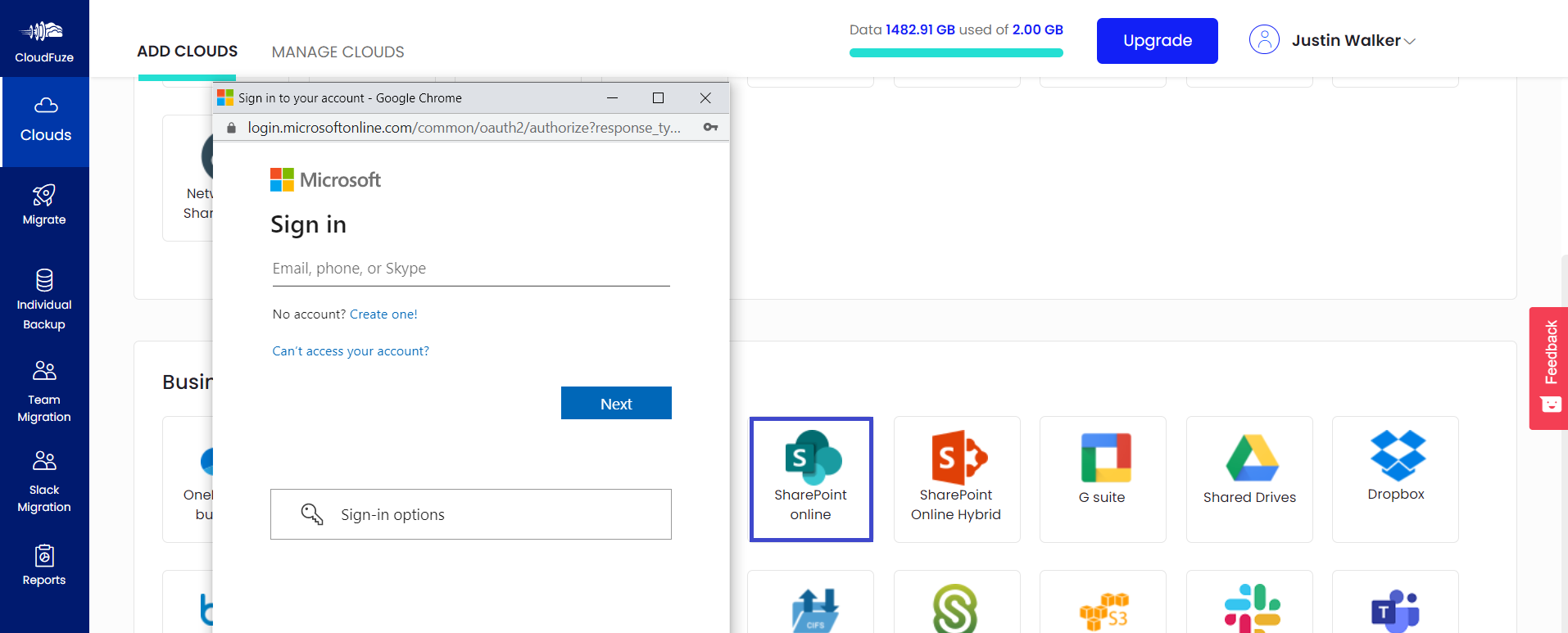 Step 3: Add and Authorize G Suite Account
Click on the G Suite logo in the business clouds list. A popup then opens up where you need to enter the G Suite (currently Google Workspace) admin login details.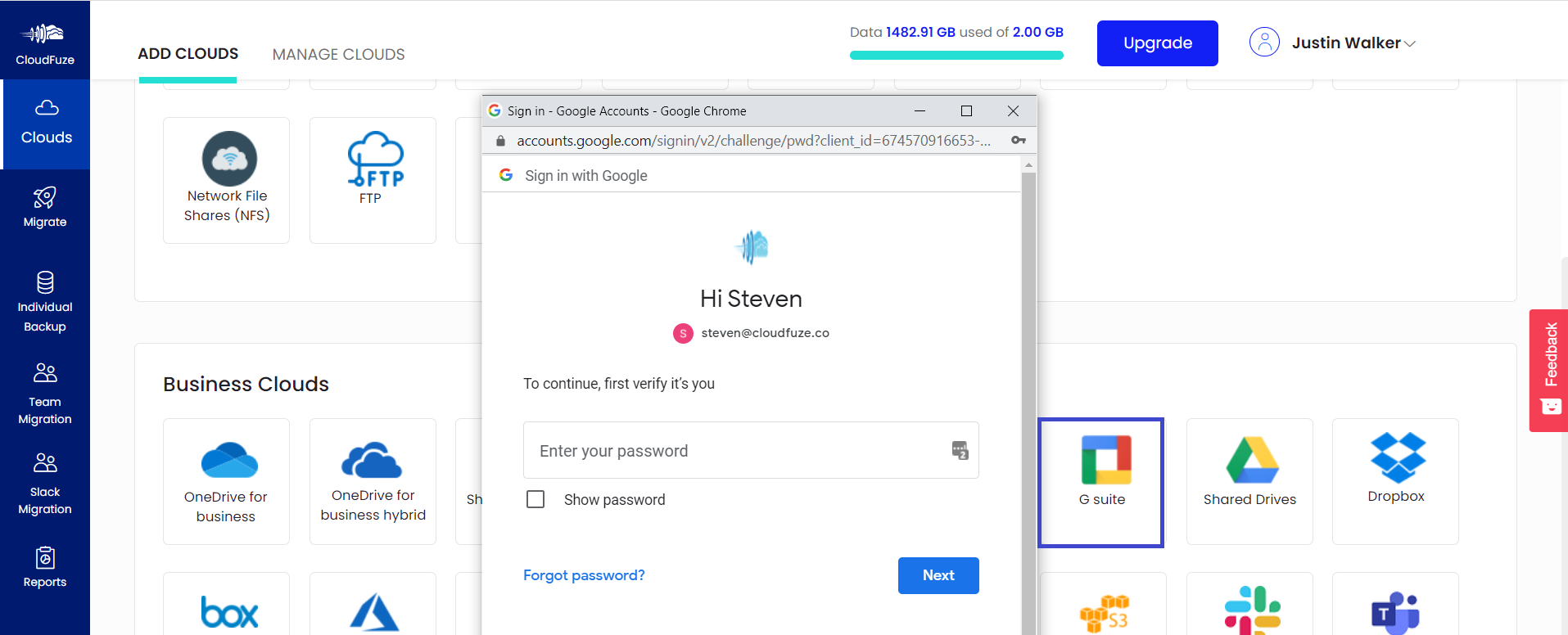 Step 4: Authorize G Suite Account
Once entered, click on the Next button and complete the cloud-adding process.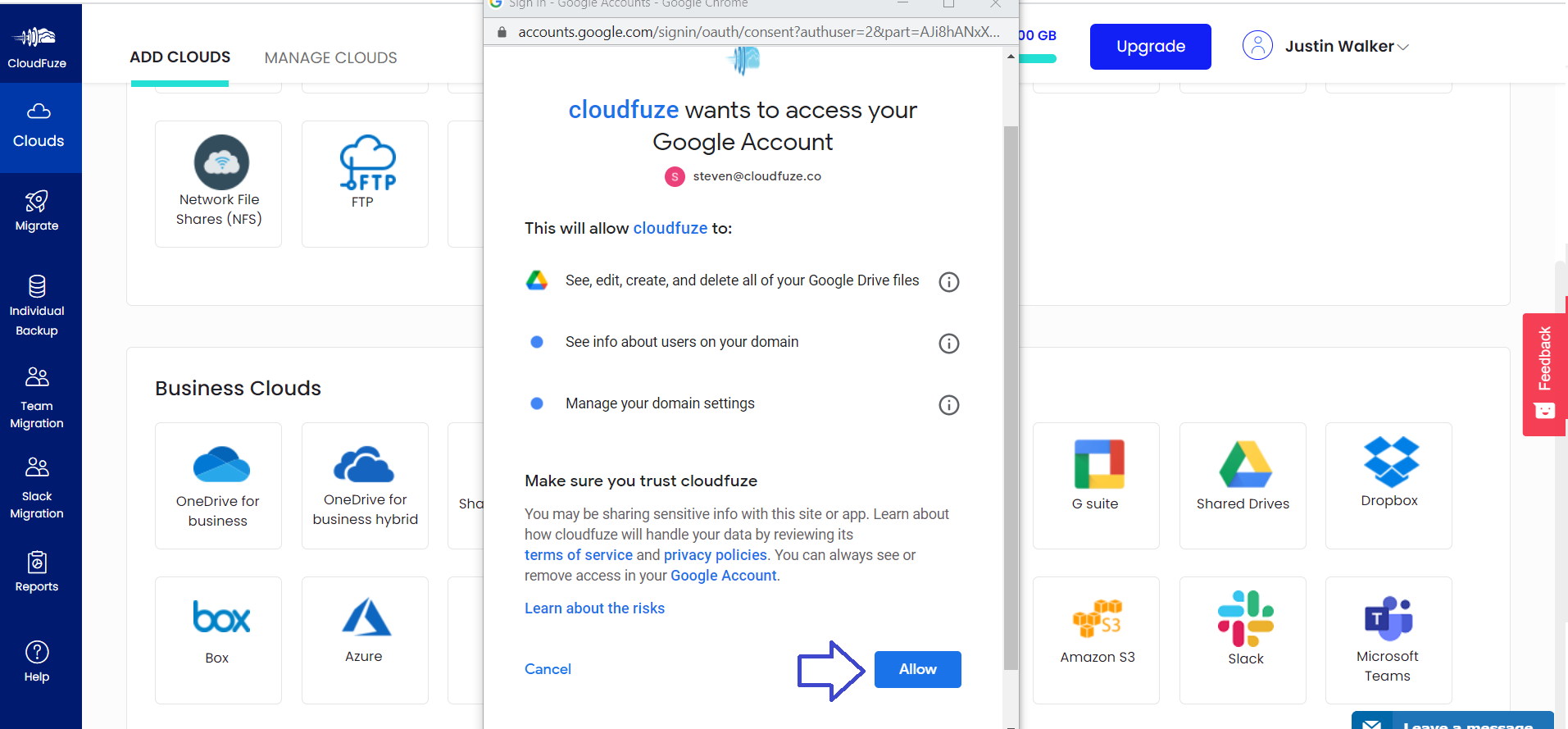 Step 5:  Clouds Have Been Added Successfully
Head to the Clouds management section by clicking on the Clouds icon in the left-side navigation menu. Then, go to the Manage Clouds tab. Both SharePoint Online and G Suite should be displayed there.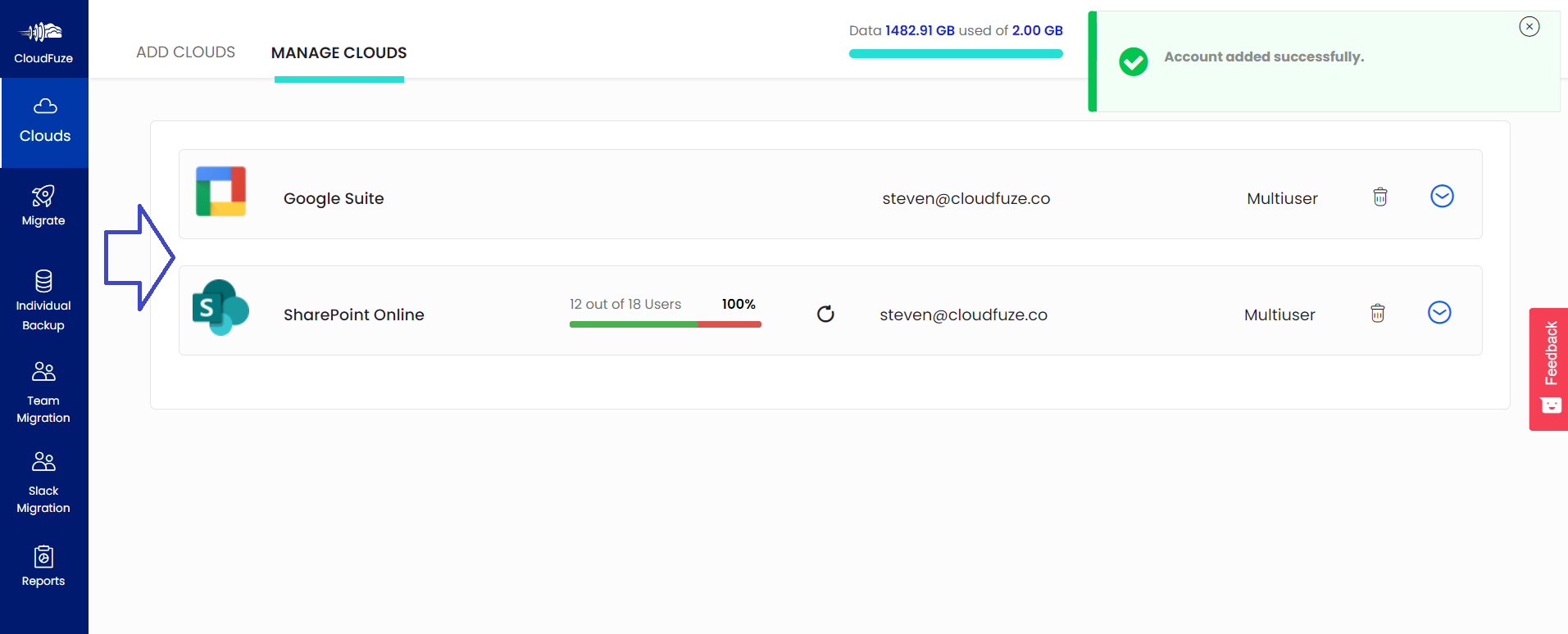 Step 6: Click on Team Migration
Find the Team Migration icon in the menu and click on it. This will initiate the data migration process. Keep in mind that you still need to complete a few more steps before the actual file transfer begins.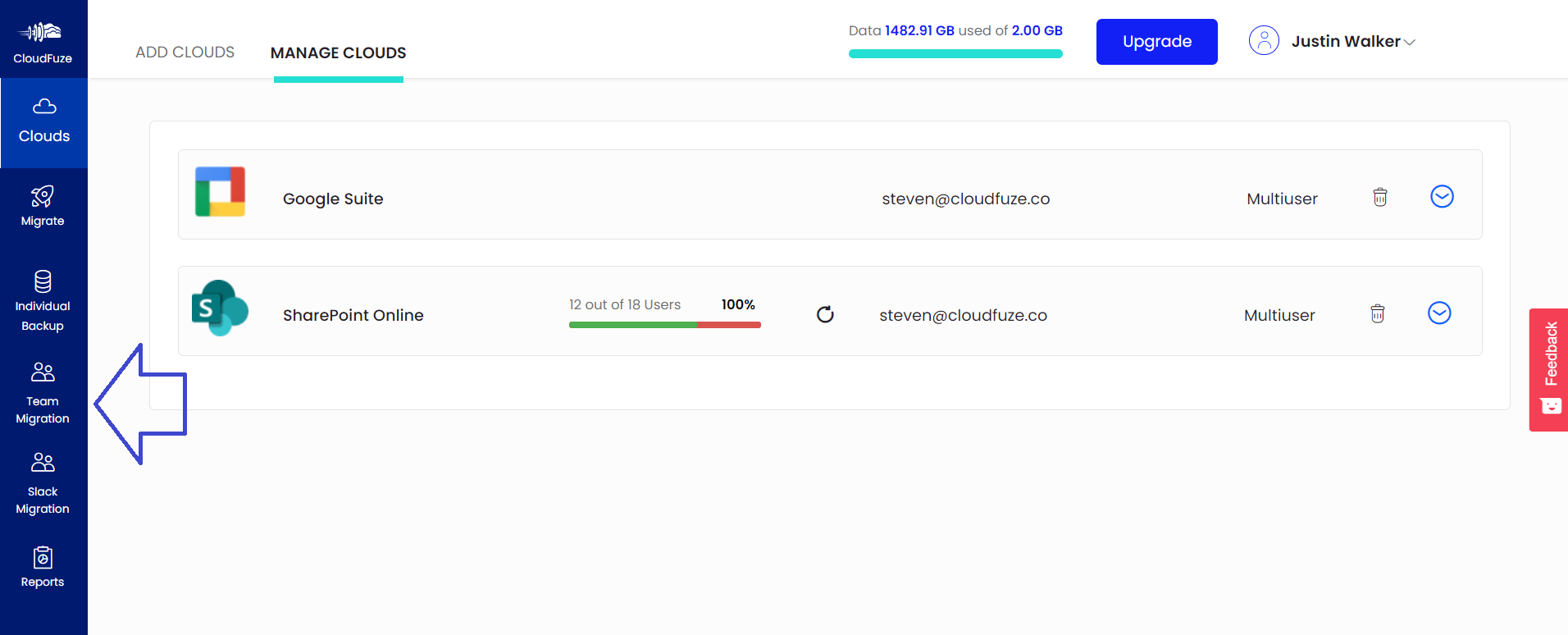 Step 7: Select Source and Destination Clouds
Choose SharePoint Online as the source cloud and G Suite as the destination.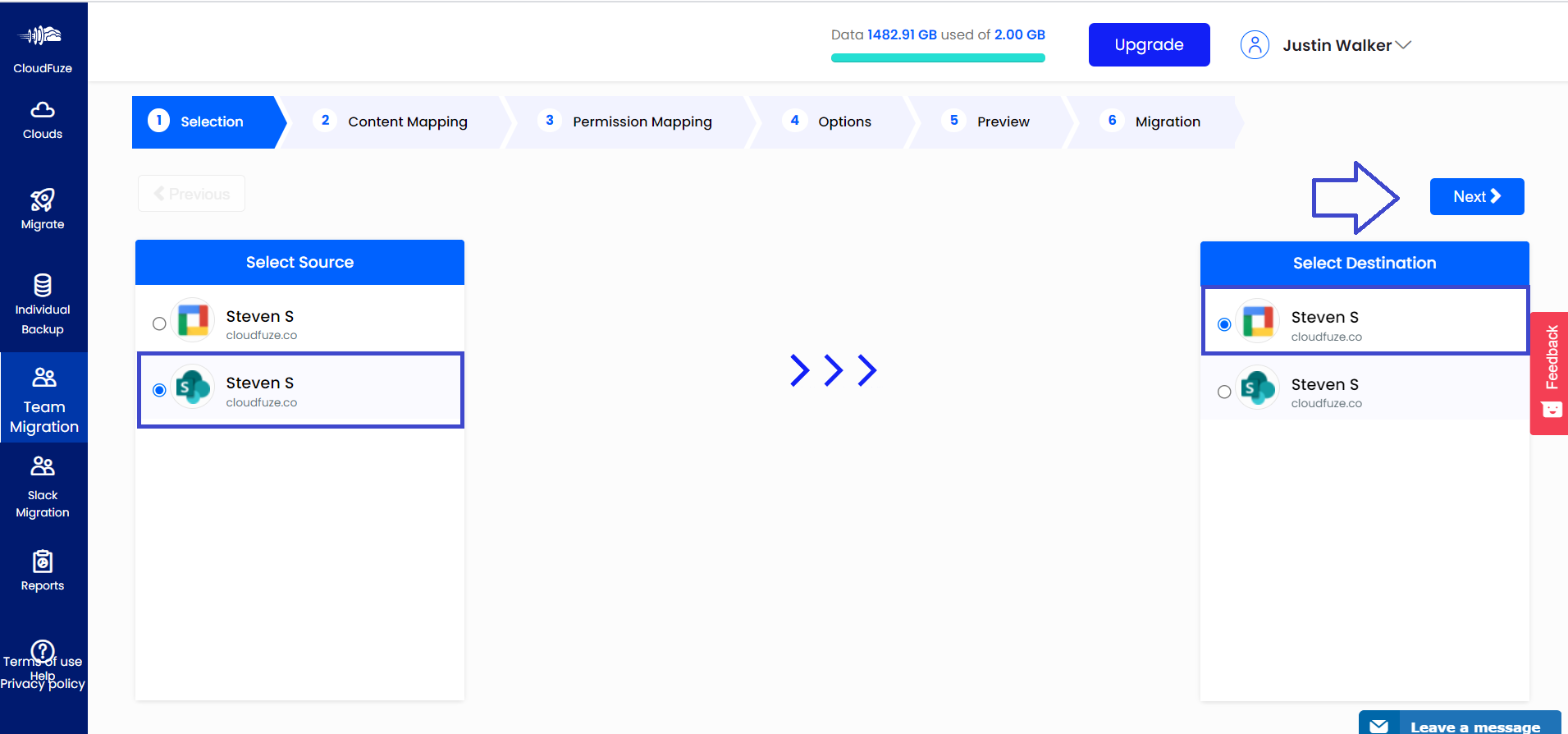 Step 8: Map the Users
CloudFuze has a built-in Auto-Map feature that maps users in the SharePoint Online and  G Suite accounts by matching the email aliases. You can select a few or all the users for migration in this step.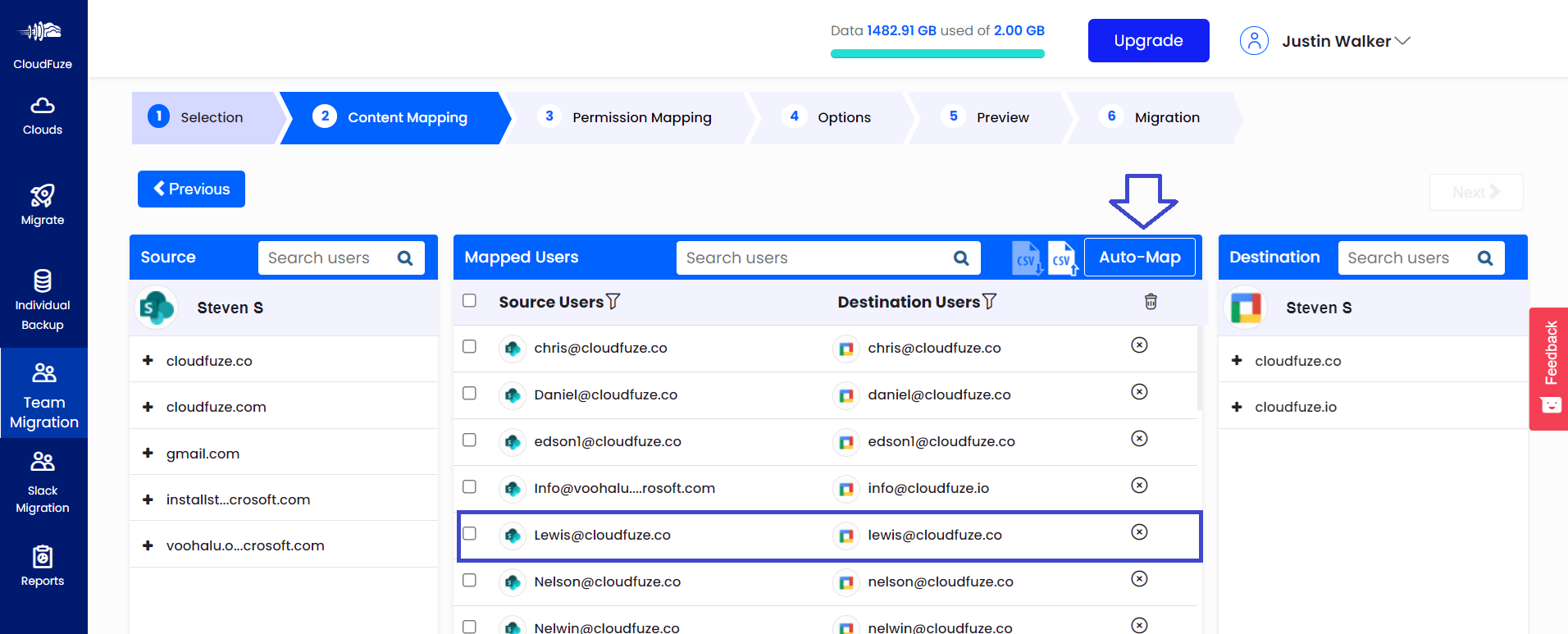 Step 9: Search or Delete Mapped Users
Additionally, you can search for specific users in the search box. You can also remove any mapped pair.

Step 10: CSV or Manual Method
Besides Auto-Map, CloudFuze also supports CSV or manual migration where users can be mapped and paired using a CSV file. The CSV file needs to be uploaded and validated through CloudFuze before the migration begins.

Step 11: Select the Users to be Migrated
As said earlier, choose one, a few, or all the users in SharePoint Online that you want to migrate to Google Drive (G Suite).
Step 12: Map Permissions
CloudFuze, by default, migrates permissions in SharePoint Online to G Suite. Alternatively, you can select custom permissions by clicking on the Edit button next to each other. This will override the default permissions. 
Step 13: Choose Migration Options
In this step, you can select a few final options such as migration project/job name, additional emails for notifications, migration type, etc. In most cases, these fields can be left to default.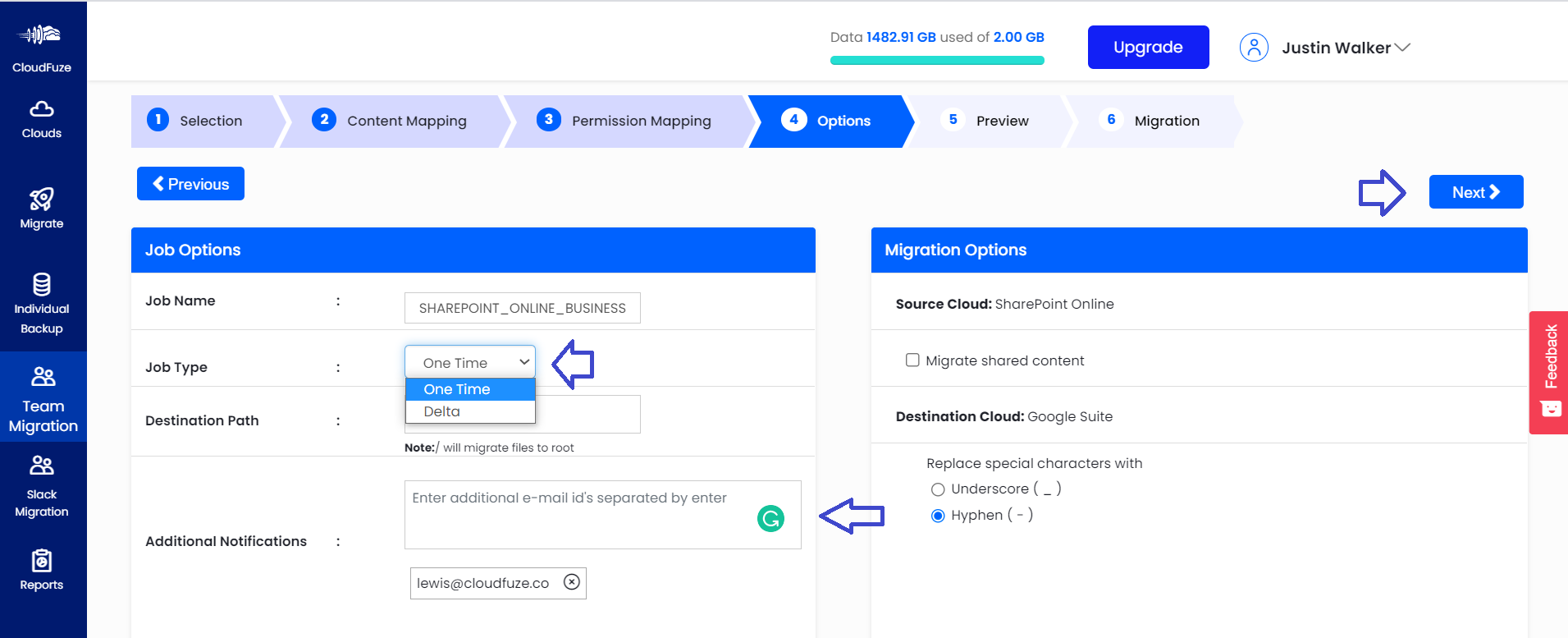 Step 14: Preview the Migration
Check all your migration settings one final time and click on the Start Migration button. This will start the file migration process.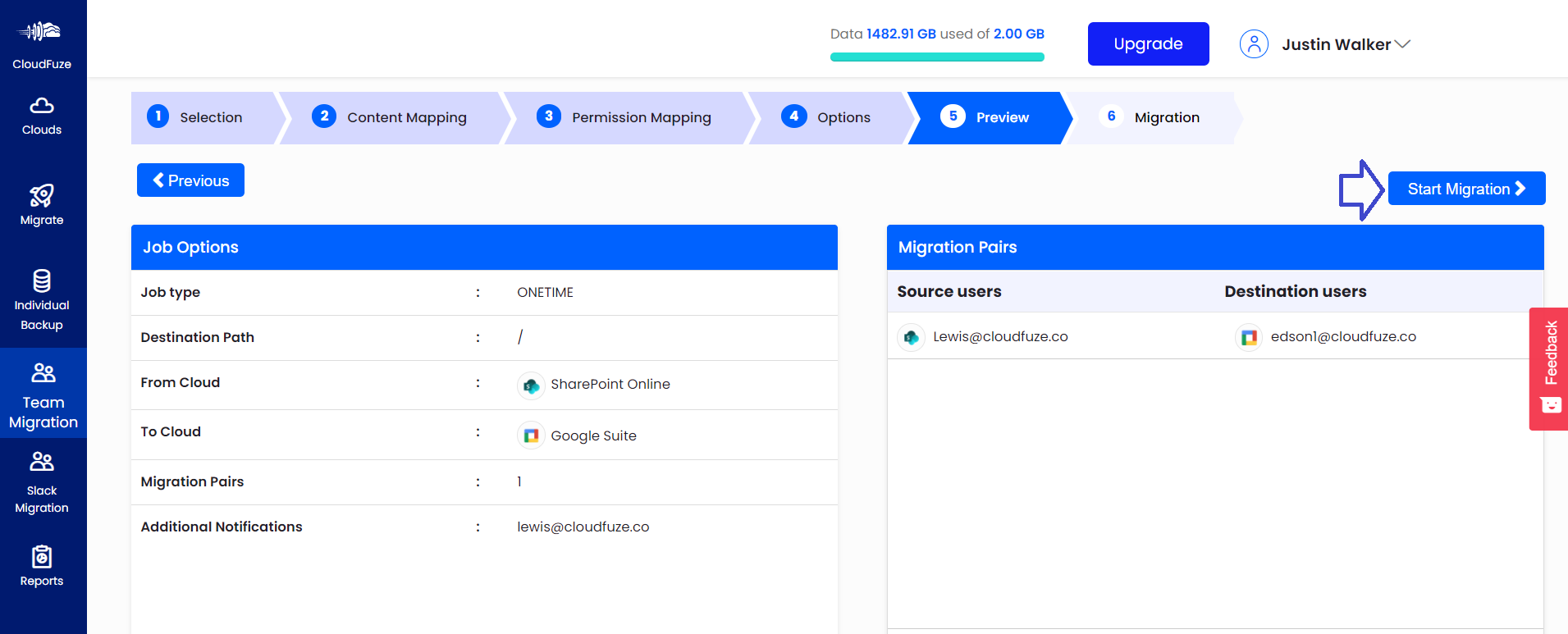 Step 15:  Migration In Progress
CloudFuze displays the status as In-Progress during the file migration. At this moment, you can pause or cancel the migration. Keep in mind that pausing or canceling migration will not affect data in the SharePoint Online Account. 

Step 16: Migration Has Been Completed
When all the data is migrated over, the status will be shown as 'Processed'. You can then download the migration report to validate the file transfer by logging into the G Suite account.

Contact our migration team today for a demo, quote, or an enterprise trial.