How to Create a Shared Calendar in Office 365
Calendar sharing is a great way to keep your coworkers informed about your schedules. All you need to have is an Outlook, Exchange, or Office 365 account to do that. By sharing your calendar, you are eventually displaying your calendar and events in your coworkers' calendars. This is particularly helpful for teams that work very closely like setting up appointments. Follow these simple steps to create a shared calendar.
Step 1: Log in to Your Office 365 Account
Go to office.com and enter your login credentials.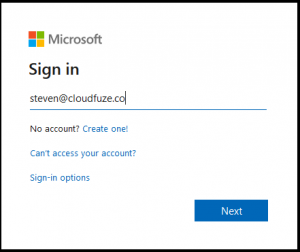 Step 2: Go to Outlook
Click on Outlook from the list of the services.

Step 3: Click on the Calendar Icon
Look for the calendar icon and click on it.

Step 4: Click on My Calendars
In the left-side menu, locate the My Calendars link and click on it. This will take you to your account's main calendar page.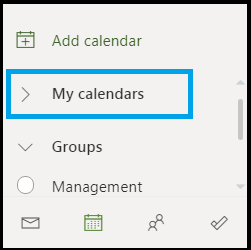 Step 5: Add a Calendar Group
Click on the ellipsis located next to the My Calendars link and click on the New Calendar Group.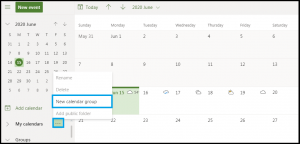 Step 6: Give Your Group a Name
Enter a name and description for your new group.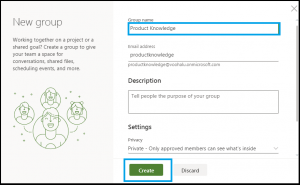 Step 7: Add Members to Group
Add your coworkers or team members to this group. This shared group will be present across many Office 365 services beginning from the calendar to all the way up to SharePoint.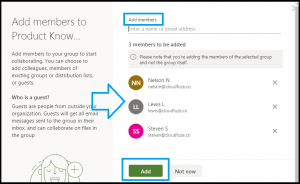 Step 8: Go to Your Calendar Now
Your recently added group will be displayed as a shared calendar. The shared calendar provides insights into schedules and meetings of all the members within that group.

Step 9: Change Calendar Sharing Permissions
Making changes to the sharing permissions allows you to limit the extent of details a coworker sees in your calendar. Choose your permissions wisely.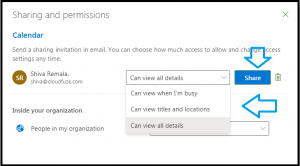 Step 10: Set Company-Wide Visibility of Your Calendar
Besides setting up permissions with your group members, you can also make your meeting details available for anyone in your organization. The level of meeting details can be configured as seen in the image below.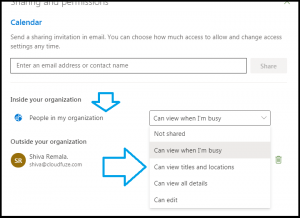 We hope you found this article on Microsoft 365 and Calendar useful.