Challenges to Migrate Data from Dropbox to Google Drive

The COVID-19 outbreak has increased the demand for cloud office suites like Google Workspace, driving more businesses to accelerate their digital transformation. Its numerous benefits, such as reduced costs, increased flexibility, and improved communication and collaboration, are driving a transformation in the business model.
But migrating data from Dropbox to Google Drive is loaded with challenges that can result in unexpected issues. However, the right tools and support can make the migration from Dropbox to Google Drive seamless and worry-free for IT admins and managers.
Let's look at the five biggest challenges businesses face when moving files from Dropbox to Google Drive and how the CloudFuze migration solution can help.
1. Mapping Different User Accounts Between the Clouds
Some employees might have left the organization whose data is critical and needs to be migrated and might have changed some of the email ids in the destination cloud compared to the source cloud. Mapping the user accounts accurately in the source and destination clouds becomes essential at this stage and is a tedious and time-consuming task.
In such cases, the CloudFuze platform allows its customers an option to edit the user email in the destination cloud to the relevant ones, as shown below.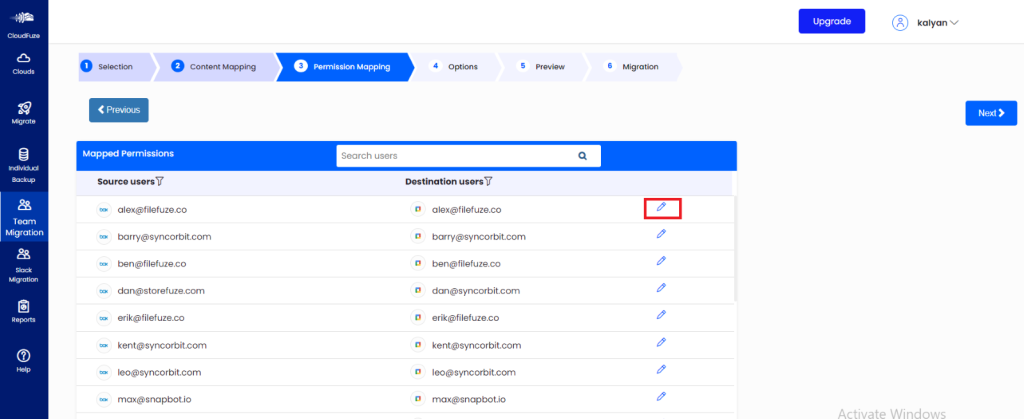 By default, the user accounts are mapped with their respective email ids and can be modified/edited while initiating the migration based on the business objectives.
2. Migrating Dropbox Only Supported Files
Migrating cloud-specific files is one of the challenges businesses face when migrating data. For example, when transferring data from Dropbox to Google Drive, businesses must move Dropbox Paper from Dropbox to Google Drive, which Google Drive does not support.
As a result, a data migration tool that automatically converts the Dropbox Paper into a file format compatible with Google Drive can help you overcome this challenge.
CloudFuze, with its built-in advanced features, automatically migrates Dropbox Papers of both new and old versions of the Dropbox account to Word documents in Google Drive.

3. Transferring All the Data Features
To maintain the same workflow and collaboration structure after migrating to Google Drive, you must ensure that permissions, comments, versions, timestamps, embedded links, shared links, and external shares are all migrated along with the data.
But not all the tools support migrating all the features from Dropbox to Google Drive. So, IT admins must choose a data migration tool to successfully transfer all the data's associated features to Google Drive.
Using CloudFuze, you can copy all the features with the data from Dropbox to Google Drive with just a click, as shown below.

4. Overcoming Google Drive Limitations
Google Drive has API rate limits that limit how much and quickly you can transfer data from Dropbox to Google Drive. So, businesses must know the limitations before transferring files from Dropbox to Google Drive.
| Google Drive API Throttling Limits | Limit |
| --- | --- |
| Daily data transfer limit | 750 GB |
| File size upload limit | 5 TB |
| Maximum allowed sub-folders in a single Team Drive | 20 |
| Maximum number of files and folders a Team Drive can contain | 400,000 |
CloudFuze being a Google Technology Partner, can help you overcome these limitations and ensures that your move from Dropbox to Google Drive is completed within the timeline and with no data loss.
Contact us to learn more about how CloudFuze can bypass the Google Drive limitations.
5. Ensuring Data Security and Compliance
Companies must use strong authentication and encryption to protect data that move from Dropbox to Google Drive. Also, Companies should follow compliance regulations while migrating from Dropbox to Google Drive, depending on the country of operation.
CloudFuze authorizes cloud admin accounts using the OAuth protocol without needing to share the passwords with us. Furthermore, all sensitive data is protected with the RSA-2048 cryptographic encryption.
GDPR regulations, data residency, and many other US, UK, and European security requirements are all met by the CloudFuze platform.