CloudFuze allows you to transfer data and objects between any of your cloud accounts including Amazon Cloud Drive and Amazon Simple Storage Service, commonly known as Amazon S3.Our innovative online migration tool allows you to transfer Amazon files in bulk while you complete other tasks.CloudFuze lets you to transfer files from Amazon S3 to Google Drive, Dropbox, Box and OneDrive.
Why Amazon?
Amazon is not only the world's largest online retailer,but also a prominent cloud services provider.These powerful cloud platforms include the Amazon S3 and Amazon Cloud Drive.Amazon S3 is a special web interface designed for developers and IT teams, offering scalability, high availability and low latency for file needs.
Due to the simple yet sophisticated structure and unlimited storage of Amazon S3, users include anyone from individual consumers to large enterprises.
Amazon Cloud Drive is similar to OneDrive and Google Drive and is meant for personal use and file management.CloudFuze supports Amazon cloud providers for file migration in order to grant every user with the file access he or she deserves.
How it Works
CloudFuze provides migration services foreachAmazon cloud provider in 3 simple steps
Download the CloudFuze Platform
Sync all of your cloud accounts, including the Amazon Cloud Drive or Amazon S3 systems, with the CloudFuze platform
If you have multiple Amazon accounts, CloudFuze allows you to integrate them all
Go to the 'Migrate' tab and initiate a move to or from your Amazon cloud providers and you're finished!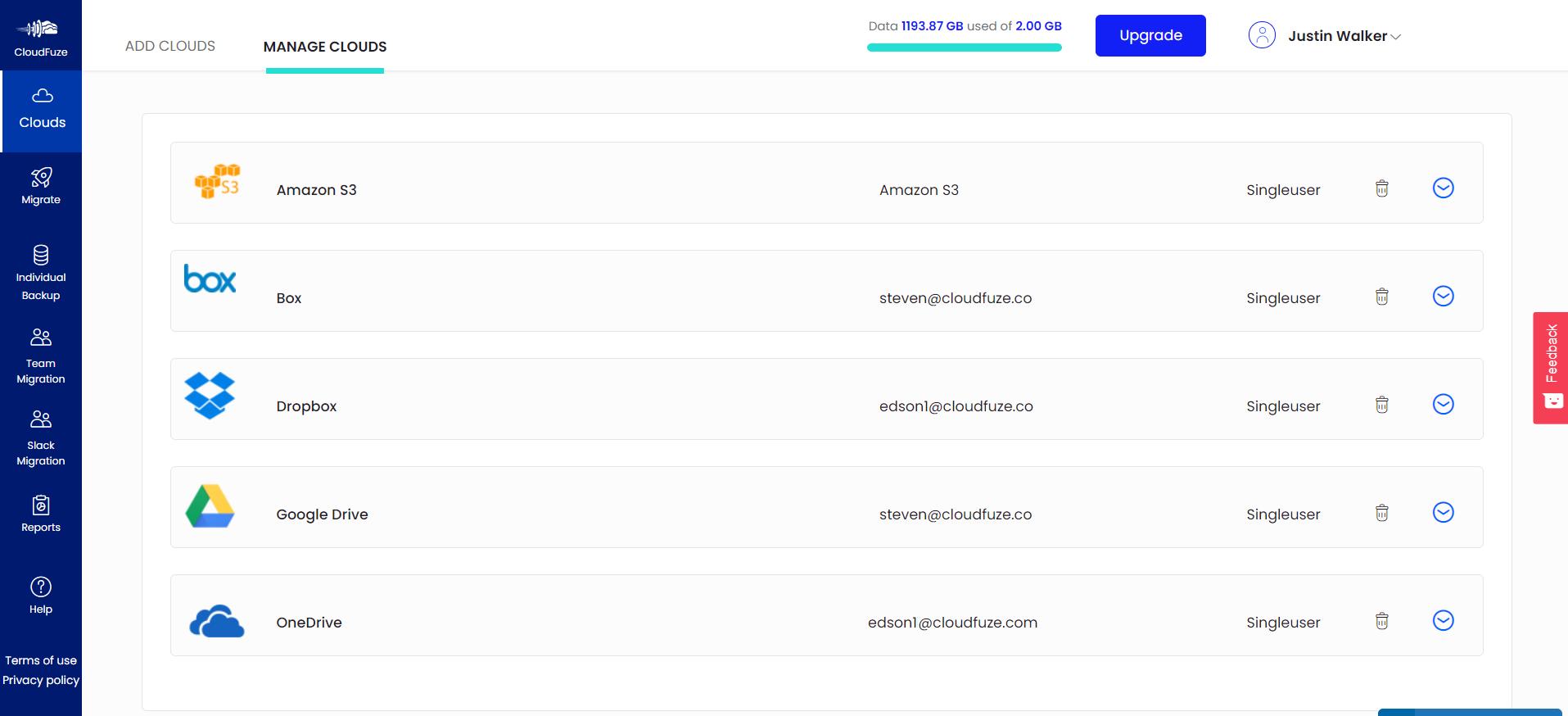 CloudFuze supports 40 different cloud storage services where you can migrate your data to and from your Amazon clouds.
See the complete list here.
Why Migrate With CloudFuze
Amazon cloud transfer migration takes time.
With CloudFuze, log into the online platform, initiate the migration, and you're done.No need to wait for the transfer.
CloudFuze will send you an email when the Amazon migration service is complete.