Amazon S3  to Dropbox Single-User Migration Guide
In this migration tutorial, we will explain how you can migrate your files from your Amazon S3 account to Dropbox. Please note that this article discusses single-user/consumer migration between Amazon S3 and Dropbox. If it is a business migration need, please reach out to our support team for a demo and more details on pricing.
Migration Prerequisites
A CloudFuze account with a paid subscription (free trial available)

Amazon S3 login details for cloud authorization

Dropbox login credentials
Step 1: Create a CloudFuze Account
Go to webapp.cloudfuze.com and create an account using your email ID, Google account, or Office 365 account. If you already have an account, log in to CloudFuze using the account credentials.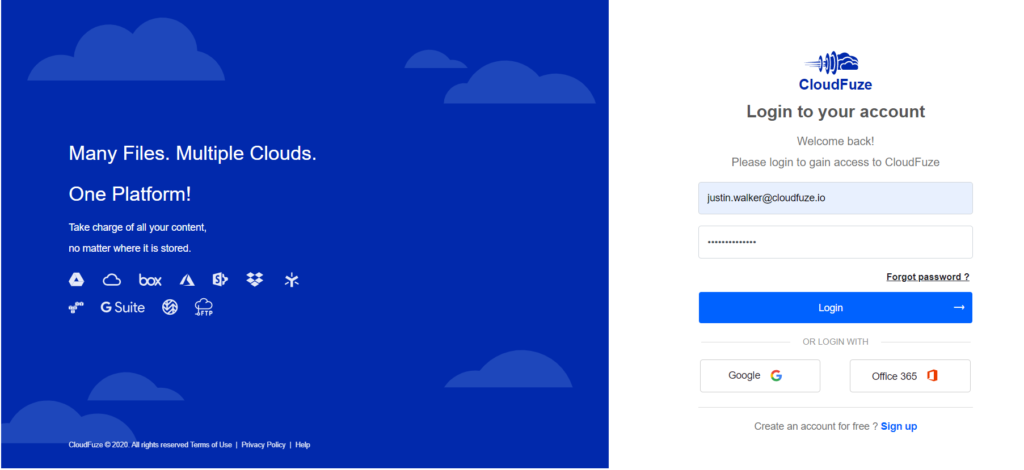 Step 2: Add and Authorize Amazon S3 Account
Under the personal clouds list, click on the Amazon S3 logo. It then pops up a window where you need to enter your S3 login credentials and add to CloudFuze.

Step 3: Enter Credentials for Amazon S3
In this popup, enter your Amazon S3 login/access information and click on the Next button.

Step 4: Now, Add and Authorize Dropbox 
Same as above, click on the Dropbox logo that you can find in the personal clouds list.

Step 5:  Enter Dropbox Credentials 
Enter your Dropbox login credentials in the popup and click on the Next button.

Step 6: Verify Whether Clouds Added or Not
Check whether the clouds are added successfully by clicking on the Clouds icon in the menu on the left.

Step 7: Start the Migration
Once the two clouds are added successfully, click on the Migrate icon in the menu.

Step 8: Select Source and Destination Clouds
Pick Amazon S3 and source cloud and Dropbox as the destination cloud.

Step 9: Choose Files or Folders to be Migrated
CloudFuze allows you to migrate a specific file, folder, or even a set. You can also migrate entire content in the S3 root to a Dropbox account.

Step 10: Preview and Confirm Migration 
Check everything and click on the Confirm Migration button.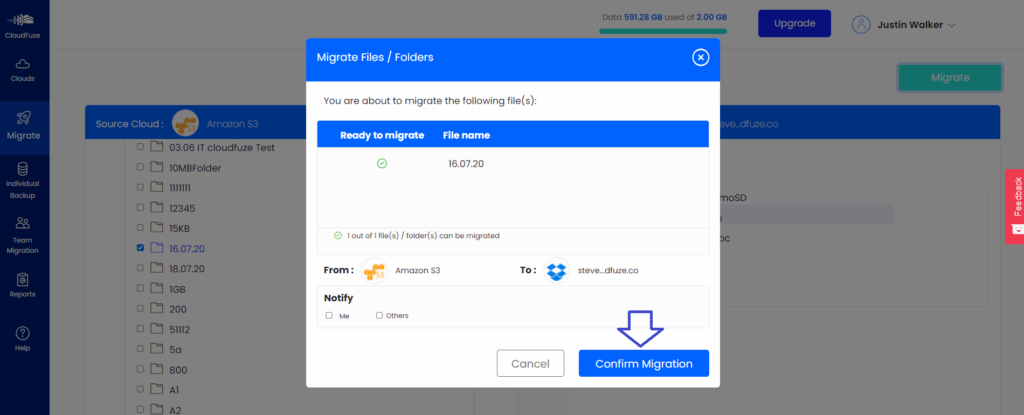 Step 11:  File Transfer Is in Progress
During the migration process, CloudFuze displays the status as In-progress. At this time, you can cancel the migration if you wish to.

Step 12:  Migration Has Been Completed
When the status turns to Processed, it indicates that migration has been completed. You can download the migration report by click on the download icon next to the migration job.