OneDrive to Dropbox Personal Migration Guide
If you are planning to migrate files from OneDrive to Dropbox, here is the detailed tutorial that lets you do it easily and quickly. CloudFuze helps OneDrive users move a few files or entire data over to Dropbox very quickly. The tool not only saves time but also potential bandwidth outages. Using CloudFuze is easy as pie. All one needs to do is sign up, add their clouds, and initiate the migration!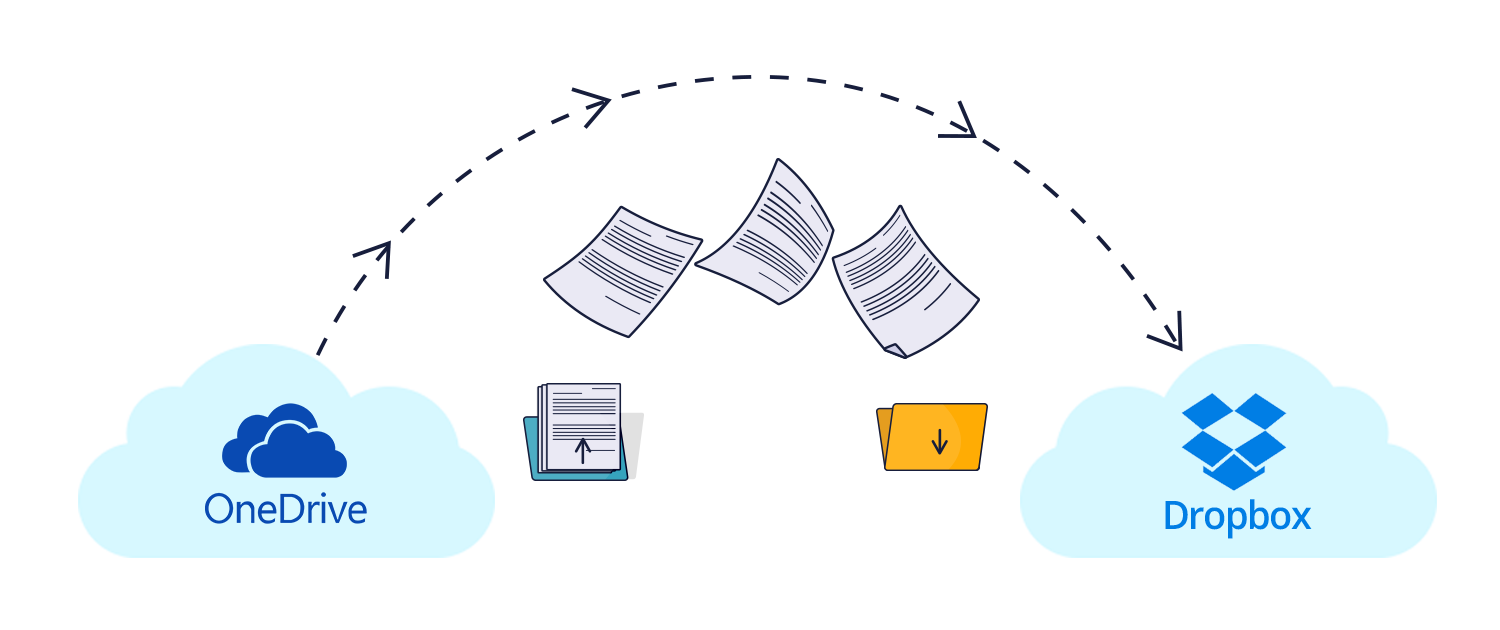 Here are the steps to transfer files from OneDrive to Dropbox.
Migration Prerequisites:
CloudFuze Account
OneDrive login credentials
Dropbox login credentials
Step 1: Log into CloudFuze Account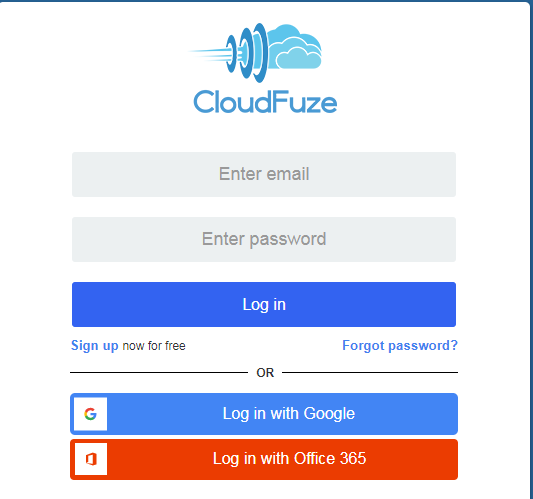 You need to login to the CloudFuze account to be able to manage migrations. If you don't already have a CloudFuze account, create one for free. CloudFuze offers a free trial to test the service. The trial allows users to migrate up to ten files a day for a period of 30 days. Users need to subscribe to a plan to use the service fully.
Step 2: Add OneDrive for Business

In order to initiate the migration, you first need to add your OneDrive and Dropbox to CloudFuze. Let's begin with OneDrive. Find the OneDrive icon under the personal clouds list and click on it. Don't click on the OneDrive for the Business logo as this is a personal migration.
Step 3: Enter OneDrive Login Credentials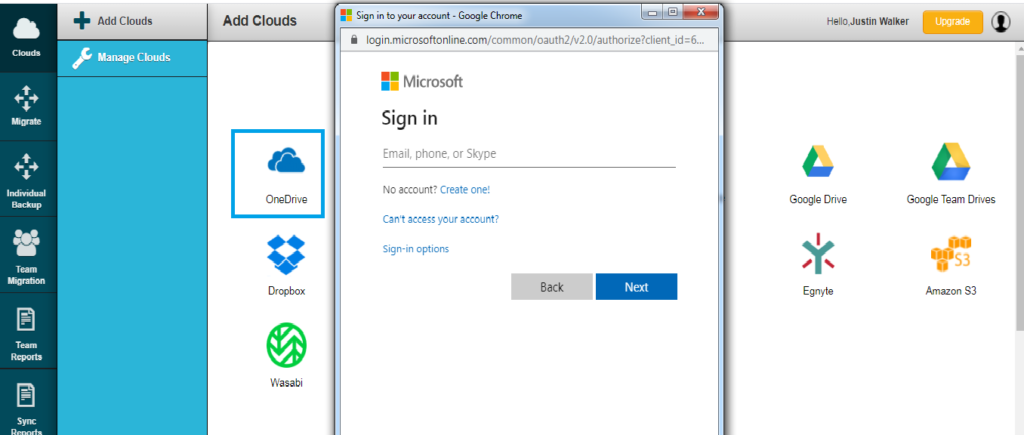 Upon clicking the OneDrive logo, a Microsoft popup appears asking for OneDrive login credentials. Enter your OneDrive login details and grant access. Note that CloudFuze will not save your password. The app uses the OAuth protocol to gain needed access to transfers files to Dropbox.
Step 4: Verify Cloud Addition

After adding your OneDrive account, head over to the Clouds section on top of the left navigation menu. You will find your newly added OneDrive account over there. If you don't find OneDrive in there, then you must repeat the cloud-adding procedure until you successfully add it.
Step 5: Add Dropbox Account

Add your Dropbox account in the same way you added OneDrive. Click on the Dropbox logo under the personal clouds list.
Step 6: Enter Dropbox Login Credentials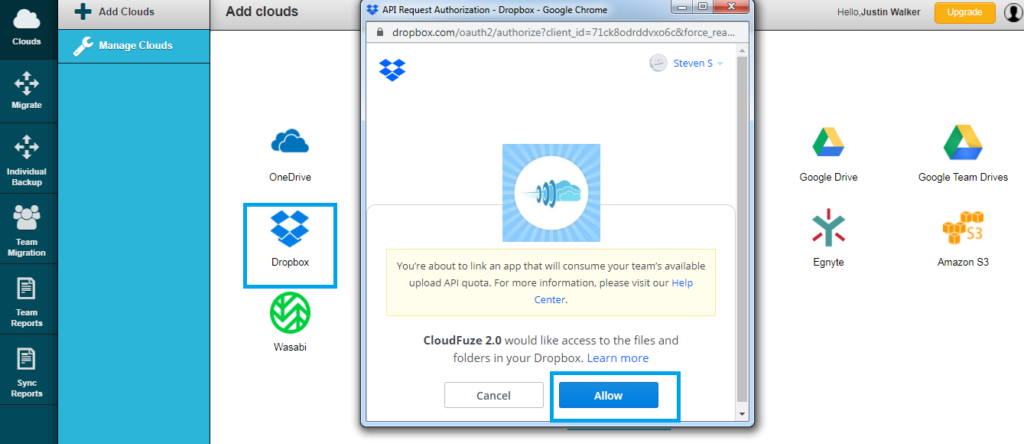 Enter your Dropbox login credentials and grant access to CloudFuze.
Step 7: verify clouds Added Successfully

Go to the Clouds section and check whether Dropbox added successfully.
Step 8: Start the Migration

Click on the Migrate button on the left navigation menu to start the migration.
Step 9: Select Source and Destination Clouds

Select OneDrive as the source and Dropbox as the destination as you are moving files from OneDrive to Dropbox. If you would like to migrate from Dropbox to OneDrive instead, reverse your selection.
Step 10: Select Files from Source and Destination

CloudFuze is flexible. You can migrate a few files/folders or even the entire content in OneDrive. In this demo, we tried to migrate a folder named Product Knowledge in OneDrive to Dropbox.
Step 11: Confirm the Migration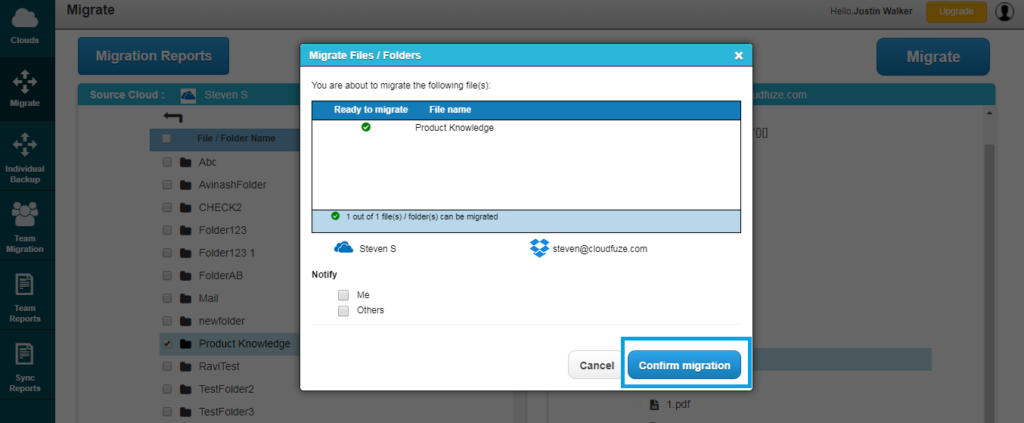 Preview your selection and confirm the migration.
Step 12: Migration Is in the Process

The In-Progress status conveys a message that the migration job is currently under the transfer process.
Step 13: Migration Is Completed

When the status becomes Processed, it indicates that the migration is completed. You can head over to your Dropbox account to check whether those files and folders are migrated properly.
We hope you liked the tutorial.