When you migrate to Google Drive from NFS, you will want to copy files from NFS to Google Drive. This article guides you through every step of the NFS to Google Drive migration process.
1. Introduction
Cloud migration has gained much popularity in recent years. This is because migration to the cloud gives companies of all sizes an edge in today's competitive world by allowing them to store information efficiently in a remote data center rather than on-premises.
Migrating from NFS to Google Drive reduces costs and improves flexibility, efficiency, productivity, and collaboration. You might need to transfer NFS to Google Drive for many reasons, but you need to make sure that your migration is smooth and error-free.
CloudFuze, a Google Workspace migration solution, helps businesses migrate NFS to Google Drive with all the user's data, including permissions and timestamps seamlessly and securely.
2. Why Migrate Data from NFS to Google Drive?
Companies are increasingly migrating data from NFS to Google Drive to avail all of the benefits that on-premises often lack and the cloud offers. The following are some reasons why SMBs and large enterprises are switching from NFS to Google Drive. 
Integration with

Google Workspace apps

 

Offers c

ost-effective solutions

 

Access from anywhere, anytime, and

on

any device

 

Collaborate

o

n

f

iles

w

ith

r

eal-

t

ime

c

o-

a

uthoring

 

Synchronized

d

ata

a

cross

m

ultiple

d

evices

 

Industry-leading enterprise security

 
3. NFS to Google Drive Migration Challenges
Although Google Workspace offers numerous benefits, migrating data into it can be challenging. Migration of NFS file shares to the cloud is often challenging for organizations. So, before the migration begins, it is crucial to anticipate potential issues that may arise during the migration process so that you can address them before they become greater concerns.
Some of the major challenges involved when you transfer from NFS to Google Drive include:
Migrating large volumes of data without any data loss and no downtime
Migrating all file types
Retaining folder structure
Migrating timestamps and file-sharing permissions
Maintaining data security and compliance
Despite the challenges involved, using the right tools can ensure that your NFS to G Suite migration is successful. The right migration service provider handles the end-to-end migration process and can overcome its challenges.
4. How CloudFuze Helps to Move Files from NFS to Google Drive
It is usually a complex and time-taking process to migrate data from NFS to Google Drive. But it doesn't have to be challenging anymore for businesses with CloudFuze.
We make it simple to install CloudFuze's desktop agent on your NFS server, which directly reads data from the NFS and transfers it to the destination cloud (Google Drive). This makes the NFS to Google Drive migration process easier and faster than usual.
Along with migrating content from NFS to Google Drive, the CloudFuze tool also migrates permissions and retains folder structure and access permissions of all the root folders and files.
From planning to execution, our migration experts can help with everything. Contact our industry-leading data migration experts and seamlessly transfer files from NFS to Google Drive.
5. Benefits of Choosing CloudFuze to Migrate from NFS to Google Drive?
To ensure that your NFS to Google Drive migration is carried out smoothly, it is essential to choose a data migration tool that fits your organization's needs. CloudFuze is one such solution that helps SMBs, enterprises, and MSPs meet all their needs to transfer files from NFS to Google Drive.
Migrate all file types and retain folder structure.
One-time and delta migration with no downtime.
Our team of experts has extensive experience delivering data migration services of the highest quality.
We offer proven and time-tested solutions that have been crafted over a long period of time.
Offers managed migration services that can save your time by simplifying the process.
Sends a complete migration report that helps to validate the migrated data.
It prevents unauthorized access and keeps your data safe throughout the migration process.
No surprise costs.
100% customer satisfaction.
24/7 enterprise-grade support.
Post-migration support
6. NFS to Google Drive Migration Steps
You are guided through the entire process, from the setup of the agent to mapping and migration to Google Drive. Here we look at the step-by-step process of how to transfer files from NFS to Google Drive.
Step 1: Install CloudFuze Agent
Download the application and double-click on the downloaded file. Then browse the folder path where you want the application to be downloaded and click on "Next."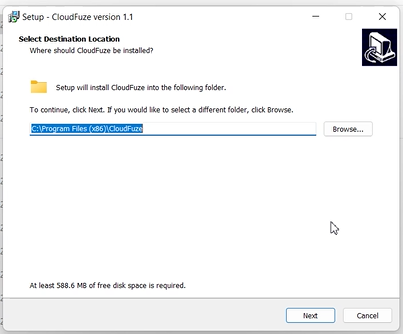 Now, click on install to install the application on your computer.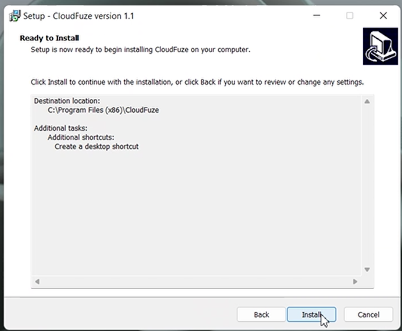 Step 2: Log in to CloudFuze
Once the application is installed, you will be redirected to the login page. Then, enter the server URL into the URL field, the username of the server into the Email field, and the server password into the password field and click on "Login".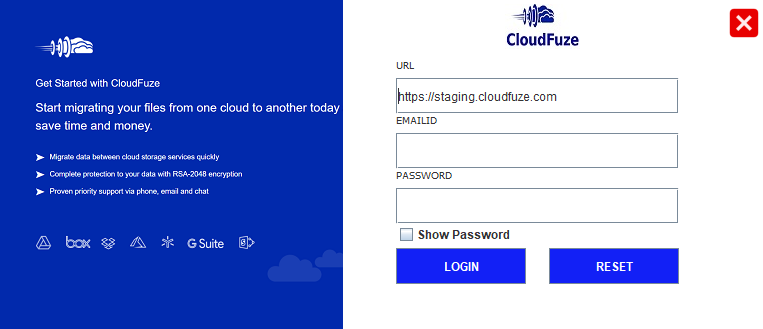 The below window appears after a successful login, click on "Next".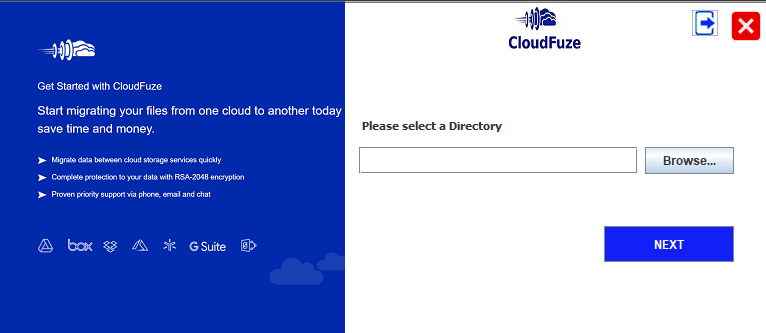 Step 3: Add NFS to CloudFuze
Enter the Server IP, Domain name, and admin credentials and click "Fetch."


Step 4: Verify the Users
This will give you the list of all the users on your NFS file server. Then, verify the users and click on "Next".


A pop-up display "NFS Cloud added successfully."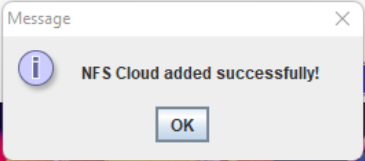 Step 5: Verify the NFS Cloud Addition Process
Click on the Clouds icon in the left menu bar and go to the Manage Clouds tab. You should be able to see the NFS account added successfully.

Step 6: Add G Suite (Google Workspace)
Click on the Workspace logo listed in the business clouds section.



To successfully add G Suite to CloudFuze, you first need to install the CloudFuze app from the G Suite marketplace simply following the on-screen instructions.


Step 7: Authorize the G Suite Account
Enter the G Suite admin login credentials and complete the authorization process.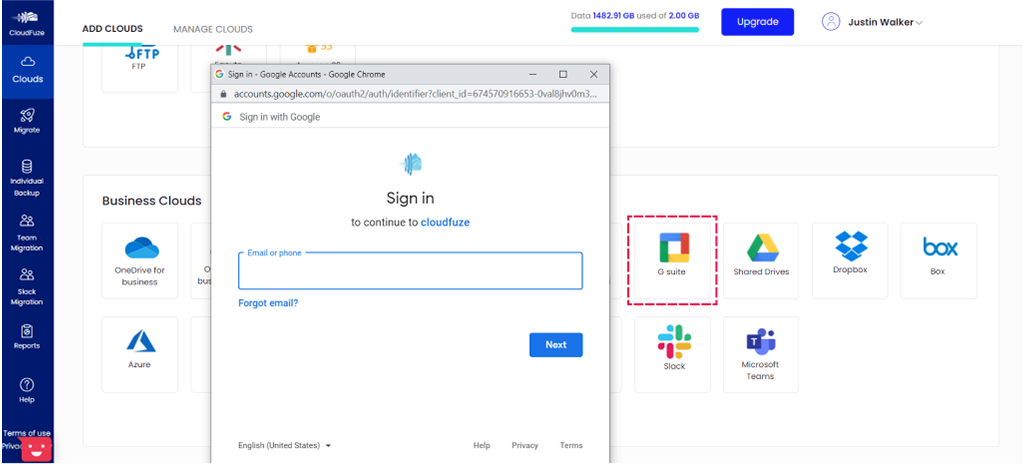 Step 8: Verify the G Suite Cloud Addition Process
Click on the Clouds icon in the left menu bar and go to the Manage Clouds tab. You should be able to see the G Suite account added successfully.

Step 9: Get Source Cloud ID
Just search for admin in the Source search bar, which will automatically give the complete source username.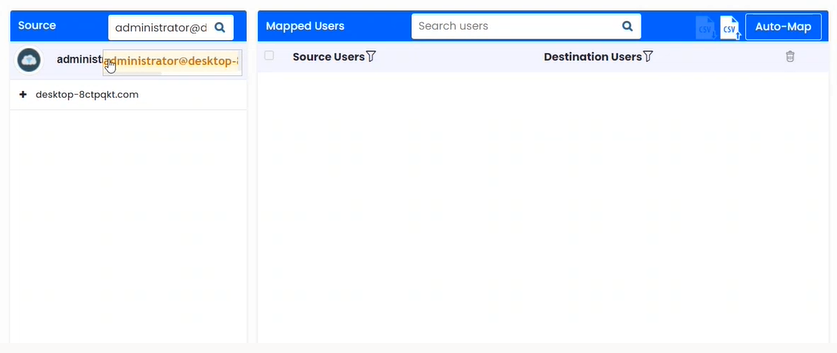 Step 10: Map Users and Data
We need to create a CSV file to map the data, which includes Source Cloud Id, Source Path, Destination Cloud Id, and Destination Path.


Enter the source username copied under the source cloud ID and copy the folder path from the local drive/system path, which will be the Source Path. Similarly, enter the destination cloud details to which path you want to migrate data.
Step 11: Upload and Validate the User Mapping CSV File
Upload the CSV file and check whether CloudFuze validated them successfully.


Step 12: Configure the Migration
Job Name: Enter a name for this migration job or leave the default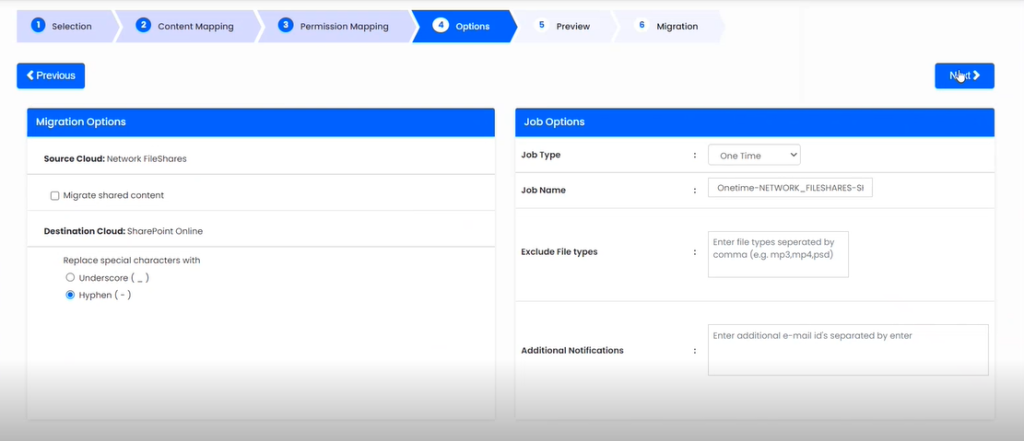 Job Type: Choose One Time if it is a first-time migration and delta for incremental changes migration.
Exclude File Types: Files with the given format won't be migrated.
Additional Notifications: By default, migration-related notifications and alerts will be sent to the registered email. Add email addresses if you want to send the migration status to multiple people.
Click on the "Next" button once you select the migration options, preview the migration, and click on "Next" to start the migration.
Step 13: Validate the Migration Report
Once the migration is completed, you can download the migration report and check the list of all files and folders transferred.