CloudFuze Enterprise Dashboard: Security made Simple
As your business expands, cloud file management becomes more complex. It is increasingly difficult to not only store files in an organized cloud storage system, but also to see what files employees are working on or sharing. For these reasons, CloudFuze developed a simple and secure system to bring every company cloud under one manageable interface.CloudFuze provides your enterprise with increased file access and control of employee transactions through two business products: a personal panel for employees, and an enterprise panel for administrators.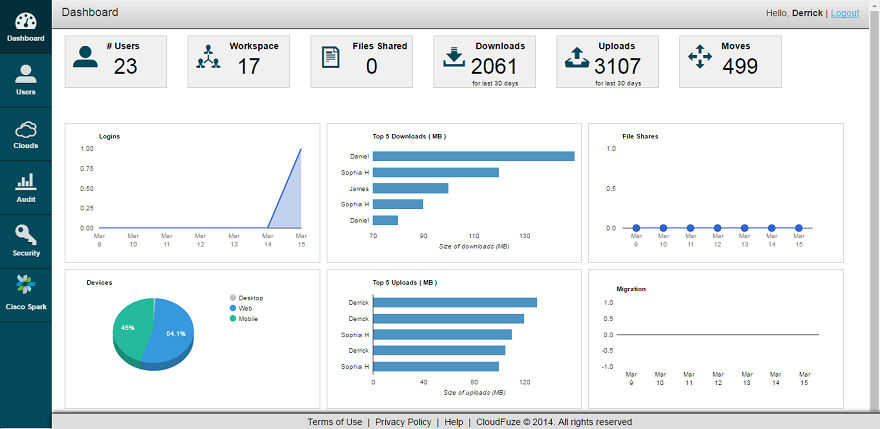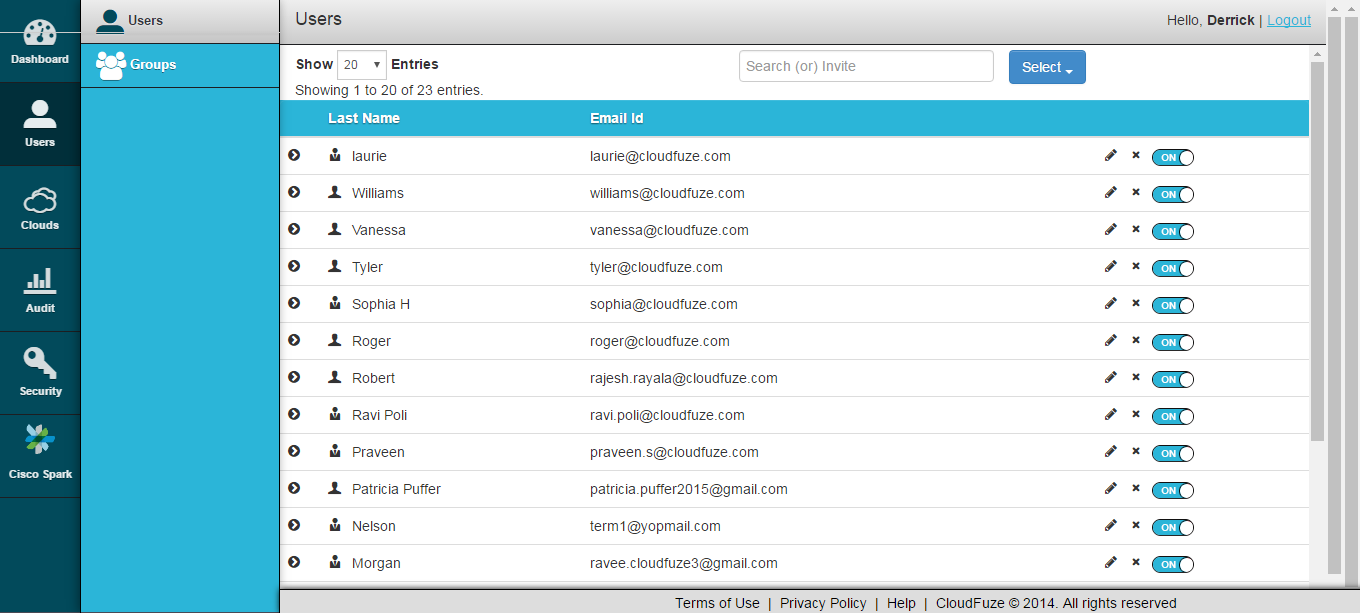 Manage User Access Effortlessly
The next section on the enterprise toolbar, the Users Page, provides business owners with the tools they need to manage employee file collaboration. Within this fields, admins can increase file security by organizing users into teams with different levels of cloud file access.The Users Page provides a complete list of employee accounts and allows you to add, delete, activate and deactivate users as well as an option to change employees to admins. Should a security risk arise, you can immediately deactivate an individual from the company cloud system and view his or her activity from this panel.The Groups section, which is also on the Users Page, allows you to organize users into teams with customized file access for each group. This encourages collaboration between specific employees based on shared access to cloud file storage.For more details on file collaboration tools, see our Cloud File Collaboration page.
Secure Cloud Access and API Keys
You can continue to improve company file security within the Clouds Page. Let's say your company stores all business files on Sharefile, Google Drive and Dropbox. From the Clouds Page, you can select these clouds as the only storage providers employees can access within the CloudFuze personal dashboard. Business owners enjoy this additional level of security because it ensures that no distracting personal cloud accounts are synced to the CloudFuze interface.The Clouds Page also includes an Oauth section, which contains the list of API keys for each cloud storage provider. For those of you who aren't familiar with API, or application programming interface, think of it as the key CloudFuze uses to access your cloud accounts. For each cloud storage provider synced to CloudFuze, there is a custom API code which ensure maximum security and reliable access.For more information, we are happy to answer questions through our live chat window or set up a free demo.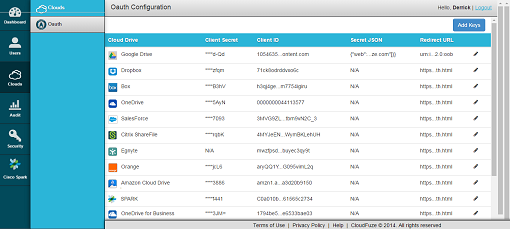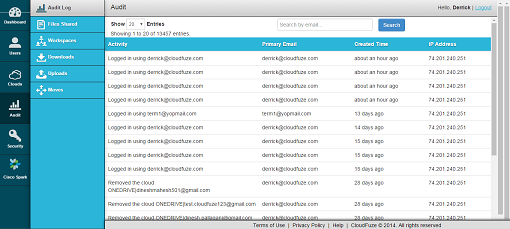 Increase Security Before, During, and After Shares
The next sections of the Enterprise panel are the Audit and Security pages. These fields provide detailed reports on employee activity and grant admins increased control of file security after files are already shared.The Audit Page includes the audit log, files shared, downloads and uploads as well as a file migrations report. Each section allows admins to view who is working on what, in addition to providing editing options for shared information. In other words, you can deny access to files even if they are already shared with another employee. This is a powerful tool that provides extended control over enterprise information.The Security Page includes the final and most sophisticated layers of security for company file storage and sharing. From this section, you can edit the encryption and salt keys, view the encryption-protected clouds, as well as check the status of your CloudFuze license. Encrypted files are crucial for companies handling sensitive information. But, even encrypted information can be hacked. This is why CloudFuze adds a scrambling code to encrypted material through a custom salt key, effectively scrambling coded information.
Oversee Company Chatrooms
The final section within the Enterprise panel is the Cisco Spark Page or company chatroom. Much like the other features mentioned above, you can enjoy an overview of all file activities that occur within the integrated chat platform in addition to enabling and disabling file links shared through the chat.CloudFuze also has an archive option within this panel, allowing you collect chat activity based on the following parameters: participant information, room ID, room name, start time, end time, message, and chat date. Once you choose the information you'd like to collect, you can choose the timeframe you're interested in collecting this information and an email the report will be sent to. This tool is particularly helpful for times when team members are collaborating on a project and a business owner wants to check on the progress in an unobtrusive way. Then, just like the other enterprise sections, you can choose which cloud storage providers can be shared over the Cisco Spark platform. Learn more about the CloudFuze security features here.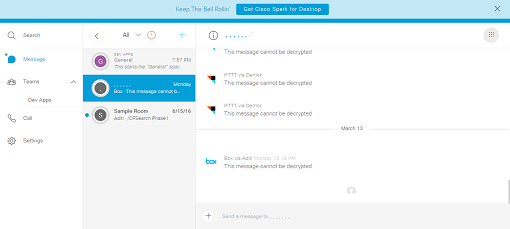 Clouds are many, but CloudFuze is mighty. Managing every cloud action from the comfort of one platform is smart business.