How to Migrate or Transfer Enterprise Data from Dropbox to SharePoint Online
Transfer, migrate, move, or sync files between Dropbox (Business) and SharePoint Online.
Does your organization want to switch to SharePoint Online from Dropbox Business? If so, you are at the right place. This tutorial discusses how SMBs and even large enterprises migrate their data from Dropbox to SharePoint Online using CloudFuze migration platform. It provides complete information of Dropbox – SharePoint Online migration from planning to execution.
About CloudFuze's Dropbox to SharePoint Online Migration Tool
CloudFuze provides a quick, secure, convenient way of transferring files from Dropbox to SharePoint Online. The app helps teams and organizations of all sizes automate cloud storage migration and save hours of time.
Strategizing the Migration
Proper planning plays a critical role in the success of migration project. The following are some of the important factors that need to be considered before moving files to SharePoint Online from Drobox.
The size of the data to be moved
The number of users to be migrated
The total number of files to be transferred
The average size of a file
The design of the source environment (Dropbox Business)
The design of the target environment (SharePoint Online)
Know how the sharing and permissions are migrated
Inquire about common and possible roadblocks to migration
Be completely aware of migration timelines
Have a user-onboarding plan beforehand
The Size of Data to be Moved
The total size of the files stored in the Dropbox account impacts the migration project considerably. The amount of money an organization is going to spend and the time it takes for the migration to complete depends on the size of the data.
The Number of Users
User migration is something consumers don't have to worry about. When it comes to businesses, the number of users, along with the size of the files, affects costs and timelines.
The Total Number of Folders and Files
Irrespective of the total size of files, fewer number of folders means quicker migration. Hundreds and thousands of files or a deep folder structure could increase the duration of migration. Figuring out the number of files and assessing the folder structure before migration help meet project deadlines better.
The Average Size of File
Calculating the average size of a file in their Dropbox account would also help organizations estimate file transfer speed accurately.
Permissions Migration
Retaining and migrating permissions and file sharing rules is the most critical part of a cloud storage migration project. Unlike single-user cloud storage platforms, enterprise content management systems have complex file sharing and access permissions between multiple users. CloudFuze's migration engine ensures secure delivery of not only files and folders but also the permissions.
Check the table to find out how user roles change from Dropbox to SharePoint Online.
| | |
| --- | --- |
| Dropbox Business | SharePoint Online |
| Owner | Owned by the library |
| Editor | Edit |
| Viewer | Read |
Possible/Known Technical Roadblocks
Factors such as invalid characters in file names, complex file paths, and file upload limits make or break a successful migration. Hence, the IT team of an organization must pay a lot of attention to these technical elements. This SharePoint resource can help IT admins or managers analyze their content that's currently on Dropbox and assess the compatibility with SharePoint Online.
CloudFuze's migration platform tackles most of these problems effortlessly, thus making the transition from Dropbox to SharePoint Online smoothly.
The Time It Takes to Transfer Files from Dropbox to SharePoint Online
The duration of migration depends on several factors. We put up a list below for a quick reference.
The size of the data
The number of users
The number of files and folders
The average size of each file
The depth of folders and the complexity of the folder structure
Get in touch with CloudFuze for an accurate assessment of project timelines.
User Onboarding Plan
Organizations must work on an onboarding plan and have it aligned with the overall migration project. User adoption is one of the biggest post migration challenges that businesses usually face. Despite extensive training, some employees may resist using the new platform. It is advised that IT teams don't decommission Dropbox abruptly. The ideal way of overcoming user adoption challenges is to provide early access of SharePoint Online to users, weeks before the migration is initiated. Extensive training may be required to make sure that employees begin using SharePoint Online correctly. Lack of platform knowledge could pose serious a security risk.
Migrating from Dropbox to SharePoint Online with CloudFuze
By using CloudFuze to transfer your Dropbox files to SharePoint Online, you are working with a fully supported system that boasts massive migration capabilities. The app can efficiently migrate petabytes of data and hundreds of users in just days, not months. CloudFuze is highly secure and backed by state-of-the-art server infrastructure that transfers up to 7 terabytes of data in one hour.
Getting Started with CloudFuze
You must have a CloudFuze account to initiate the migration. You can create an account to test the service or contact us for more details. If you need to migrate a lot of data or a big number of users, we recommend that you get in touch with our support team.
Step 1: Login to the CloudFuze Web App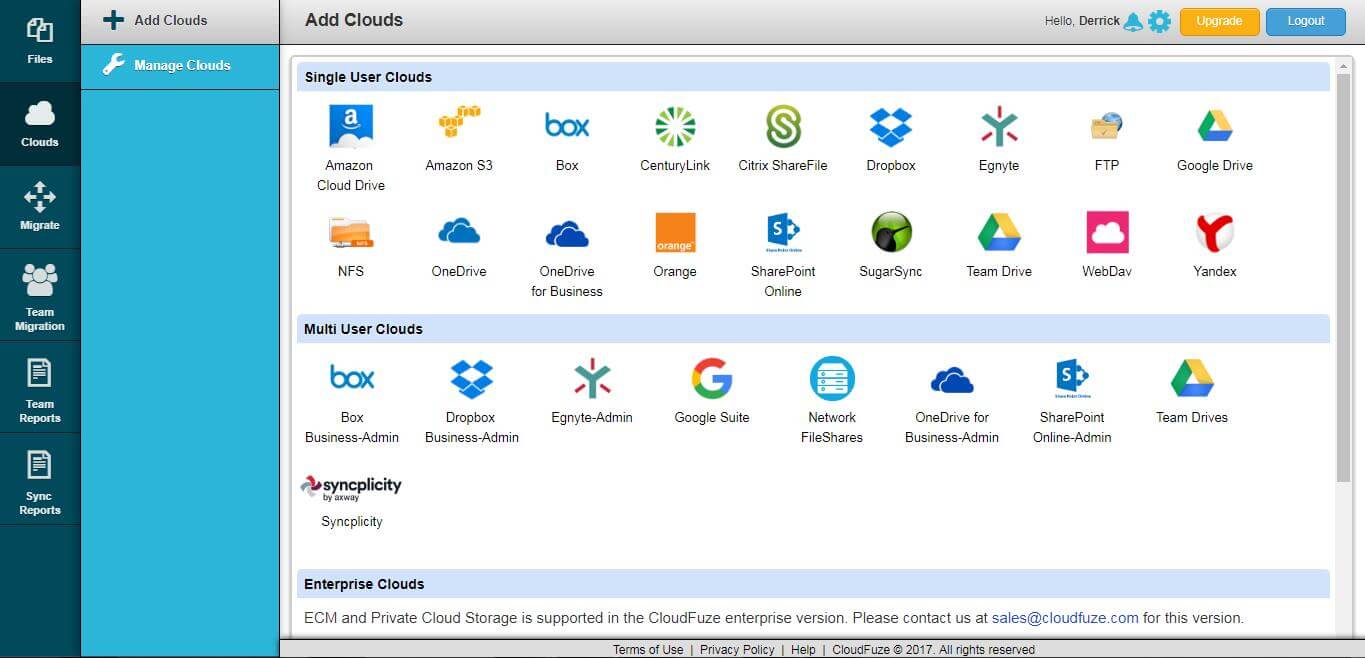 Once you create and log in to your account, you will be shown a list of cloud services supported by CloudFuze. To proceed, you must add your source (Dropbox) and target (SharePoint Online for Business).
Step 2: Add Your Source Cloud, Dropbox Business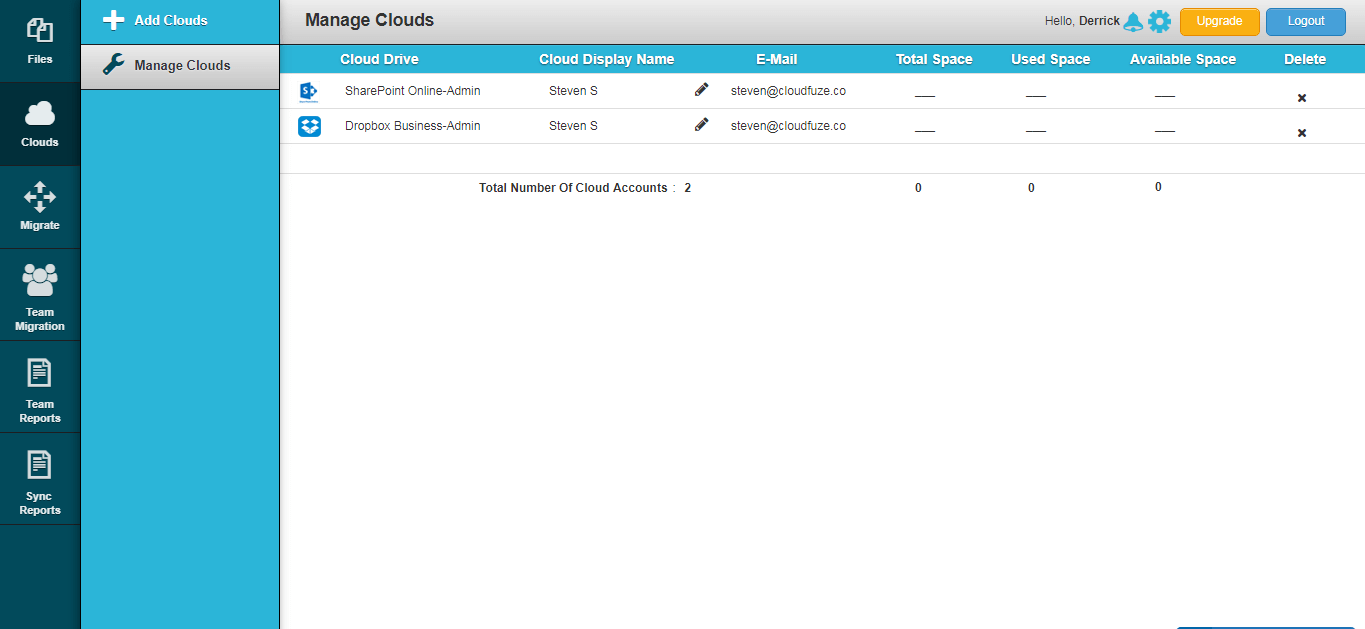 Click on the Dropbox icon and enter your admin login credentials to authorize the account. Keep in mind that CloudFuze uses OAuth protocol for cloud authorization. The platform can't access or save your Dropbox login credentials.
Step 3: Add Your Destination Cloud, SharePoint Online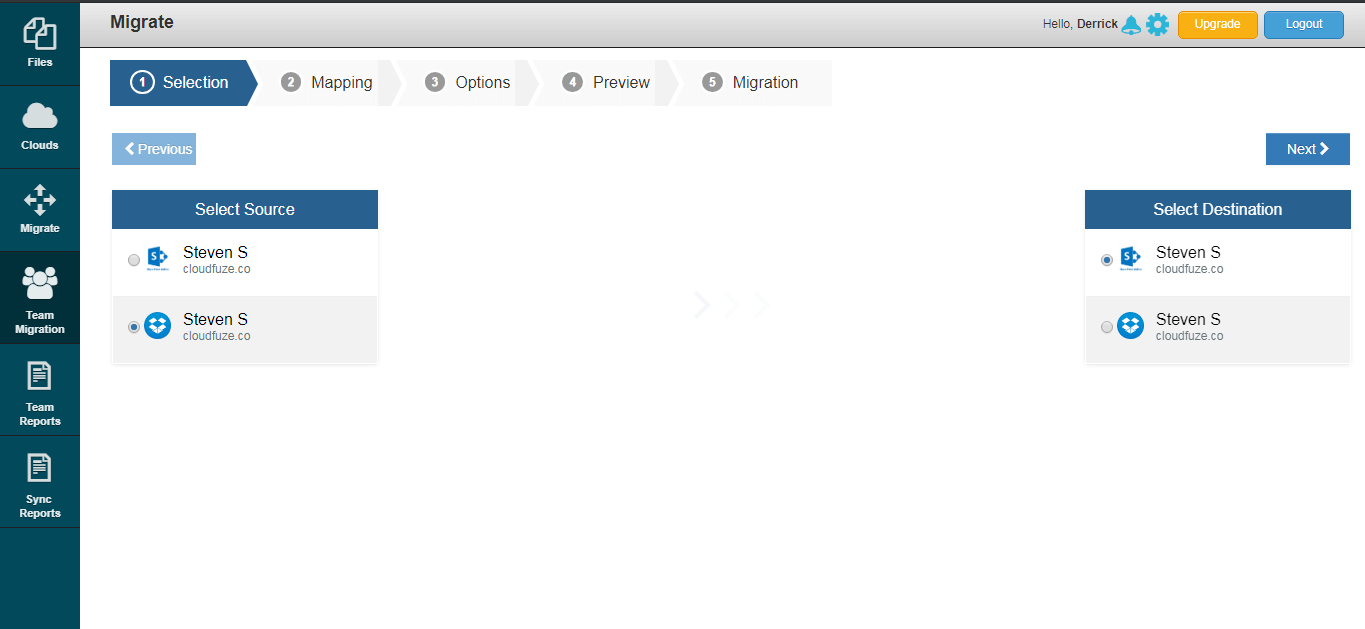 Click on the SharePoint Online for Business icon and authorize your account with admin credentials. In addition to SharePoint Online for Business, CloudFuze also supports Dropbox and SharePoint Online migration.
Step 4: Select Your Source (Dropbox) and Destination (SharePoint Online) Clouds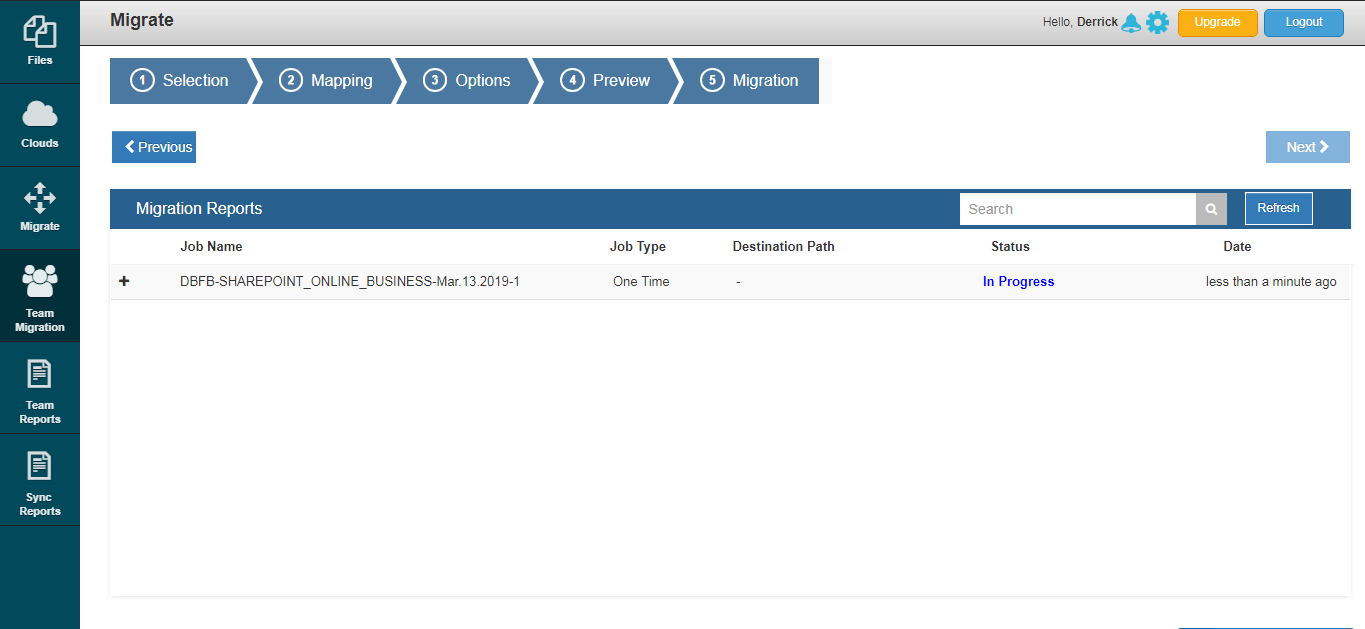 Click on the Team Migration icon on the left navigation menu and choose your source and target clouds. Please make sure that you chose Dropbox as source and SharePoint Online as destination.
Step 5: Map and Select Users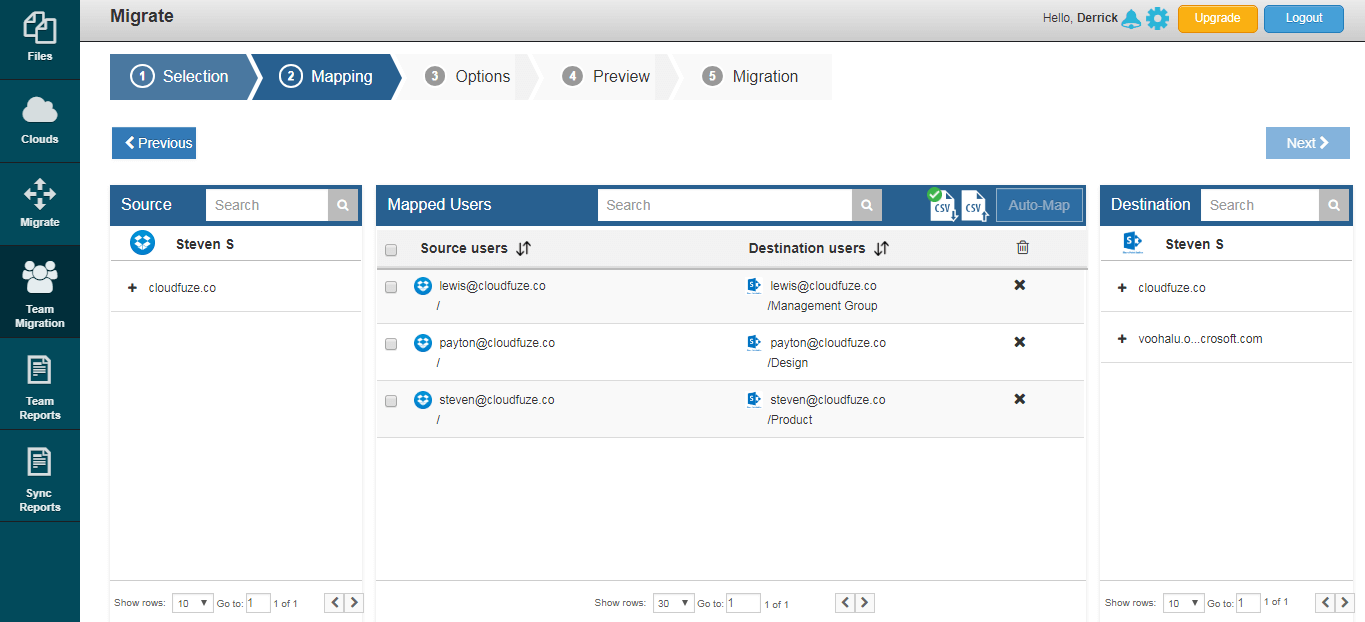 Click on the Auto Map button, which is seen in the middle of the page, to auto map users. Upon clicking on the Auto Map button, the system lists down all the users in Dropbox that can be migrated. Choose a few users or all as per your requirement.
Step 6: Preview and Initiate the Migration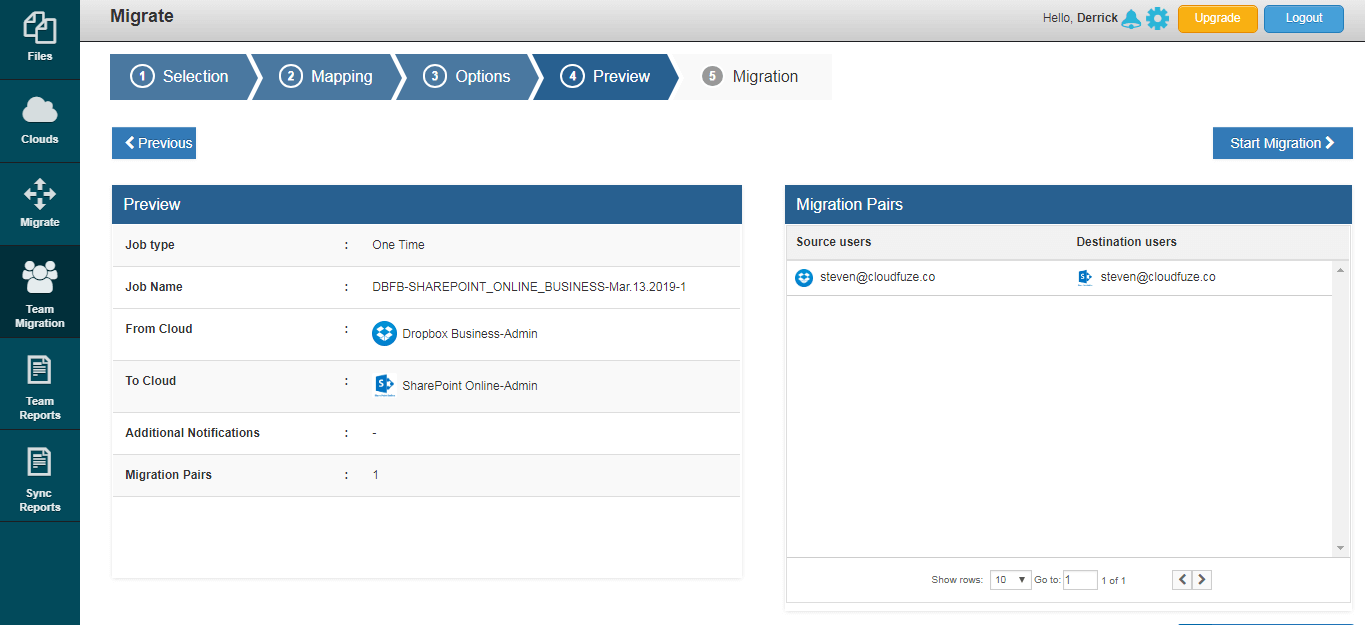 Preview the migration job and click on Start Migration button. The migration will be initiated, and the status can be seen on this final page. Just click on the names of the migration jobs to see the detailed reports for each migration. That's it!
CloudFuze offers semi-managed migration services for enterprise clients who don't wish to use the self-service model. Please chat with our support team or send an email to support@cloudfuze.com for more information.